Wedding is a grand festival in India. It brings joy and a fun-filled atmosphere to an Indian family. We all know that an Indian wedding is all about culture and age-old rituals. It consists of many beautiful rituals that are a visual treat for the eyes. A Jaimala ceremony in an Indian wedding is one such delightful wedding ritual. Both the bride and groom exchange the wedding varmala to solemnize their marriage. Using fresh flower garlands during the Jaimala ceremony is a century-old custom. Using flower garland can make your wedding rituals more beautiful. Today, these wedding varmalas come in various designs and styles. You will notice various designs of wedding garlands in the recent projects of. wedding photographers in kolkata
Nowadays, brides and grooms prefer to wear a var mala that match their wedding attire. Hence, you must find a var mala design that intensifies the beauty of your wedding ritual. It can also add a bling factor to your wedding day look. Dive into this comprehensive guide and find a perfect varmala for wedding ceremony.
1. Scented Jasmine Varmala Adds A Magical Vibe To The Wedding
Charming and scented var mala will offer a scented aura throughout your wedding ceremony. This jasmine var mala design is perfect for an ivory-shaded wedding outfit. It is the best option for a dream destination wedding.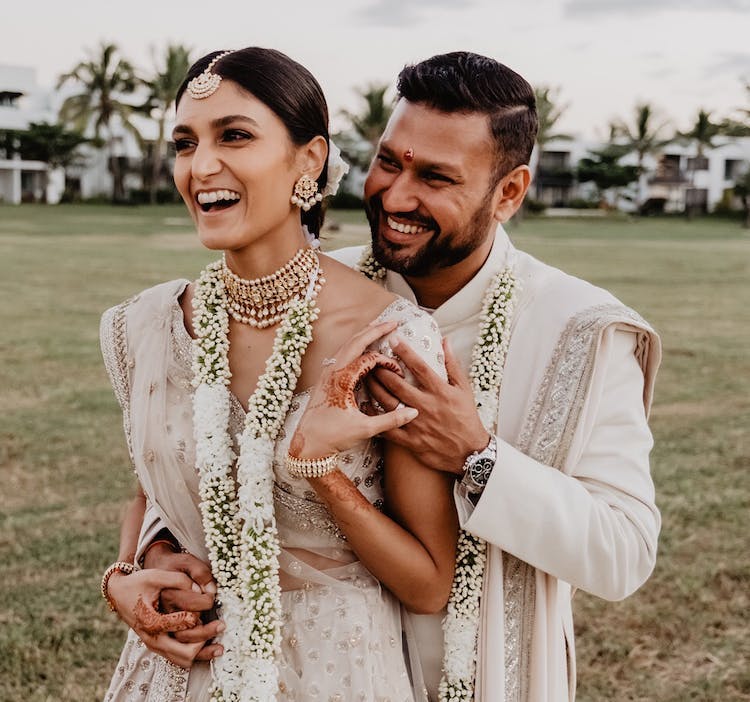 Recommended: Top 13 Bridal Lehenga Shops In Kolkata
2. Choose An Artificial Varmala For Marriage To Get An All Time Fresh Feel
Who said a wedding varmala should only consist of real flowers? An artificial varmala for a wedding is a unique choice for modern couples. This paper flower jaimalas looks as beautiful as real flowers are. The best part about these garlands is they always stay fresh and beautiful.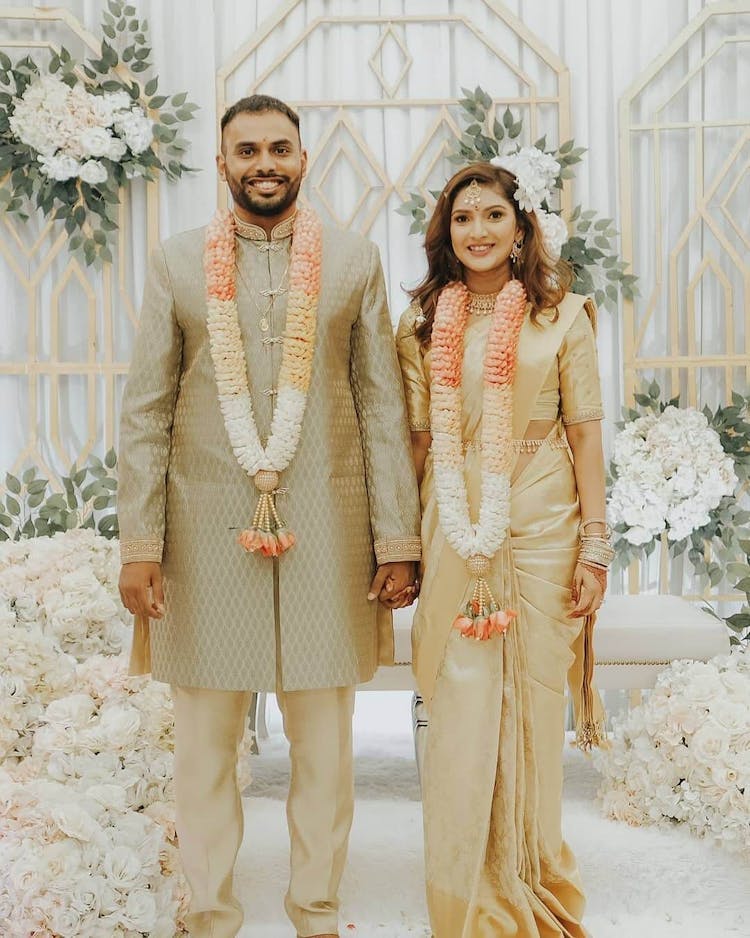 See More: Top 15 Gorgeous Bengali Bridal Hairstyle Ideas In 2022
3. Foliage Varmalas Is The Best Choice For An Eco-friendly Wedding
A dream garland made of leaves or foliage can provide you with an extra ordinary look on your wedding day. Wearing this garland is an age-old custom in South-Indian weddings. Today it has become the latest trend. Hire the best wedding photographer in kolkata to capture the beautiful moments and wedding look of your special day.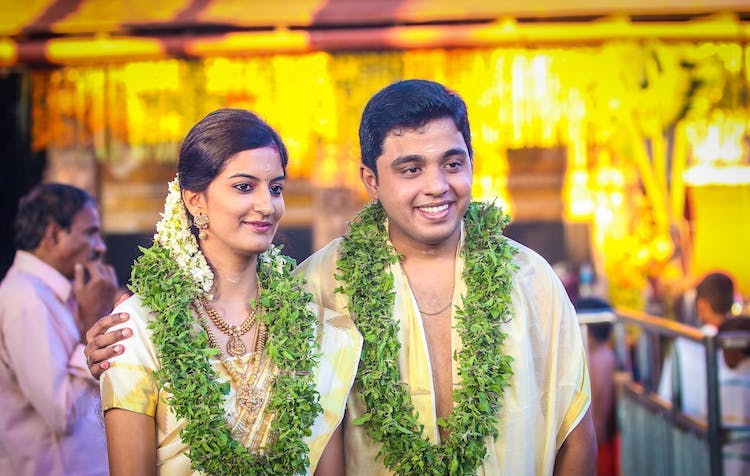 4. Blooming Orchids Will Provide You A Blissful Experience
If you want to try something unconventional on your wedding day then you must opt for the orchid varmala designs for wedding. Seasonal flowers like orchids are best for a luxurious winter wedding. They can add a unique charm to your personality.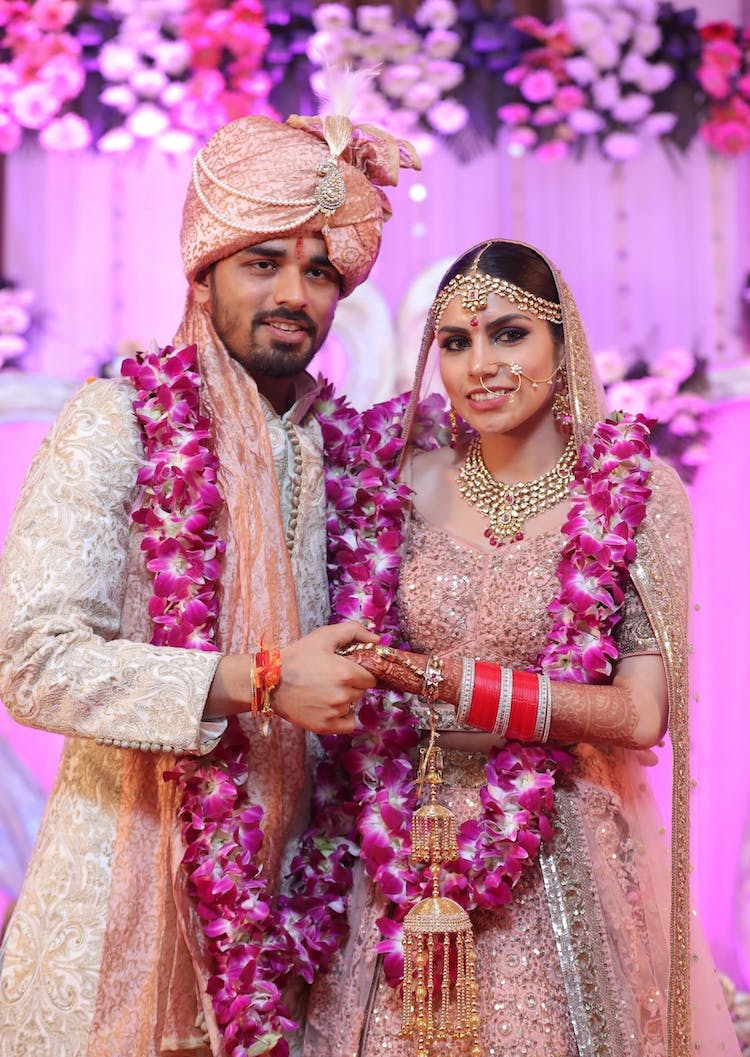 5. Contrasting Shade Varmala Is The Latest Trend In Indian Wedding
Contrasting varmala made of white and pink roses is a perfect garland for your wedding day look. This subtle and elegant varmala can make you the center of attraction at your wedding. Coordinate your varmalas with your wedding outfit for an attractive wedding look.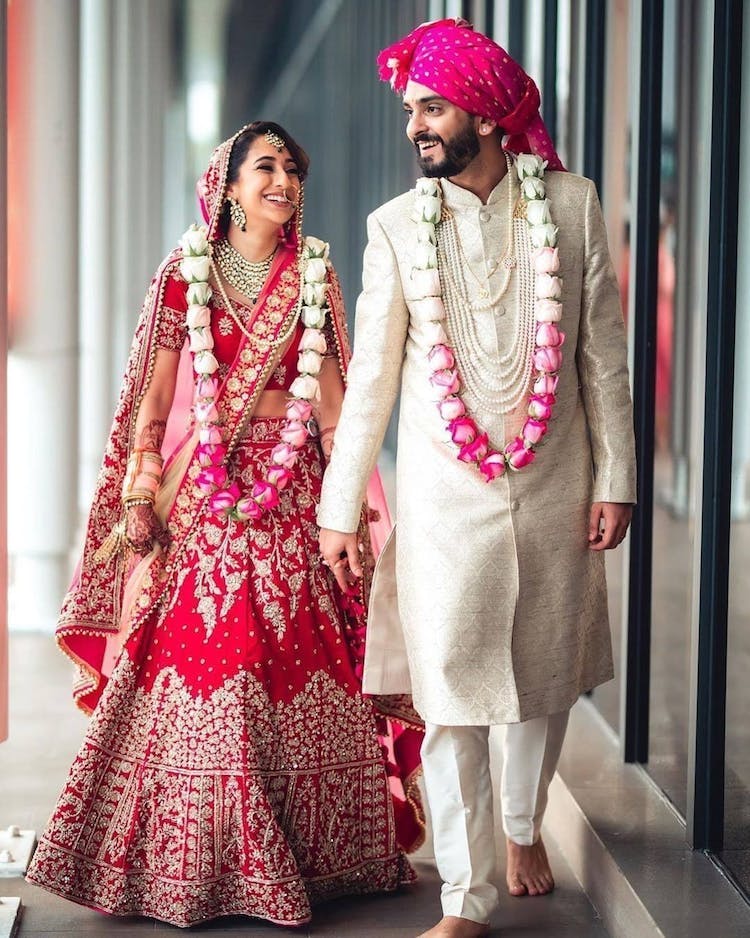 6. Boho Garlands Are Making Big Fashion Statements These Days
Another way to jazz up your jaimala ceremony is to choose the most beautiful boho garlands. A boho garland can add a touch of elegance to your jaimala ceremony. The breathtaking and exotic floral garland goes well with a super fancy wedding costume.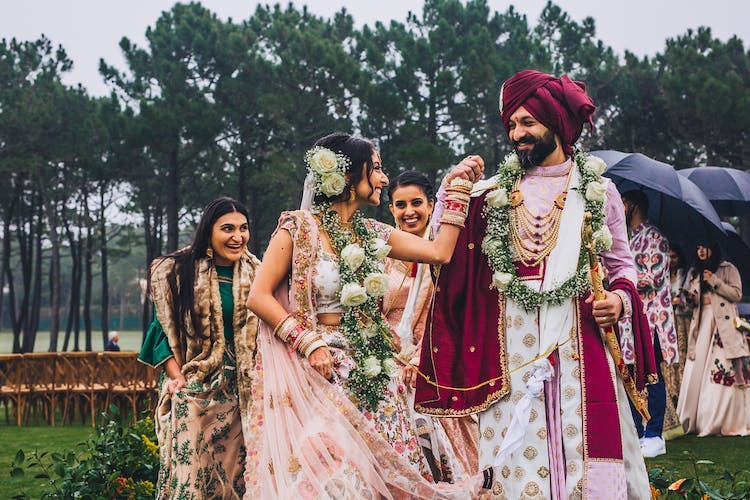 7. Pink Varmala For Wedding Is The Most Elegant Design
Bookmark this prettiest pink varmala for bride and groom to add a magnificent aura to the wedding look. The charm of pastel roses can make your wedding ceremony a mesmerizing event. It can also add a special elegance to your wedding theme and wedding look at the same time.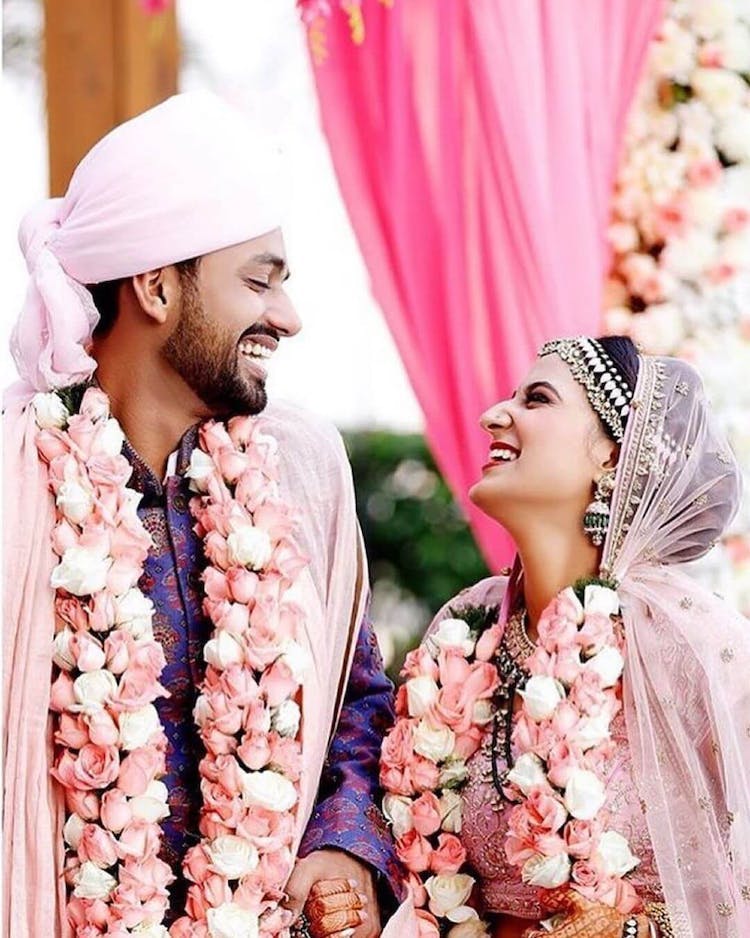 8. A Lotus Varmala Is The Most Beautiful Wedding Varmala Design
Lotus varmala is one of the most traditional wedding varmala ideas. The pastel shades of lotus are mesmerizing to look at. This divine flower garland is an absolute treat to the eyes. Save this lotus garland idea to click the most beautiful jaimala ceremony pictures.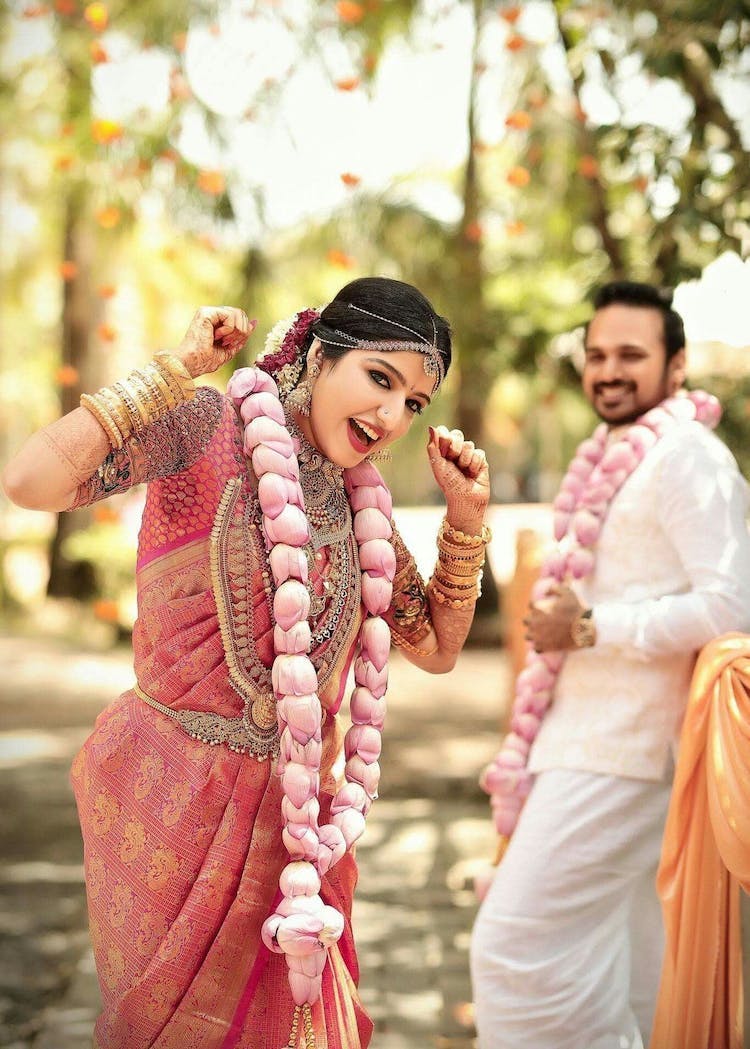 Image Source: Almeena Yadhav
9. Opt For A Pearl Embedded Varmala To Complement Your Luxurious Wedding Outfit
If you are still confused about choosing the correct varmala design then this is a perfect one for you. This pretty bride has opted for a pearl-embedded wedding garland to amp up the beauty of her wedding look. The pretty flowers embedded in a pearl string are a perfect example of sheer beauty.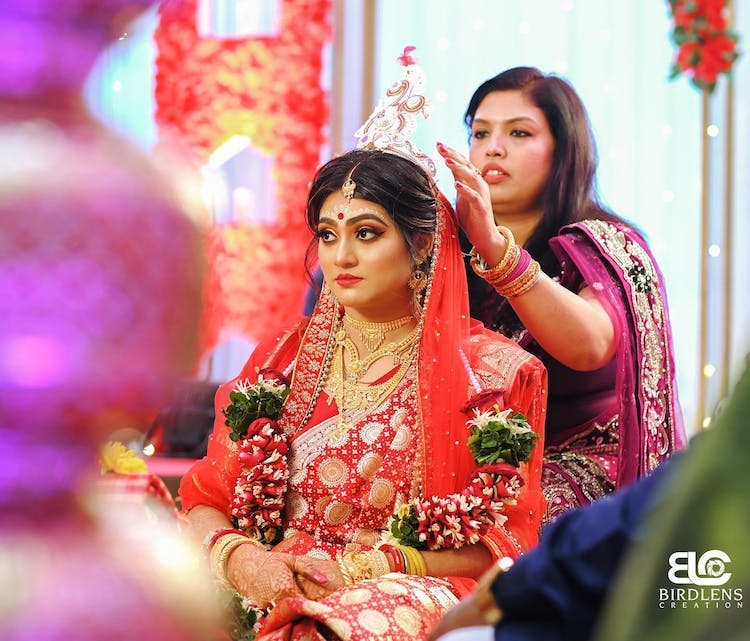 10. Petals Varmala Is The Most Unique Wedding Varmala
Here is another wedding varmala that you can bookmark for your wedding day. Instead of choosing a floral garland, this adorable couple has opted for a stunning petal garland. The charming rose petals are looking beautiful upon this bride's gorgeous banarasi saree.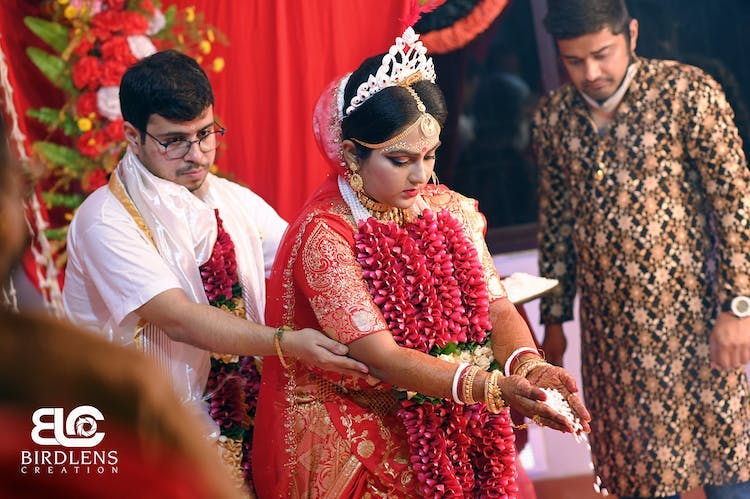 11. A Charming Rose Varmala Can Give You A Romantic Feel
Rose varmala designs for weddings are the most classy and romantic option for a wedding event. Rose garland is an evergreen choice that can add a romantic feel to your wedding events. Make sure to match your rose varmala to the attire you are wearing at your wedding event.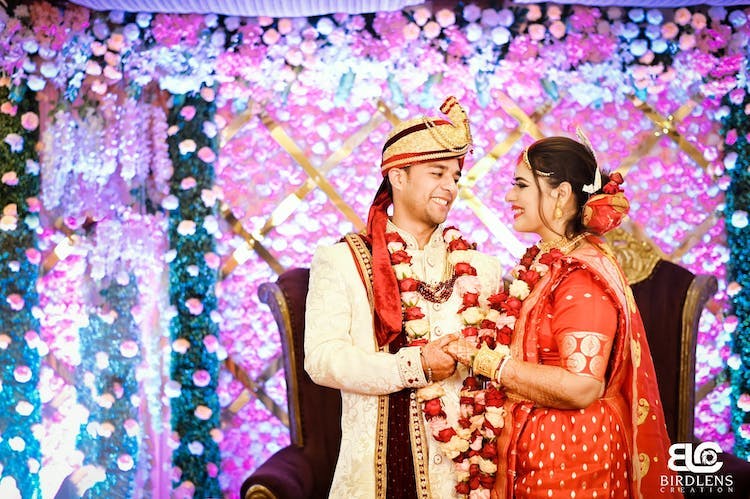 12. A Scented Tube Rose Varmala Can Give Tough Competition To All The Fragrant Flowers
How can we miss the most popular varmala used in a traditional Bengali wedding? The beautiful fragrance of tube rose can attract anyone around you. It leaves a scented aura and makes your wedding ceremony the most beautiful event.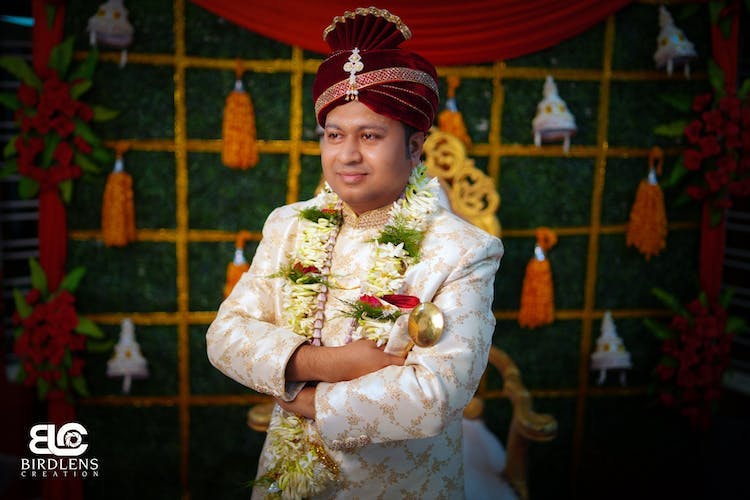 13. A Baby Breath Varmala Is The Best Option to Compliment Pastel Outfits
Baby breath wedding garlands are the first choice of many young couples due to their subtle hue and elegance. You must opt for this unconventional varmala if you are choosing a subtle hue wedding outfit.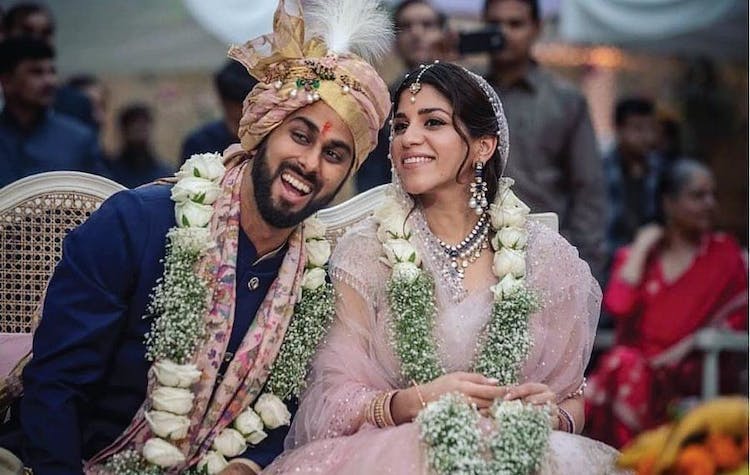 14. Dainty Tube Buds Varmalas Are The Best Varmala For Wedding Ceremony
Looking for an appealing wedding garland? This beautiful couple has worn colorful tube buds varmala for their wedding ritual. This dainty flower garland can add a statement to your wedding look.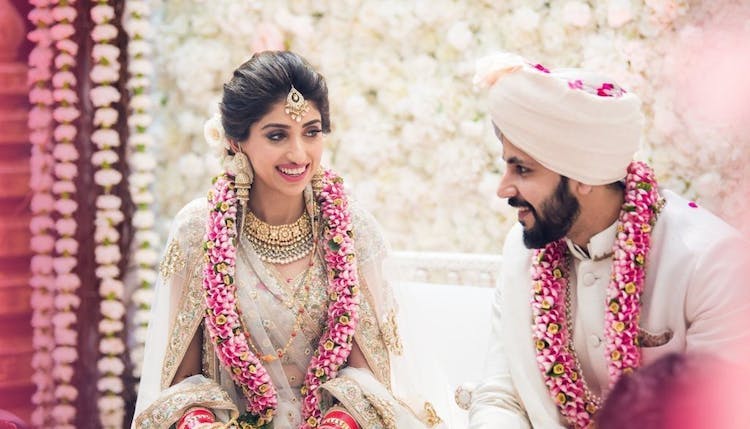 15. Stunning Bejeweled Varmala Is The Finest Choice To Wear With A Regal Outfit
What can be more classy than a bejeweled varmala design? The beauty of such a precious varmala is hard to describe in words. The pretty flowers and precious gems in this varmala make it a luxurious varmala for a wedding.