Bengali brides always impress us with their elegant charm, colourful silk sarees and traditional gold jewelleries. Every bride is excited about their reception and wedding day look. Nowadays, brides seek perfection and want to ensure every tiny detail of the bridal look. With years of experience in candid Bengali wedding photography, we are here to share with you some promising Bengali bride reception look that will surely make your special day, the most memorable one.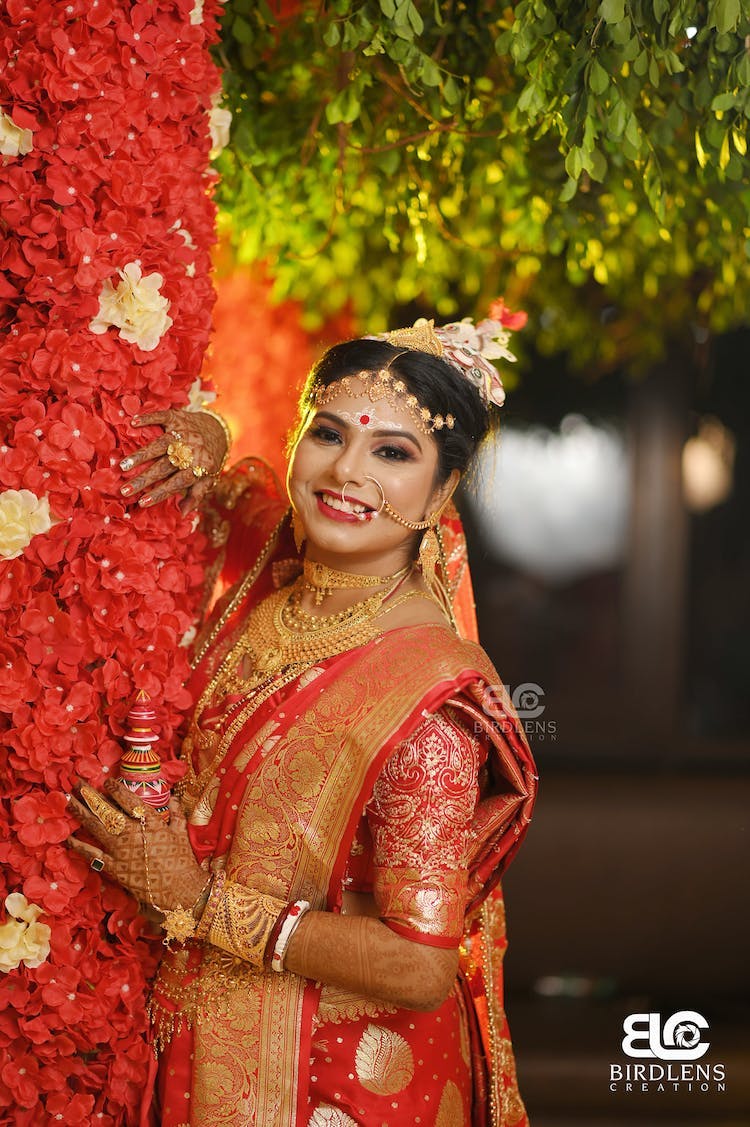 1. Gorgeous Bridal Red Saree Look
The beautiful diva is looking surreal in the charming combination of maroon & silver brocade banarasi saree. Maroon Banarasi saree is the ultimate choice of the Bengali brides which they beautifully pair up with stunning gold jewellries. This timeless piece of Bengali bridal fashion makes you the centre of attraction in your reception ceremony.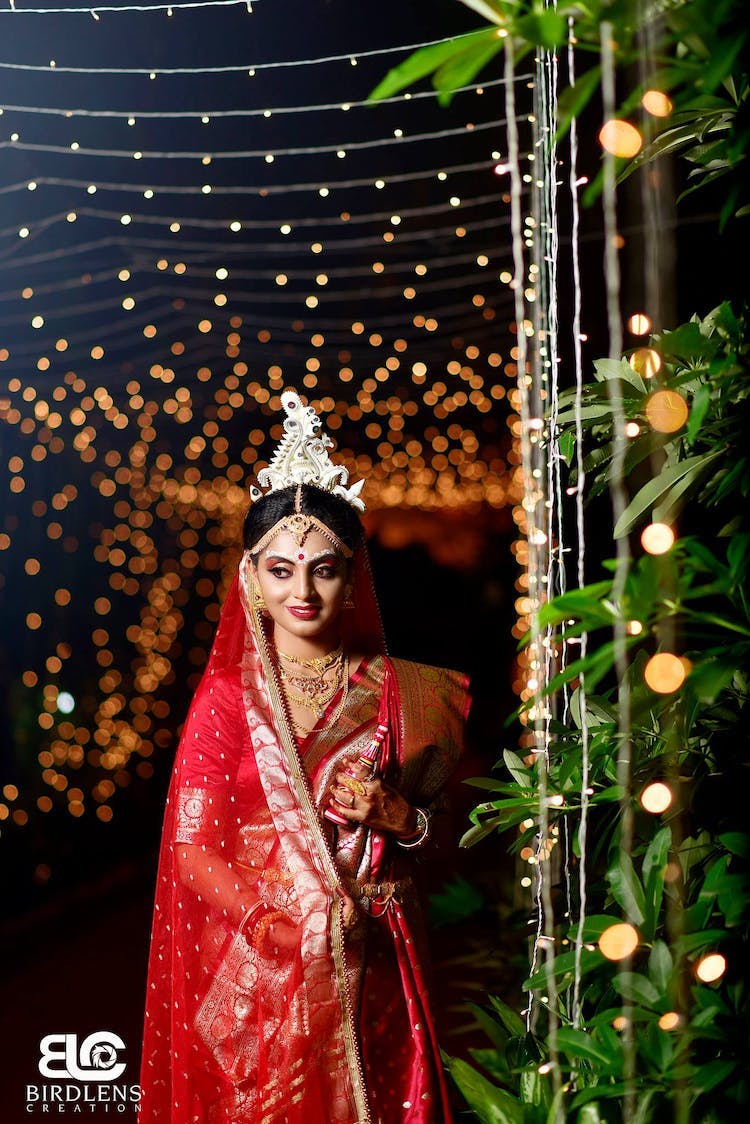 Recommended: Top 15 Bengali Bridal Photoshoot Poses Ideas-Birdlens creation
2. Stunning Beauty In Brocade Work
This gorgeous bride has ditched the traditional look of a Bengali bride and went for a modern look with simplistic makeup and a designer lehenga. The thick zari embroider dupatta over the red hue is making her the prettiest bride. This is one of the best bridal look if you want to opt for a simple yet stylish option.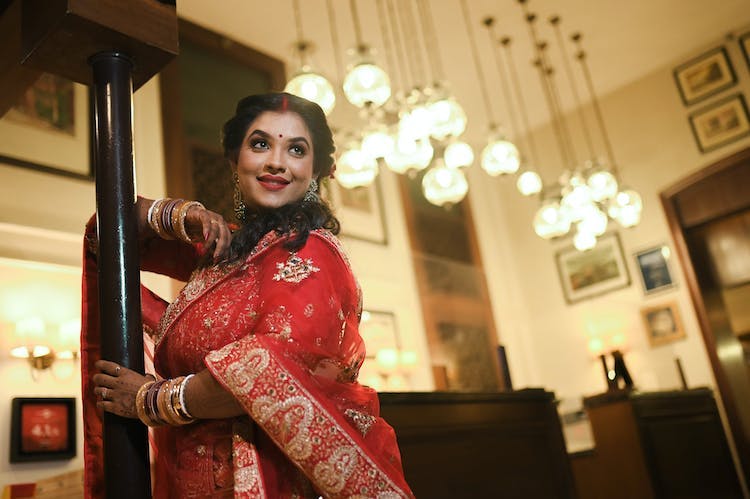 3. Stylish Dive In Lime Green Net Saree
Being the best wedding photographer in Kolkata we have come across many breathtaking bridal looks in a wedding event. But we haven't spotted Bengali brides in such an offbeat shade. Draped in a lime green net saree and sleeves less blouse with a pair of stylish gold ornaments are doing complete justice to her eye catchy reception look. Her nude makeup look with red lipstick is saying a lot about her confident personality.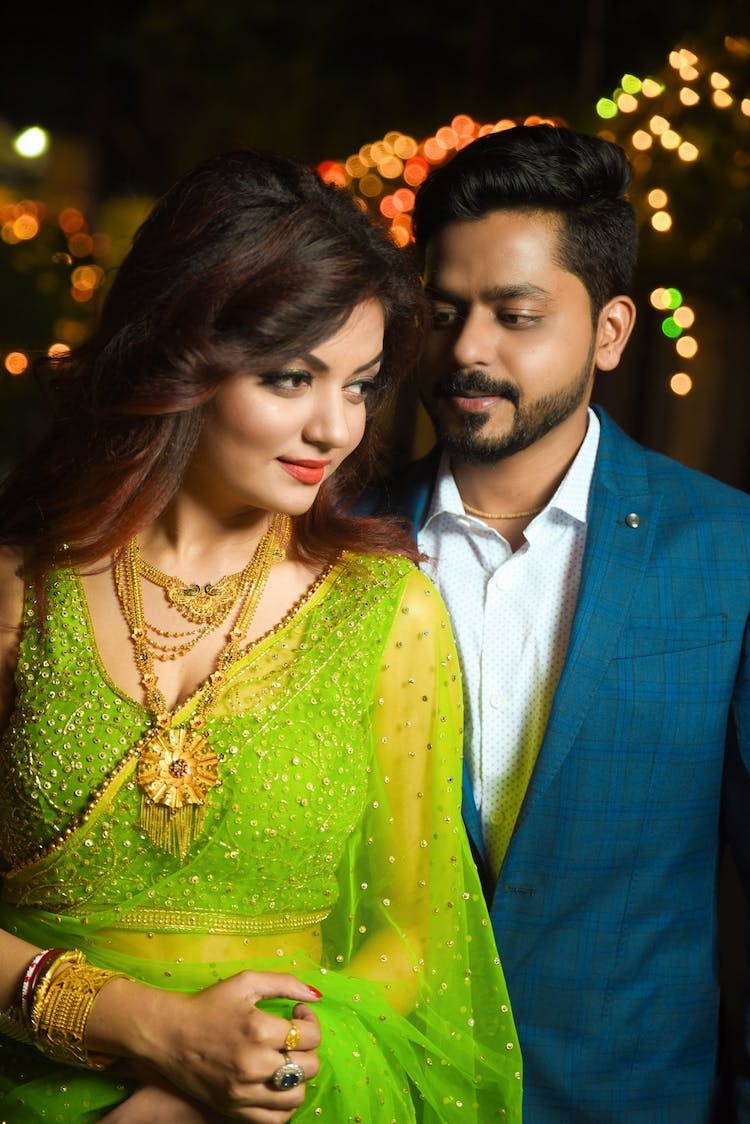 4. Adorable Bride In Her Bridal Avatar
For the reception party, this pretty bride had picked the Bengali traditional look. She had opted for a magical combination of Red & Blue banarasi. The silver brocade in her blouse is perfectly matching with her gorgeous saree. She had accessorised her bridal look with a statement necklace, Nath, tiara and beautiful bangles with bold eye makeup and red lips. Which makes the perfect Bengali wedding reception look.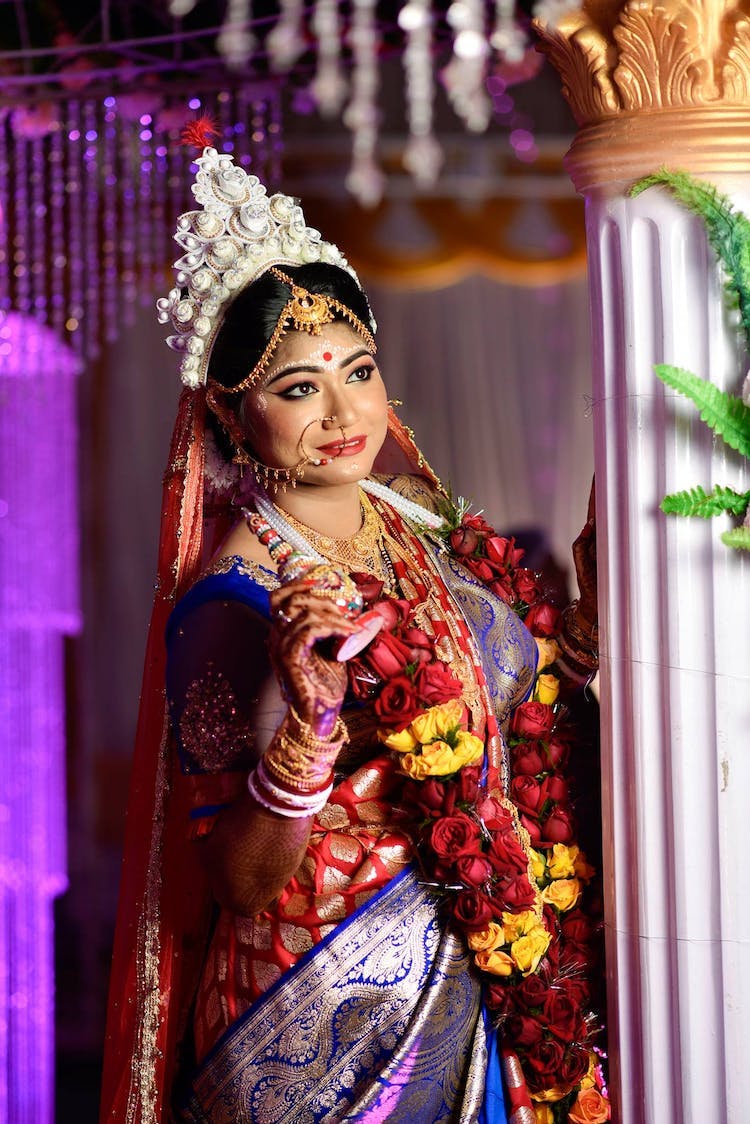 5. Mesmerizing Look Of Stunning Bride
Her bridal glow is truly evident in this perfect shot. While she opted for a Red & Blue Banarasi Saree with a tight fighting blouse she has totally gone traditional with heavy gold jewelleries complementing her divine look instead of putting a white gajra she had experimented with beautiful roses in hair bun which is surely an attention-grabbing look.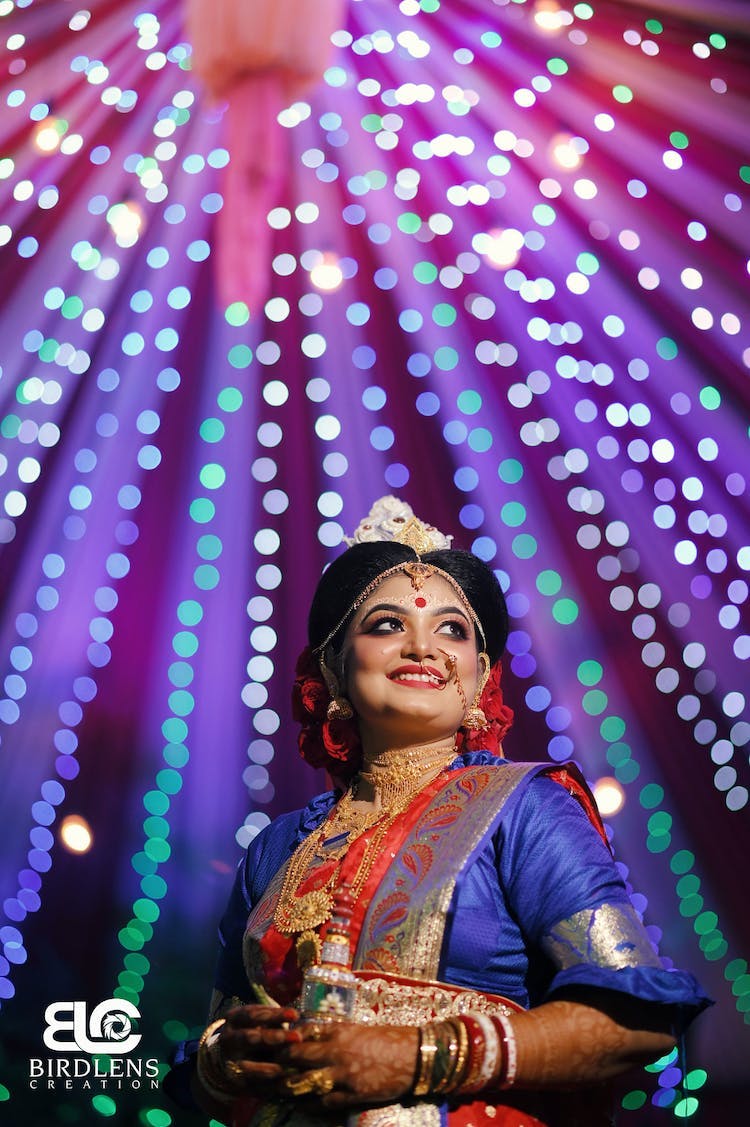 6. Traditional Bong Bridal Look
Here is another beautiful example of Bengali traditional bridal look. She simply looks divine and gorgeous in her traditional red banarasi saree with a stunning dupatta. Her excellent selection of matching gold jewellery is speaking for itself. We must say that this one is the most enhancing Bengali bride reception look.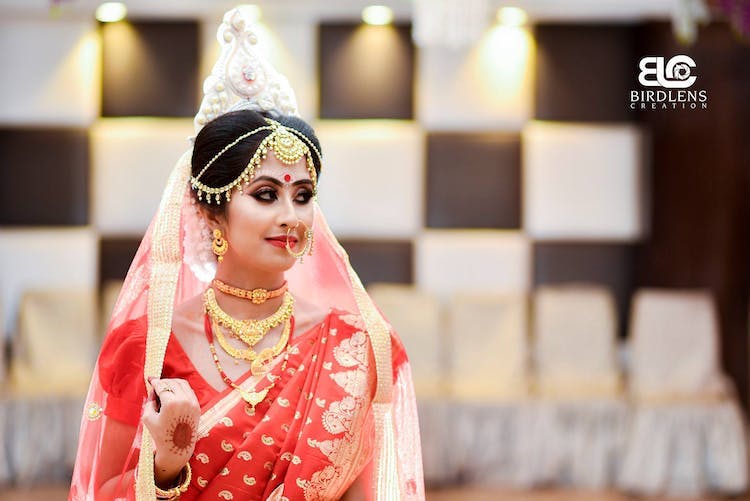 7. Trendy Bridal Look In Rosy Shades
Nothing can beat the glamour of a rosy pink Bengali saree for wedding. The vibrant pink hue with printed patterns in gold & blue is complementing her glittery eye makeup and pink lips. Her stylish jewellery and prettiest hair bun is surely a charming look which we adore.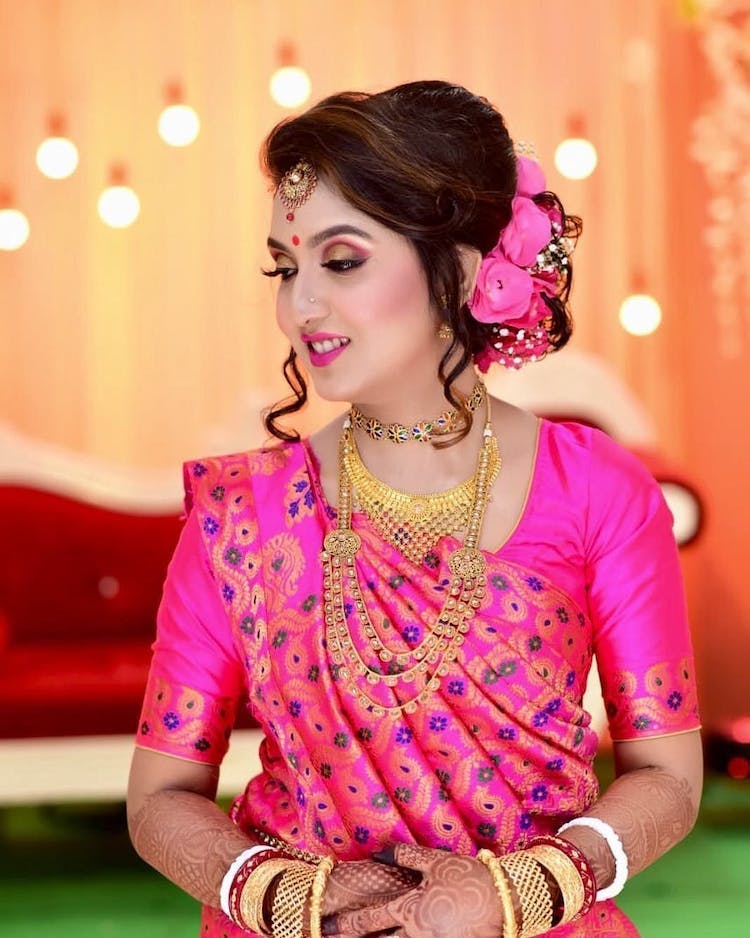 8. Most Glamorous Bridal Look
This modern bride is inspiring us to pick a vibrant colour like blue for reception day. Her OTP jewellery and bold eye makeup is the secret to her best wedding look. Her statement necklace and heavy tiara are adding regal vibes to her bridal attire.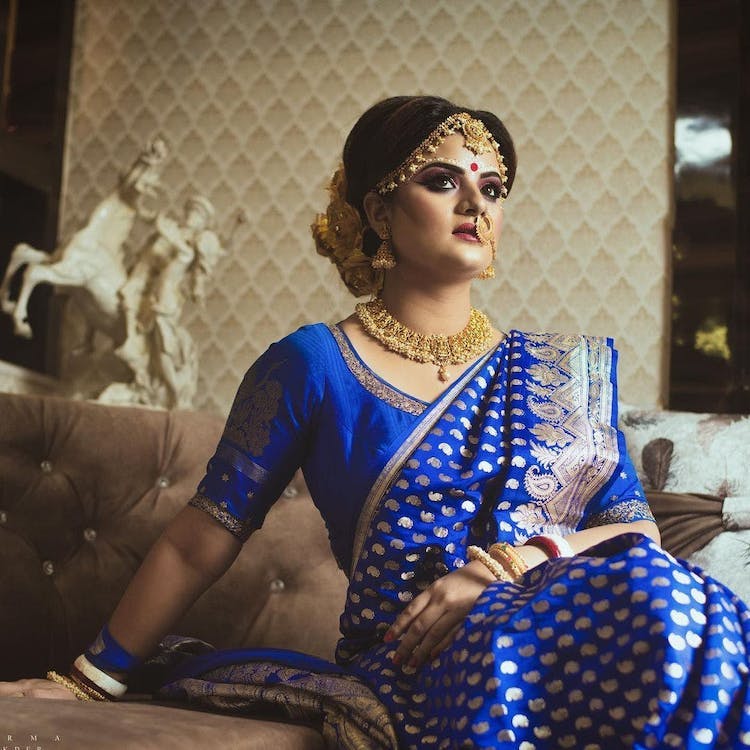 9. Royal Look Of Beauty Queen
From her zari work red banarasi saree to her outstanding bootidar blouse and heavy gold jewellery it provides a royal bride look. We are all aware of her name and fame in the Bengali film industry but when it's a matter of her divine look in bridal saree then there will be no doubt that this is the best wedding bride look for reception ceremony that has won our hearts.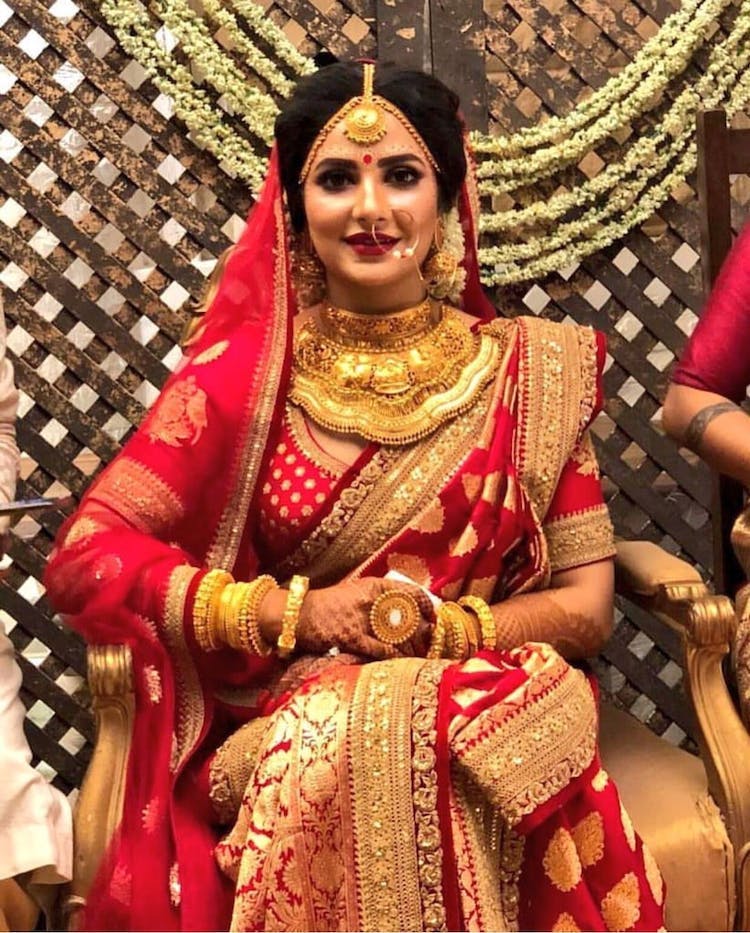 10. Bride In A Beautiful Combination Of Red & White
If you are planning to highlight your traditional Bengali bridal jewellery then you should take inspiration from this captivating look of this stunning bride. This is the most simple bridal look on this list that will surely do wonders on a beautiful bride and an off-white saree with a contrasting blouse and hibiscus garland is a fascinating look. Her exquisite gold choker, heavy jhumkas and pair of traditional balas. With bright and bold makeup is making her no less than a divine figure.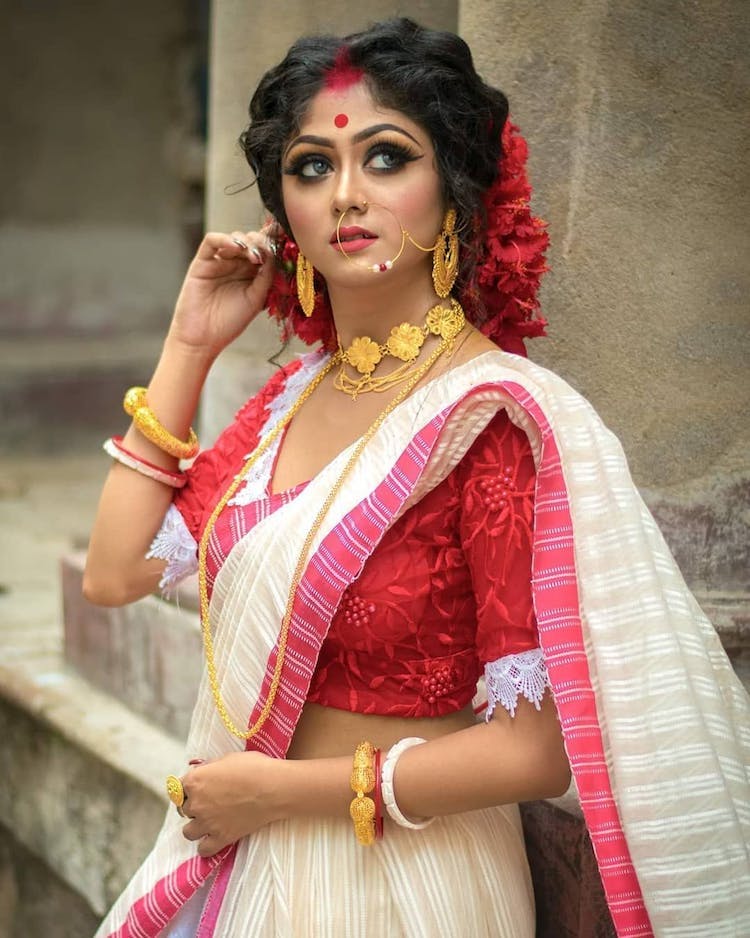 11. Classic Look Of Bengali Bride
A combination of Red Banarasi with a Green blouse is the most classic fashion choice amongst Bengali brides. Her heavy saree intrepidly designed with silver motifs are beautifully complementing her splendid jewellery. This beautiful saree and her nude makeup with a bold bindi create a classy, and alluring reception look.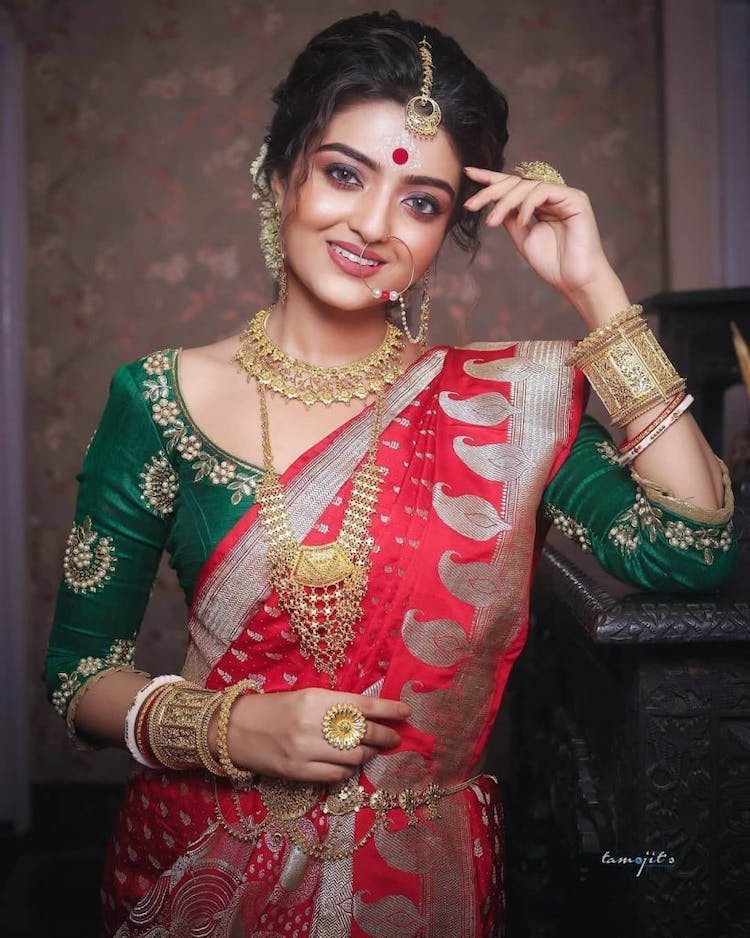 12. Shimmery Bridal Look
We can't take our eyes off this heavenly beauty. Her gold and maroon glossy saree, red rosy lips and large beautiful bindi are absolutely ethereal. The traditional gold jewellery worn by her creates a sparkling effect. This is one of the most gorgeous Bengali wedding makeup looks popular in Bengali brides.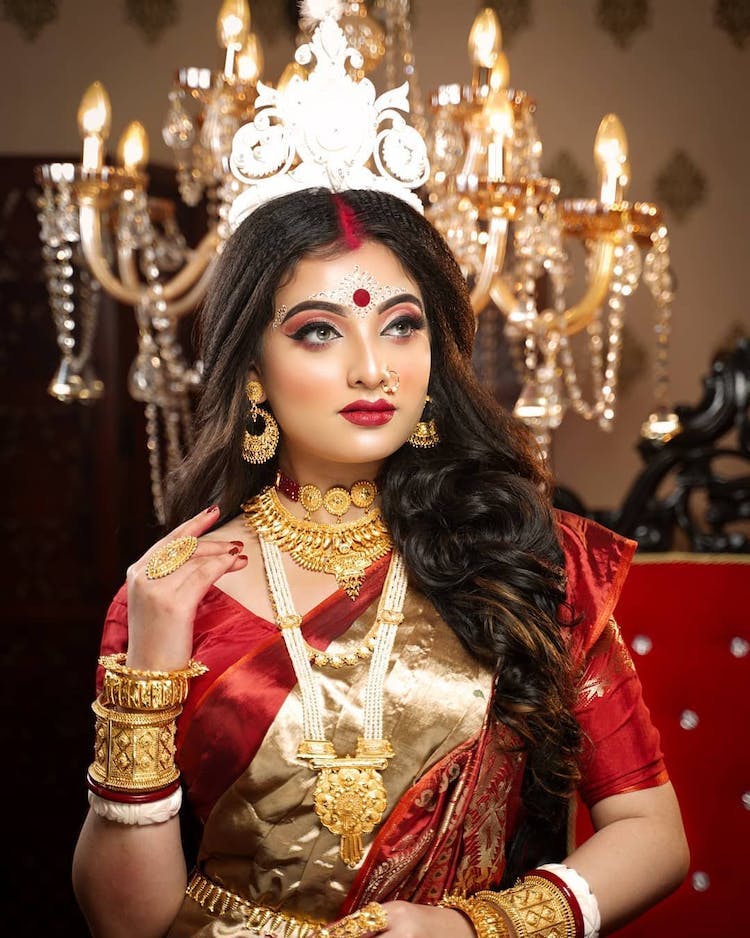 13. Latest Lehenga Avatar Of Bong Beauty
We are just stunned by her charming looks. She has beautifully worn a banarasi saree lehenga on her D-day to make it a memorable moment. This saree-lehenga avatar paired with classic gold jewelry is one of the trending wedding looks that leaves an everlasting impression on everyone's mind.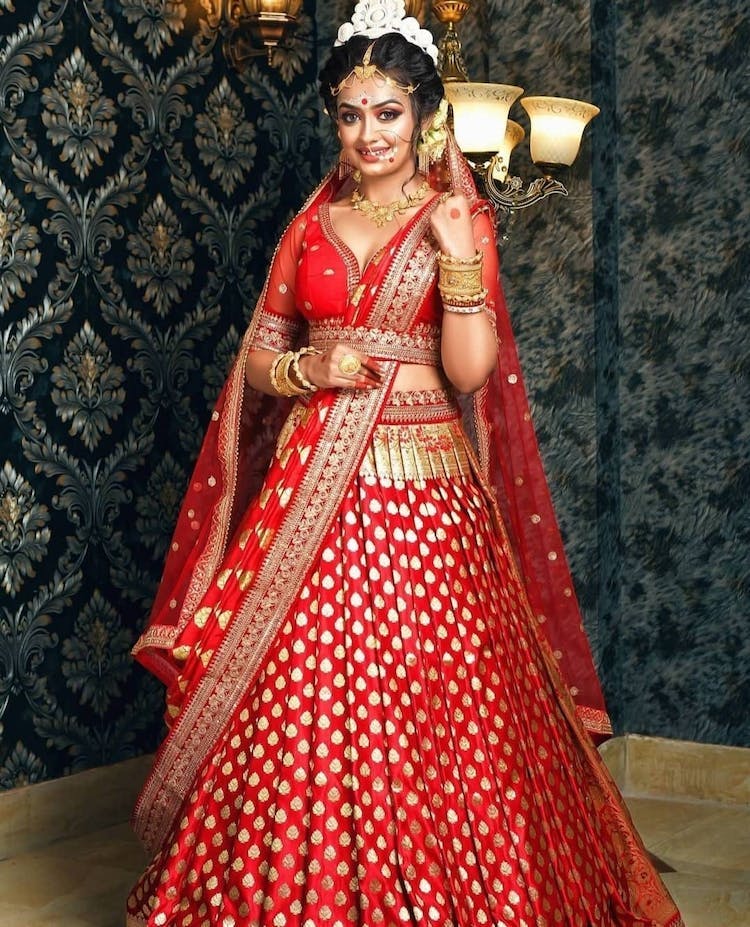 14. Subtle Look Of A Minimalist Bride
This blissful bridal look in pink banarasi saree looks mesmerizing. This beautiful bride has enhanced her elegant look by opting for diamond jewelry. Her rosy lips and radiant eyes are making her the most charming bride.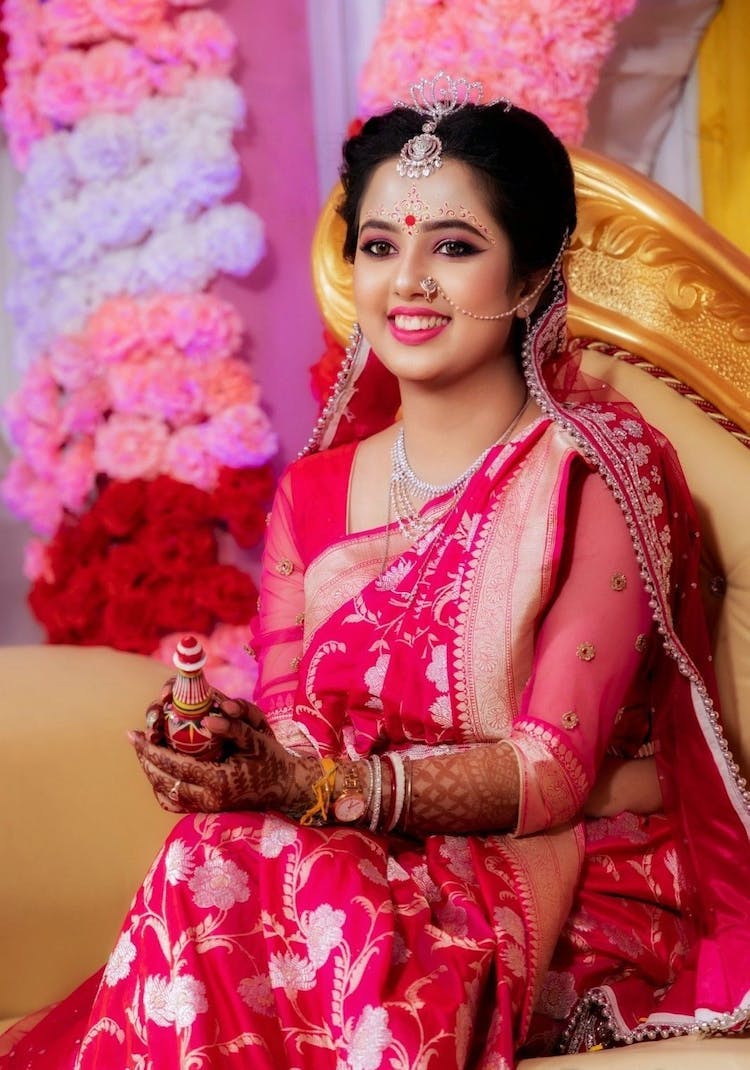 15. Offbeat Wedding Saree Look
If you are a fan of bold eyes makeup and heavy jewellery, then this Bengali bride will surely impress you. The way she wore an offbeat saree with a puffed red blouse is flaunting her dreamy bridal look.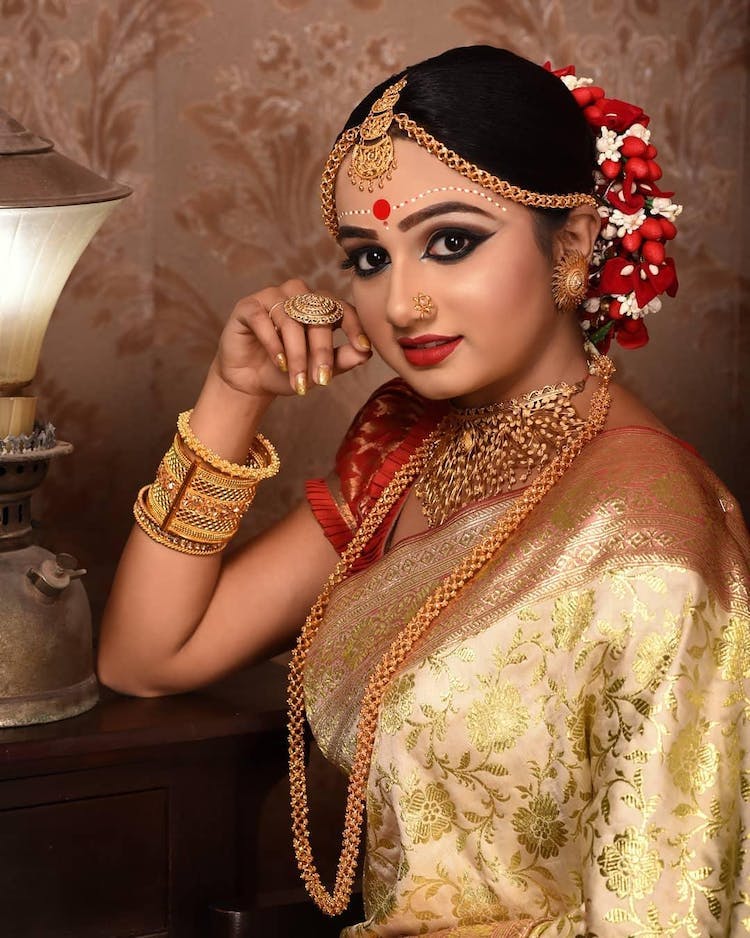 These appealing looks of bong brides were surely won many hearts. Hopefully, these top tips for brides reception look will be an inspiration for your big day.