Bengali wedding photography represents the blissful side of fun-filled, culturally rich Bengali wedding moments in a collage of candid photos. The joy and heartwarming moments look more beautiful when the celebrity star of a Bengali wedding the gorgeous bride is captured in some creative and amazing shots.
         If you also want to achieve the epitome of grace in your Bengali bridal look, then keep scrolling down. Because here we, the best wedding photographer in kolkata are sharing some inspirational Bengali marriage bridal photoshoot poses that won our hearts.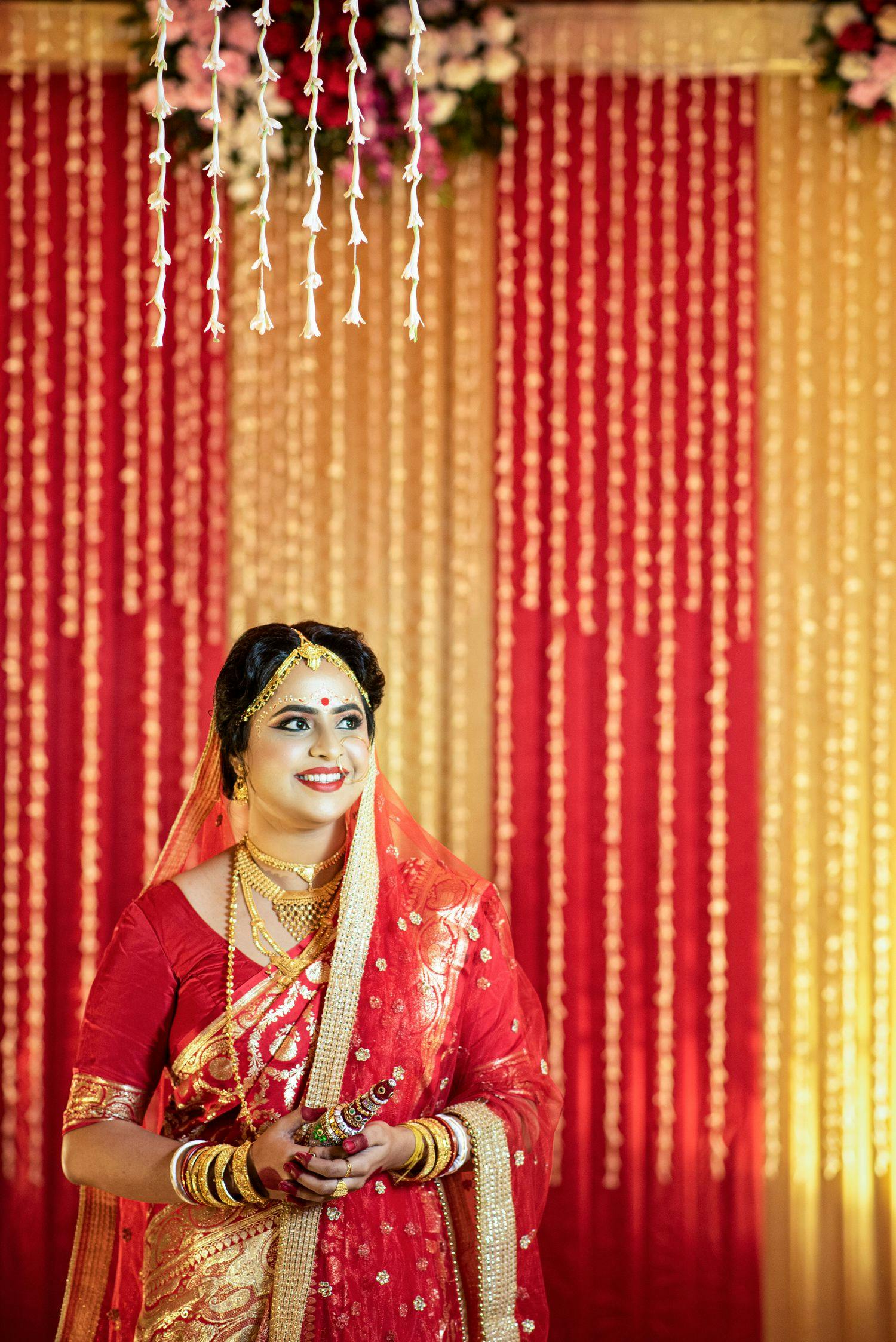 1. She Looks Amazing With Her Love
         The happiest moment of every bride is getting married and living a beautiful life with her soul mate. Here, the photographer has beautifully depicted the loving emotions of this gorgeous wife for her husband. Her alluring smile, while looking down is a dramatic pose that can be a beautiful part of her wedding album.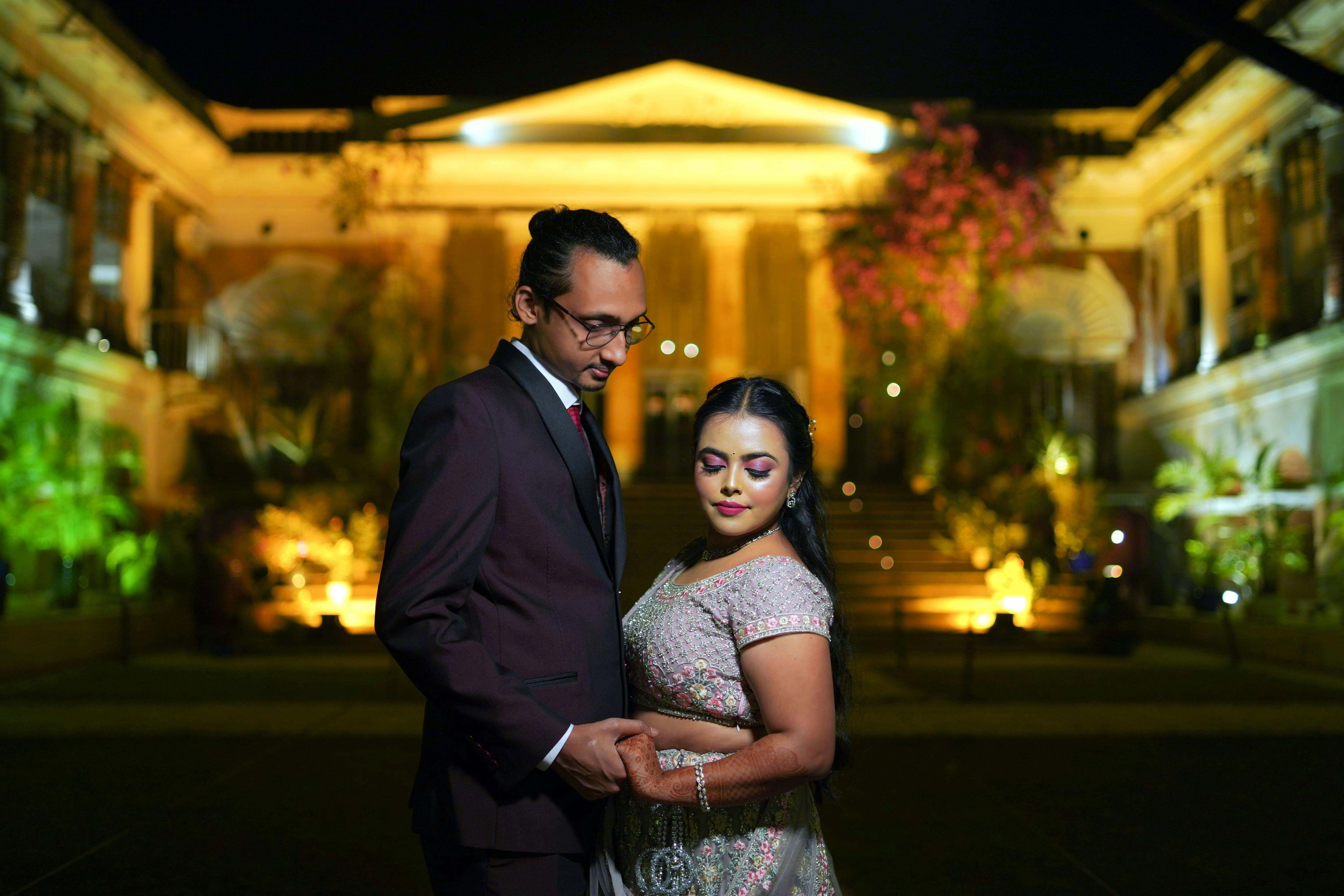 Recommended: 12 beautiful Banarasi sarees for Bengali bride
2. Trending Shubho Drishti Pose
         This is the most joyous and fun-filled moment in a Bengali wedding. Shubho Drishti is not only a wedding ritual, it has also become a very popular Bengali wedding pose. The green betel leaves when carried by a glamorous bride in her hands become a cheerful moment. This beautiful pose can be the highlight of your wedding album.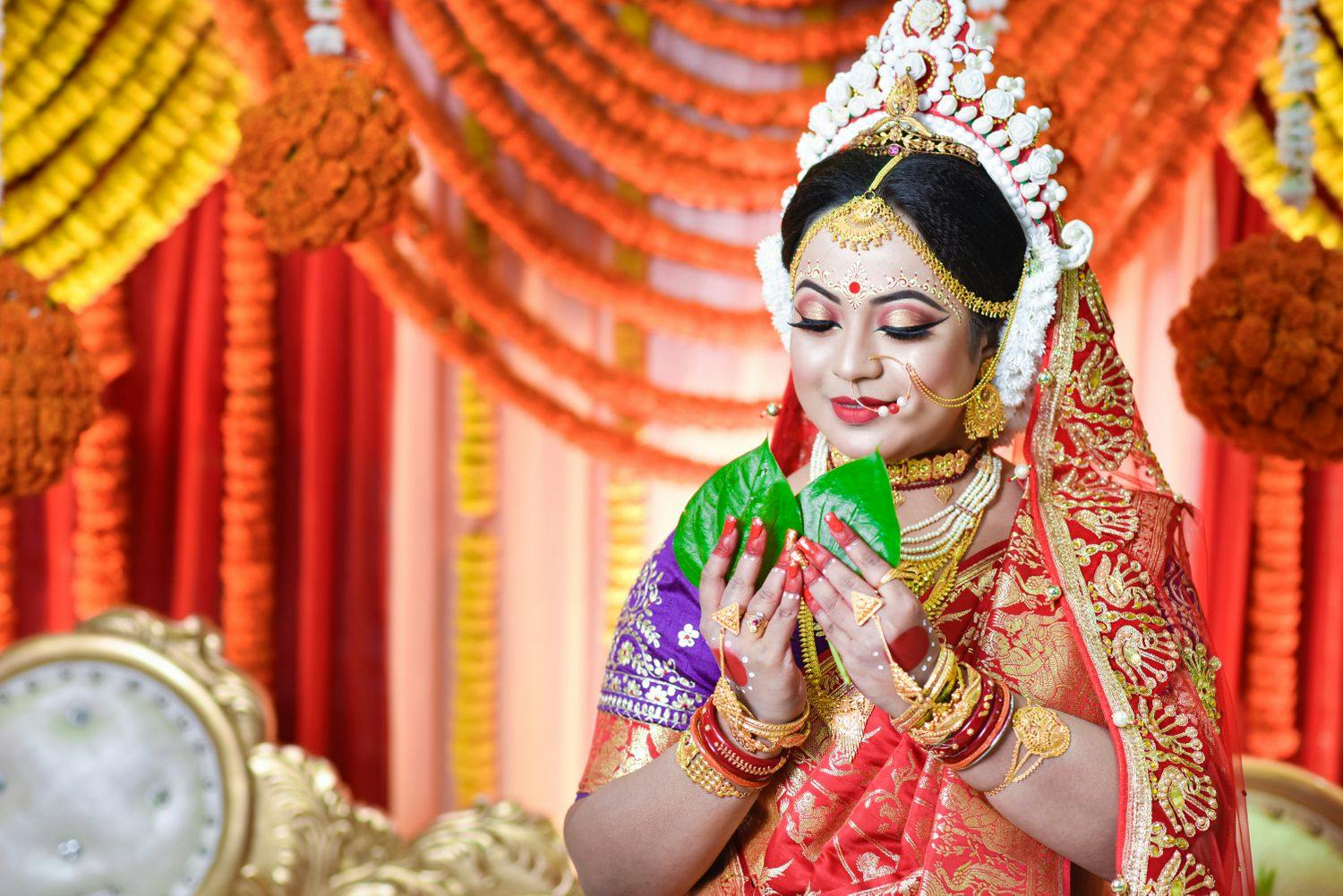 Must Read: Top 11 Bengali Bridal Mehndi Design Ideas [2022]
3. Most Beautiful Sindoor Daan Pose
         A bridal glow reaches its peak at this lovely moment. The beautiful smile on our bride's face is too adorable. This is the best pose for the bride that always steals the show. Don't miss the chance to capture this beautiful bridal post that will stay close to your heart forever.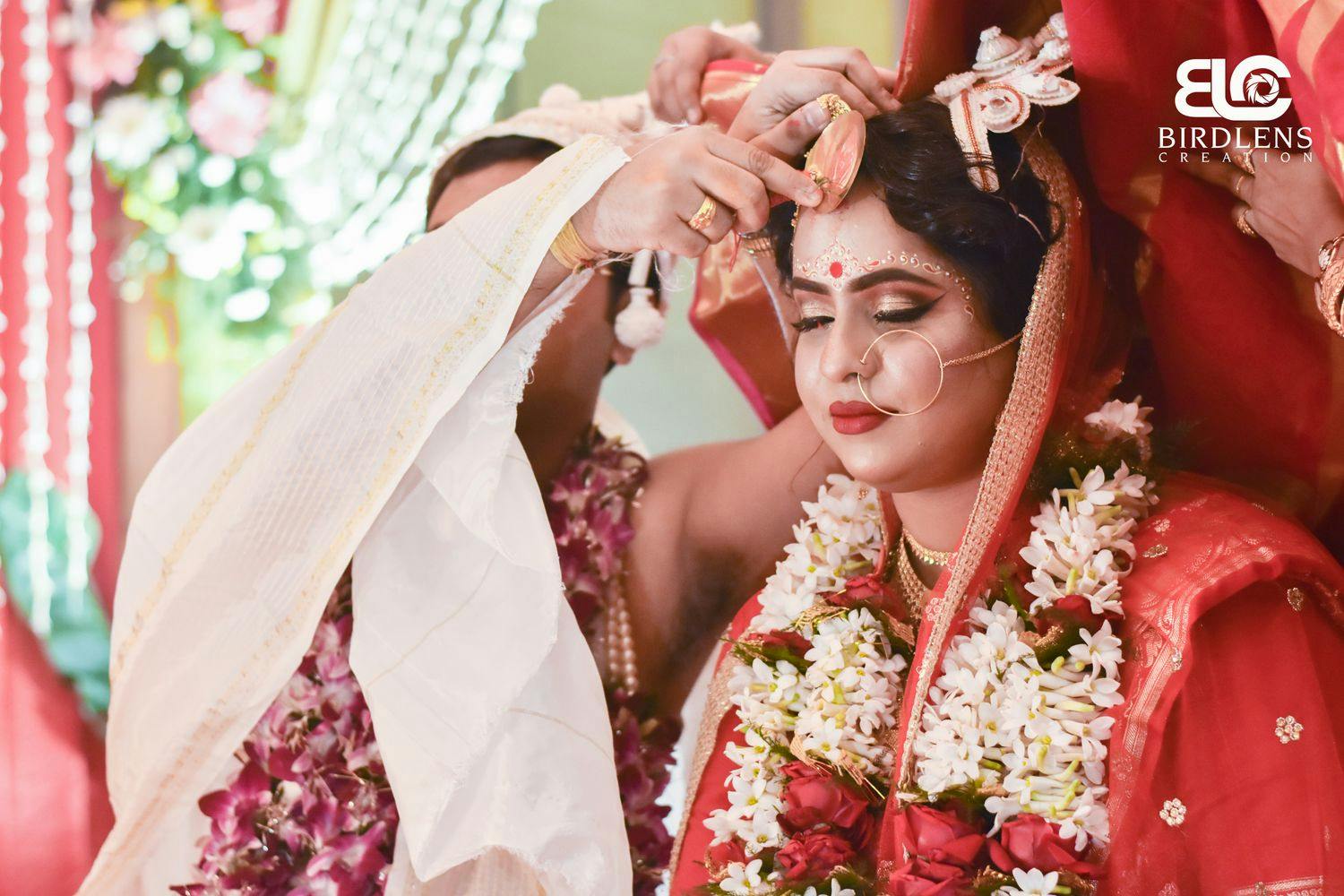 4. Bong Sundari Looks Through Her Veil Pose
         A beautiful bride under the veil is an artistic bridal shoot pose that has gained immense popularity. The gorgeous bridal dupatta provides a breathtaking picture that becomes the spotlight of the show. The finest makeup of this bride with a dazzling smile under the veil is stealing million hearts.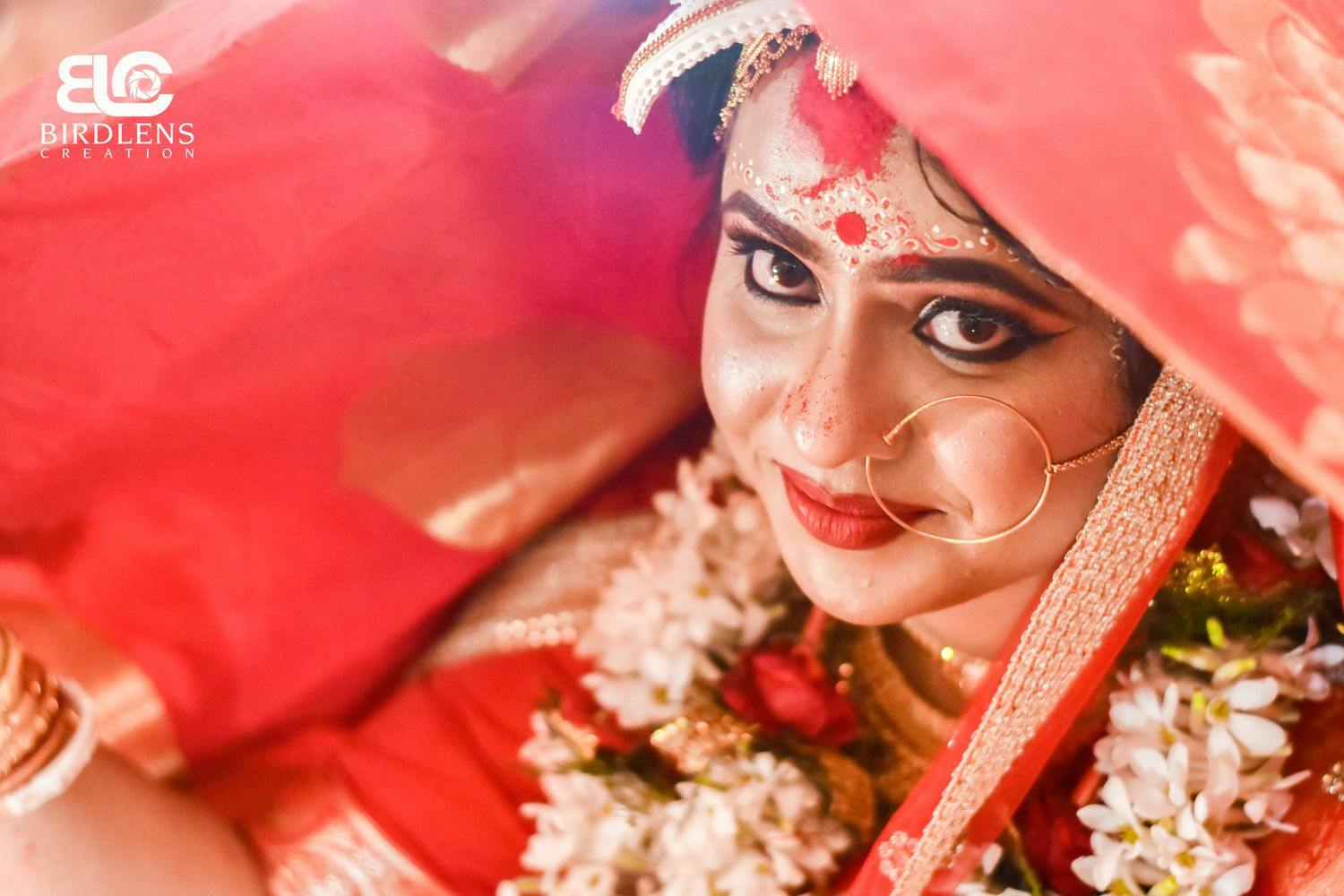 5. Beautiful Moment Of Wearing Alta
         Beautifully adorned bright red feet with elaborate patterns definitely deserve to be highlighted in your wedding album. This is an important part of Bengali weddings. The tradition of wearing Alta has started a very long time ago and is continuing till now. This gorgeous bride has posed for the age-old ritual in a very dramatic way that is truly admirable.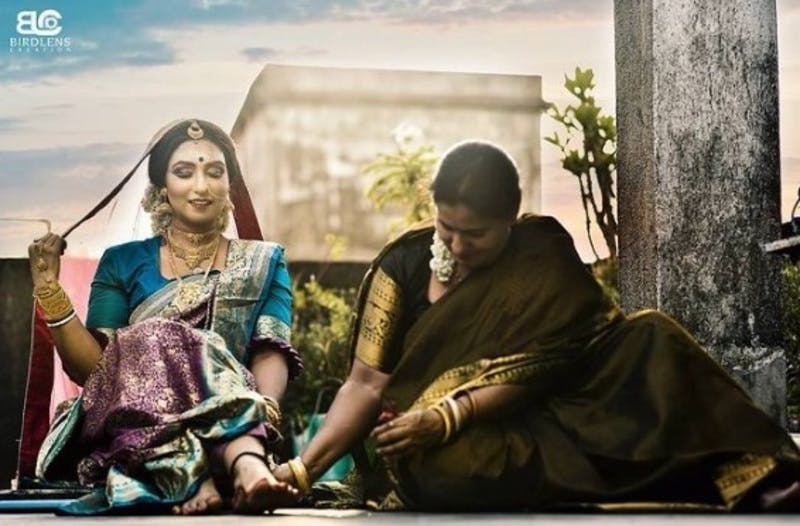 6. All Emotions In One Frame
         Now, this touchy pose doesn't require any explanation we suppose. We actually don't have any words to express the emotion of this heart-touching pose. Biday is a very painful moment in every girl's life. Here the photographer has beautifully captured the pain of this adorable bride leaving her paternal home.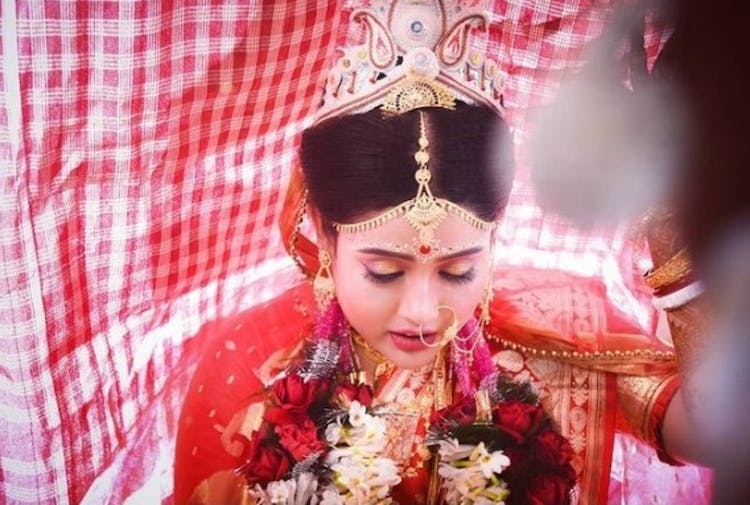 7. Gorgeous Bride's Back Pose
         The next one is an effortless pose that is taking the internet world storm. This dramatic Bengali pose is aesthetically pleasing to the eyes. The back shot of a bong beauty is one of the most stylish photo poses that must be a part of your wedding album.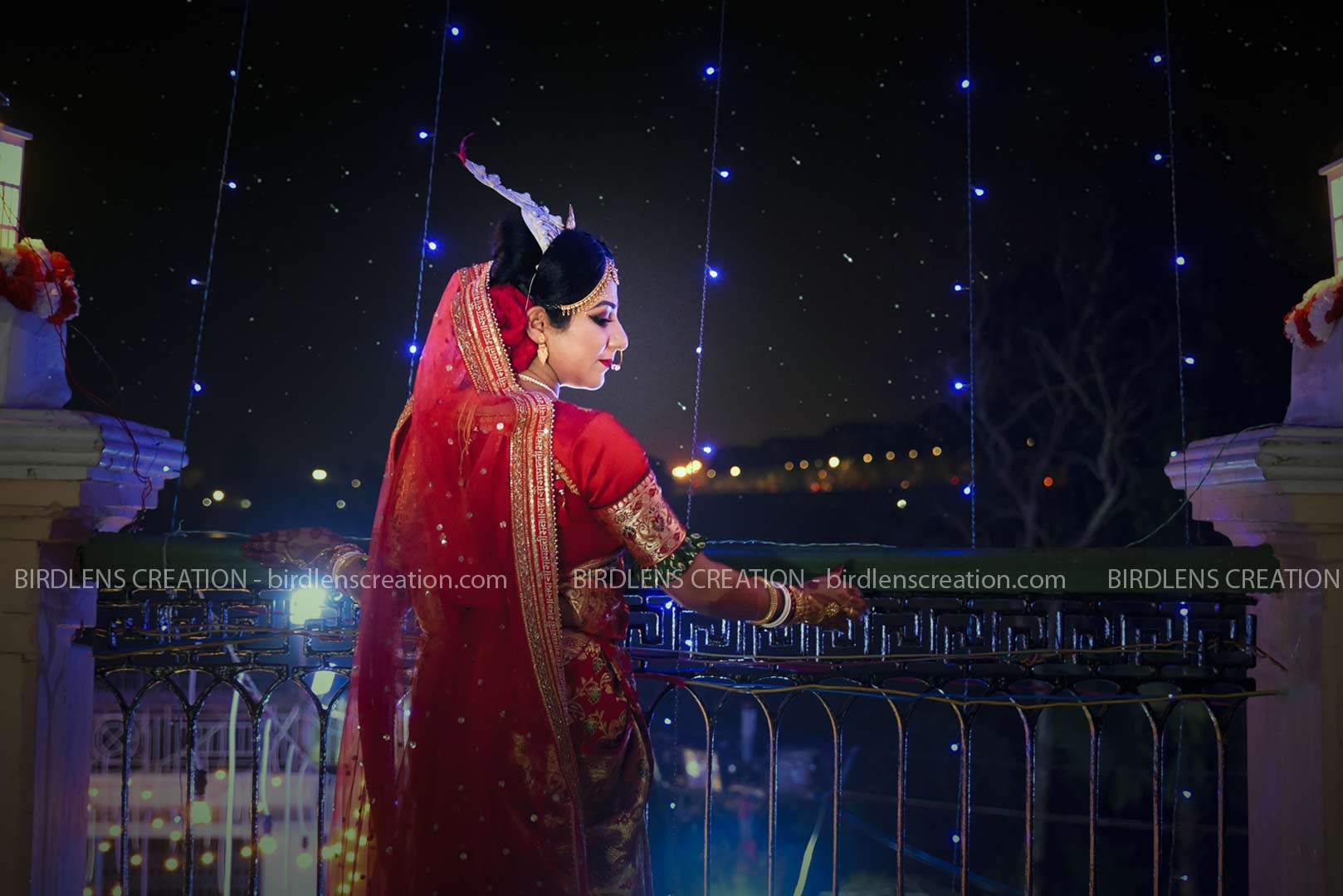 8. A Mandatory Gaye Holud Pose
         Gaye holud is a fun-filled Bengali ritual which is also known as the haldi ceremony. This is one of the very important wedding day photo poses that deserves a few ravishing shots for sure. A cheerful bride sitting under a traditional marigold pandal represents the simplicity of this amazing pose.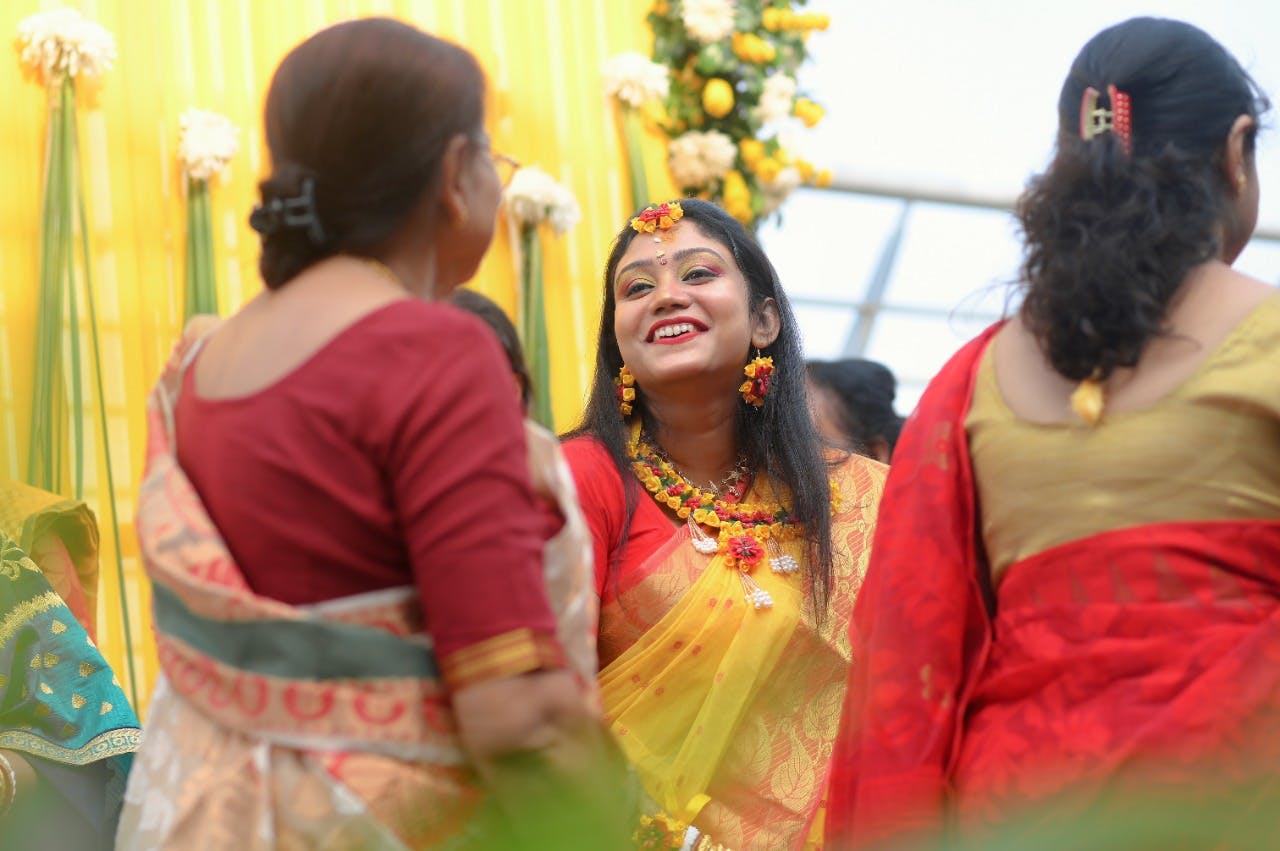 9. An Adorable Bride With A Ritual Prop Pose
         These are some happy poses that must go straight to your wedding album. This radiant bride holding props like betel leaf and "Gach kouto" is a splendid shot that is worth capturing. To make it more playful you can play with your expressions, and leave the rest to your photographer.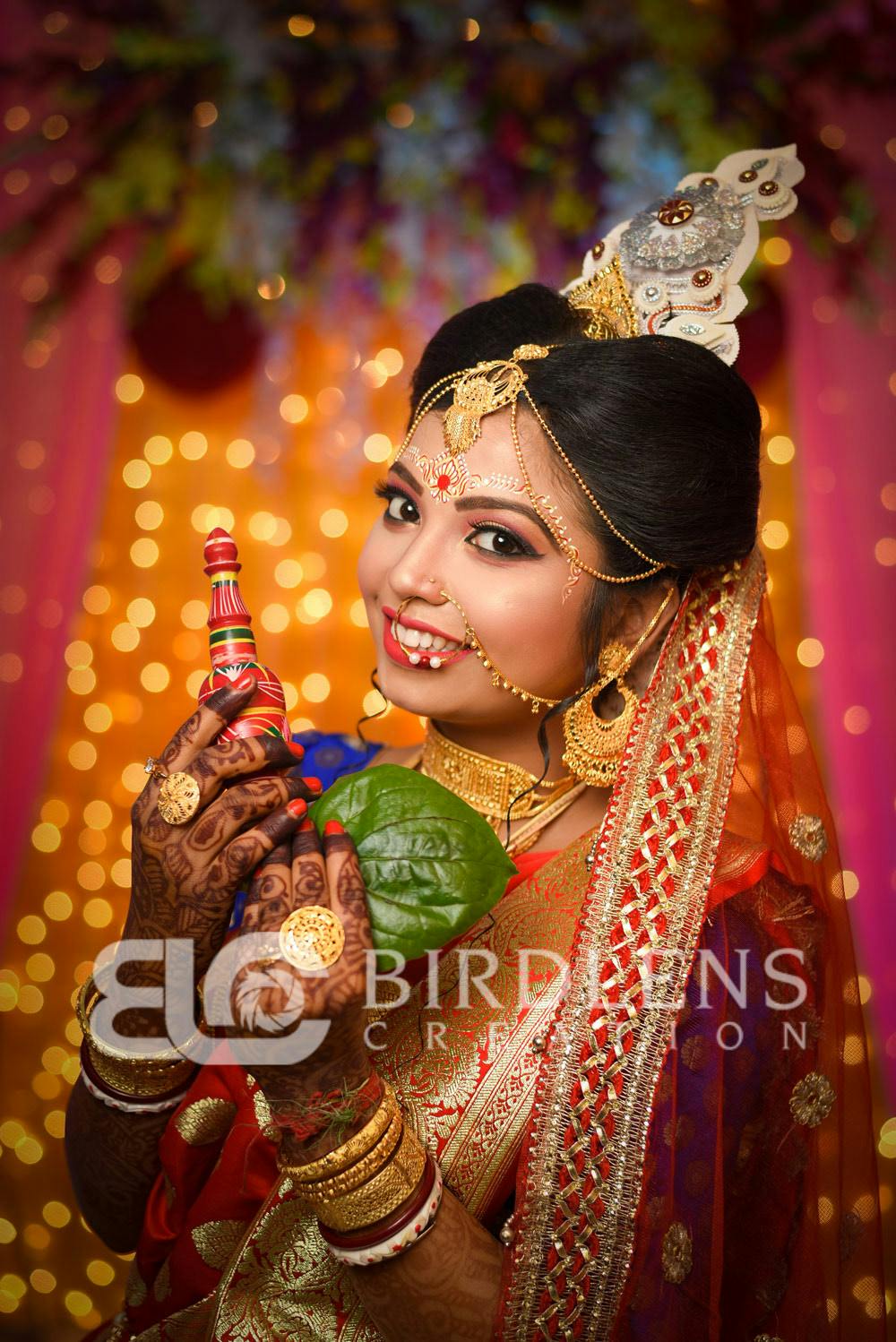 10. Royal Bride Below The Chandelier
         And here comes one more magical pose. We all know the beauty of a chandelier can enhance the beauty of a picture 10 times better. Simply stand below the chandelier and ask your photographer to keep the focus only on you to get a royal queen-like picture.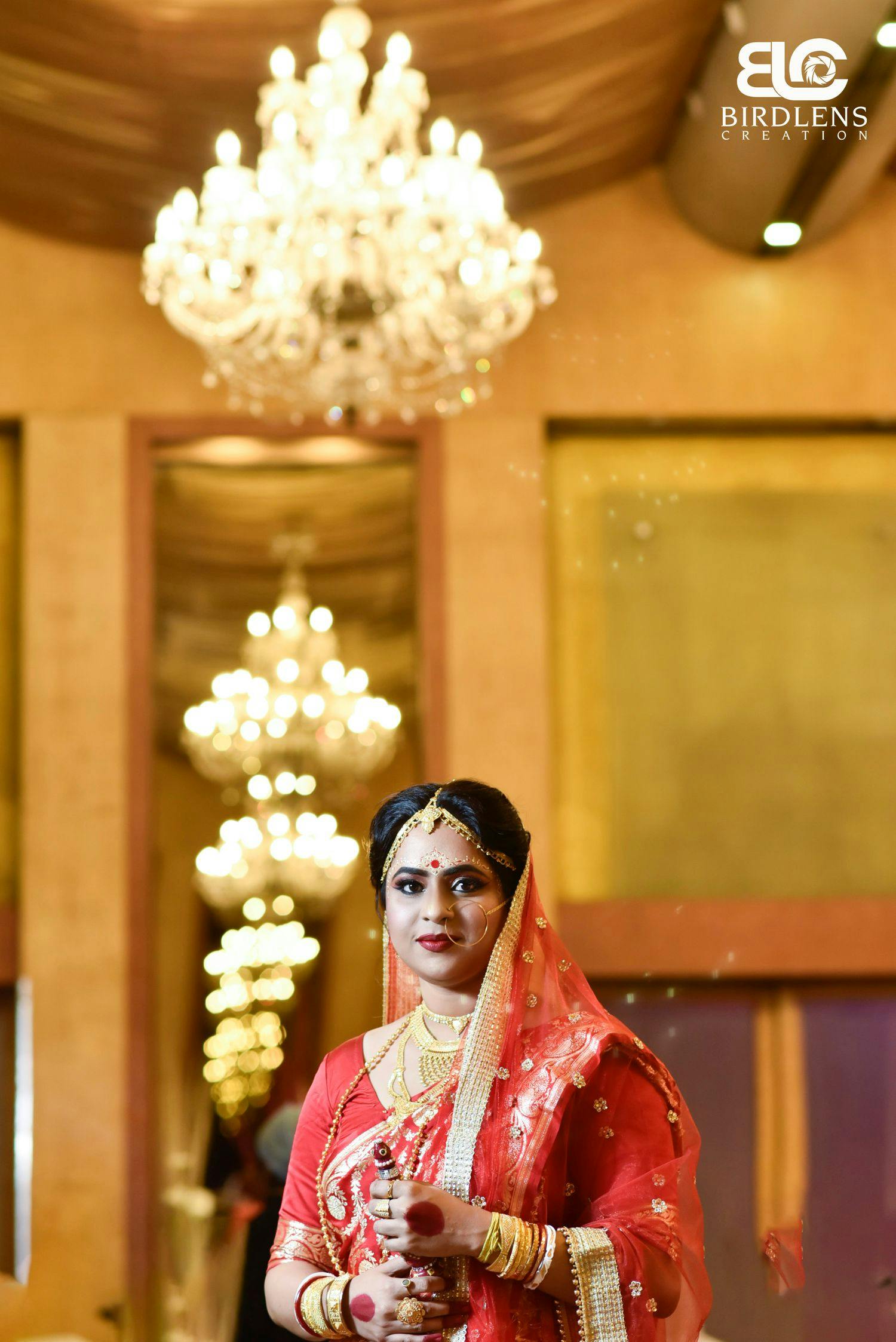 11. Nostalgic Bride Sitting On Stairs
         This is a simple example of a minimalistic pose that has a different feel. Sitting down comfortably on the stairs, putting one hand at the side of your neck, and looking away from the camera will provide an awesome shot. This marvelous pose for a wedding photoshoot is a nice click that makes us feel the nostalgic experience of a bride.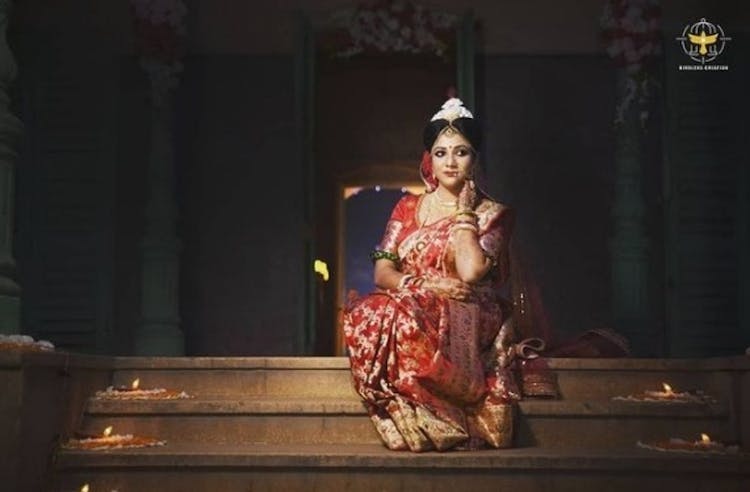 12. A Musical Pose Of A Vivacious Bride
         Now, this artistic pose is solely for all the instrumental brides. Here, the bride's connection with her musical instrument has been portrayed beautifully. Music is an integral part of Bengali culture, thus if you are also a music lover you can show your love for music just like this elegant bride with her veena.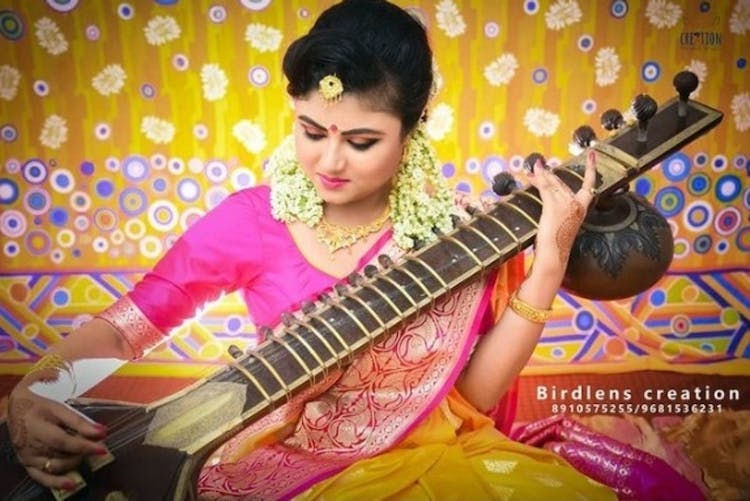 13. Let Me Adjust My Jewelry Pose
         This one is a trending wedding poses for bride that can be a good Instagram feed. Pretend to adjust your gorgeous bridal jewelry can be a candid photo pose in your wedding.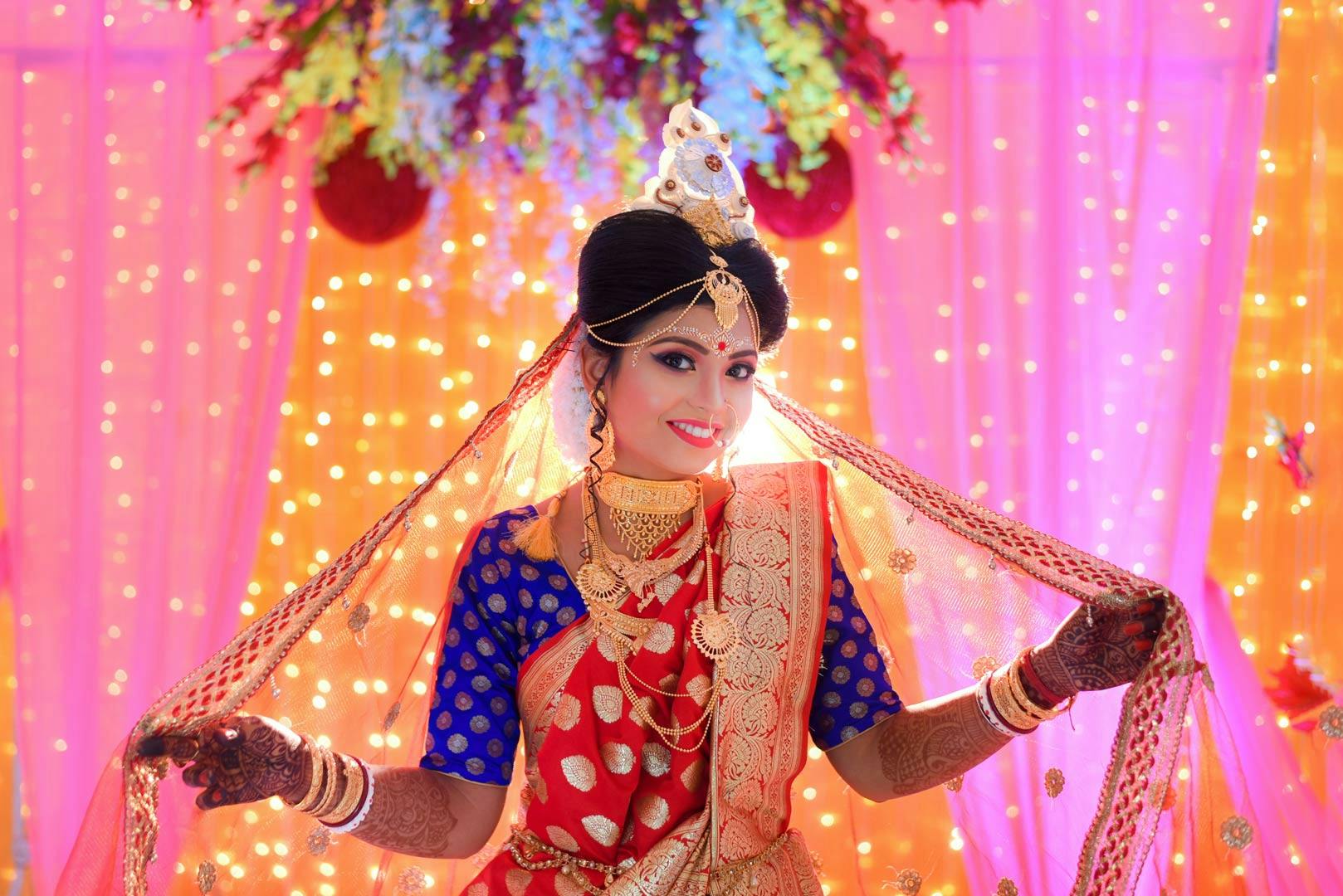 14. Capturing Bong Beauty's Reflection
         A mirror is the most important trousseau of an Indian bride which lets her complete her solah shringar. Ask your photographer to capture your bridal look reflection in the mirror to get a remarkable picture of yours.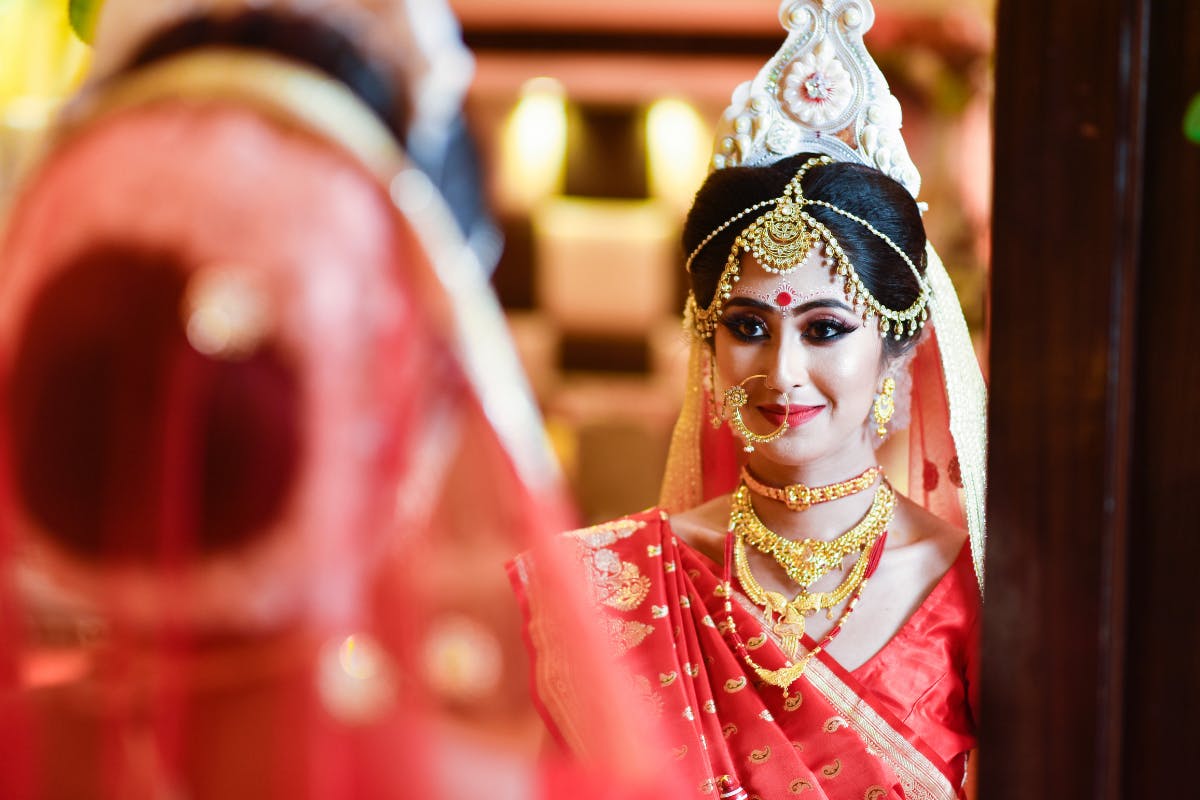 15. Mesmerizing Smiling Pose Of Bong Bride
         A gracious smile is one of the best pose which always results in the best bridal shot. This smiling pose of Bong beauty has a different level of charm that can be an ever-shining picture in your wedding album.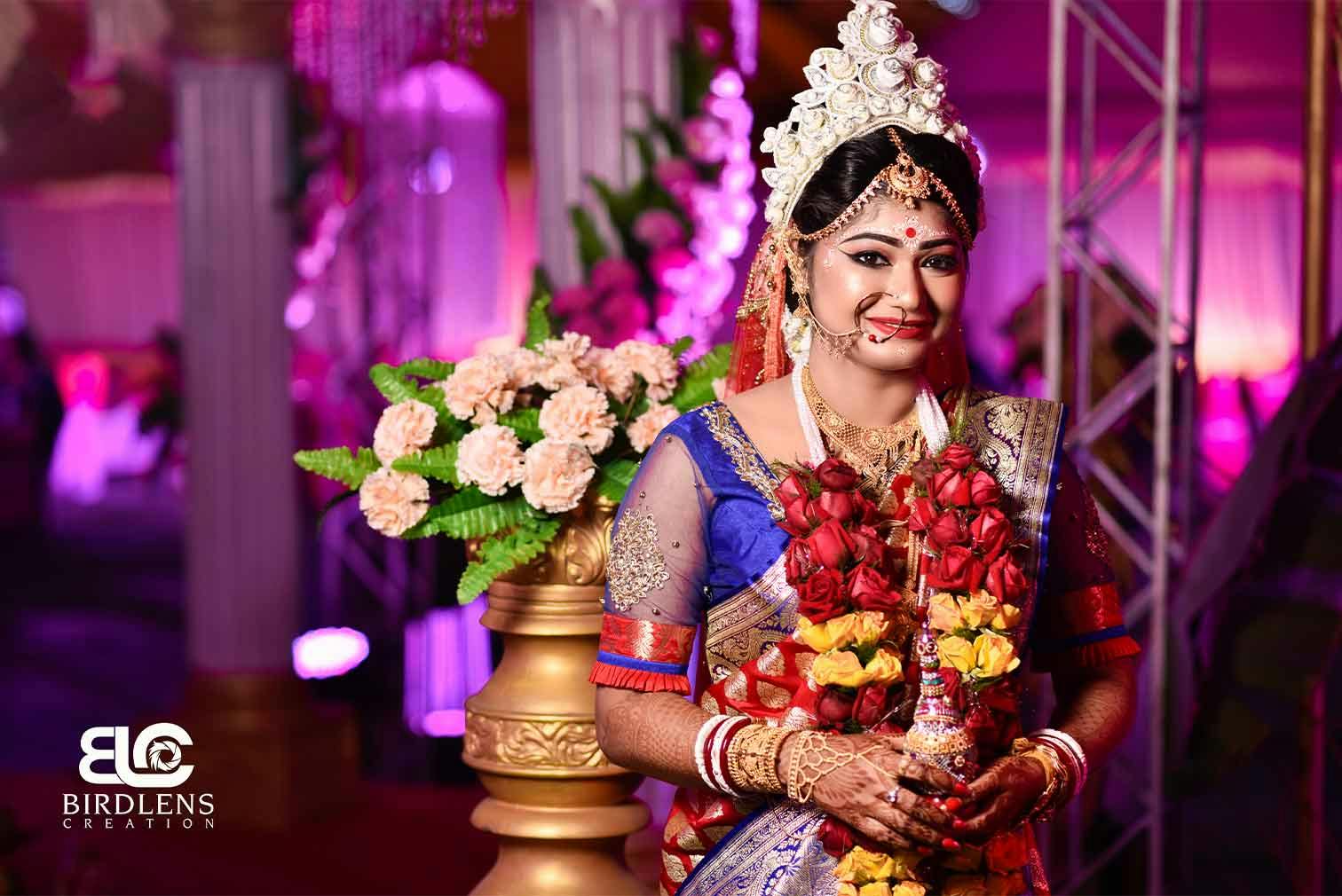 Now that you have gone through the top-most Bengali bridal photo shoot poses, hope you've got ideas regarding perfect phenomenal shots for your wedding.
You can consult with professional wedding photographers in Kolkata like Birdlens Creation to get a treasure of everlasting memory.