Mehendi is an important wedding ritual in India. Applying Mehendi in the bride's palm before the wedding is an ancient tradition in India. It is considered a good omen that marks the bond of matrimony. Women of Bengal used to wear "Alta" instead of Mehendi. The bright red color Alta is a liquid dye used to adorn the palms and feet of a bride. Elaborate designs were made to enhance the bridal look of a girl. It is not only used as a beauty element but also provides a cooling effect to the body. In ancient India "Alta" was a part of 16 Bridal adornments known as "Solah Shringar". 
         Nowadays applying designable Mehendi of henna or Alta has become a trend in Bengali culture. Despite the fact, that Alta is a traditional part of Bengali weddings. Modern brides want to try something new and unique. The latest mehndi design bengali can provide an artistic touch to your bridal look and make you ready for the perfect shots of your bengali wedding photography. Here, we, the best wedding photographer in kolkata are going to share 11 stunning wedding Mehndi designs, that are taking the Bong wedding market by storm.
1. Elegant Criss Cross Alta For Feet
 The traditional mehndi design bengali made of Alta provide an alluring appearance to your feet. These kinds of designs make your feet more beautiful. In the olden days, Alta was applied only on the edges of the feet with a big circle in the center. But today many beautiful and intricate designs like floral, criss-cross patterns, vine patterns are designed on the bride's feet to provide a fashionable and appealing look.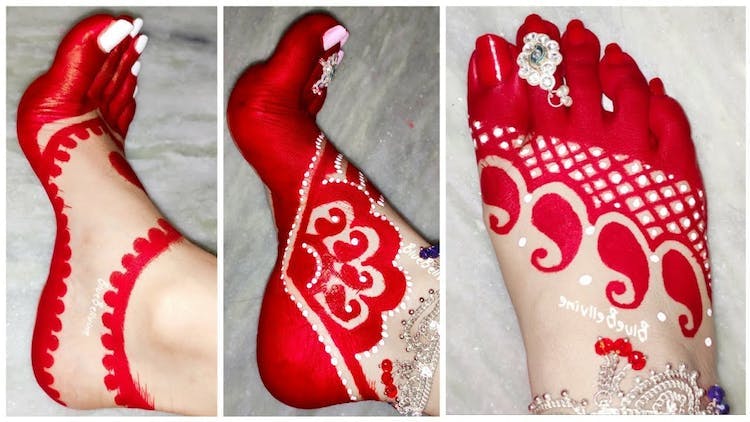 Recommended: 12 beautiful Banarasi sarees for Bengali bride
2. Simplistic Mehndi Design For Modern Brides
The traditional Alta designs were simple and elaborate made of the beautiful red circle in the center of the palm and painted finger heads. Your simple designs look absolutely stunning if you provide an additional touch of white color by designing small flowers and leaves around the circle. Yet this design is traditional, but the simplicity of this design offers your hands a classy look. This easy mehndi design is gaining popularity in bridal fashion magazines.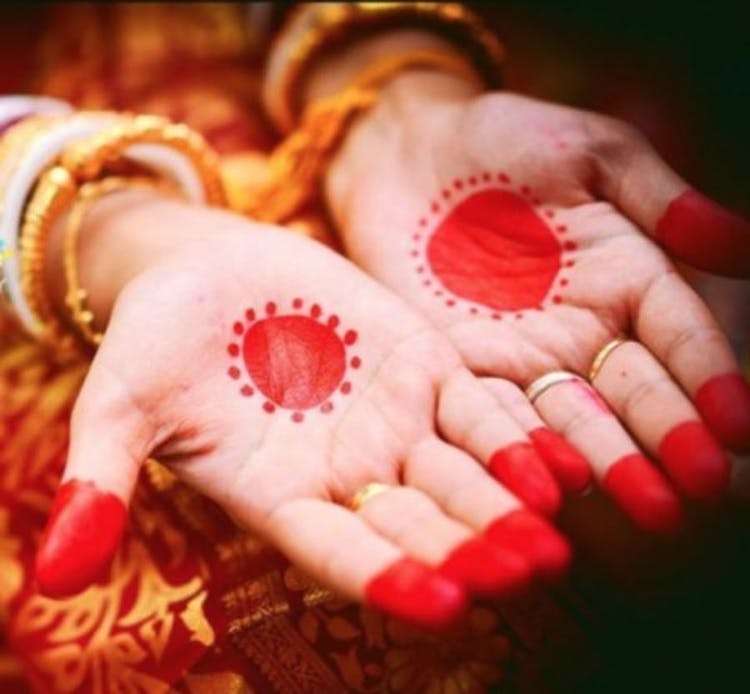 3. Indo-Arabic Mehendi Design For Beautiful Brides
The fusion of Indian and Arabic art has produced many marvelous pieces and structures of art. Such a splendid example is the Indo-Arabic Mehendi. This beautiful mehndi design comprises many patterns like flowers, leaves, paisleys, and much more. These beautifully crafted patterns look eye-catchy and do wonders if provided an additional touch of Bengali Alta.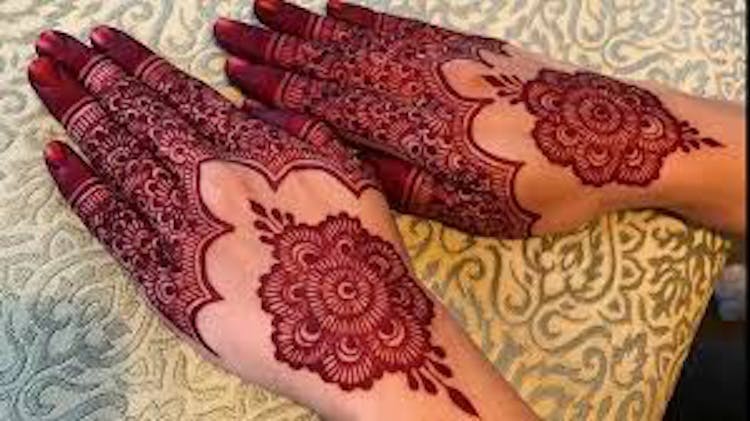 4. Super Trendy Henna Designs
 Bongs always look for a unique and stylish approach to represent their fashion sense. This full hand Mehndi design is a fabulous design that provides your hands with a heavenly look. This trending design is also known as Jaal Mehendi because it appears like a beautiful net woven on the palms of the bride. This intricate henna design is ruling the bride's fashion world. It mainly comprises beautiful curves and quirky shapes. This unique Mehendi design has its own charm and catches everyone's eyes.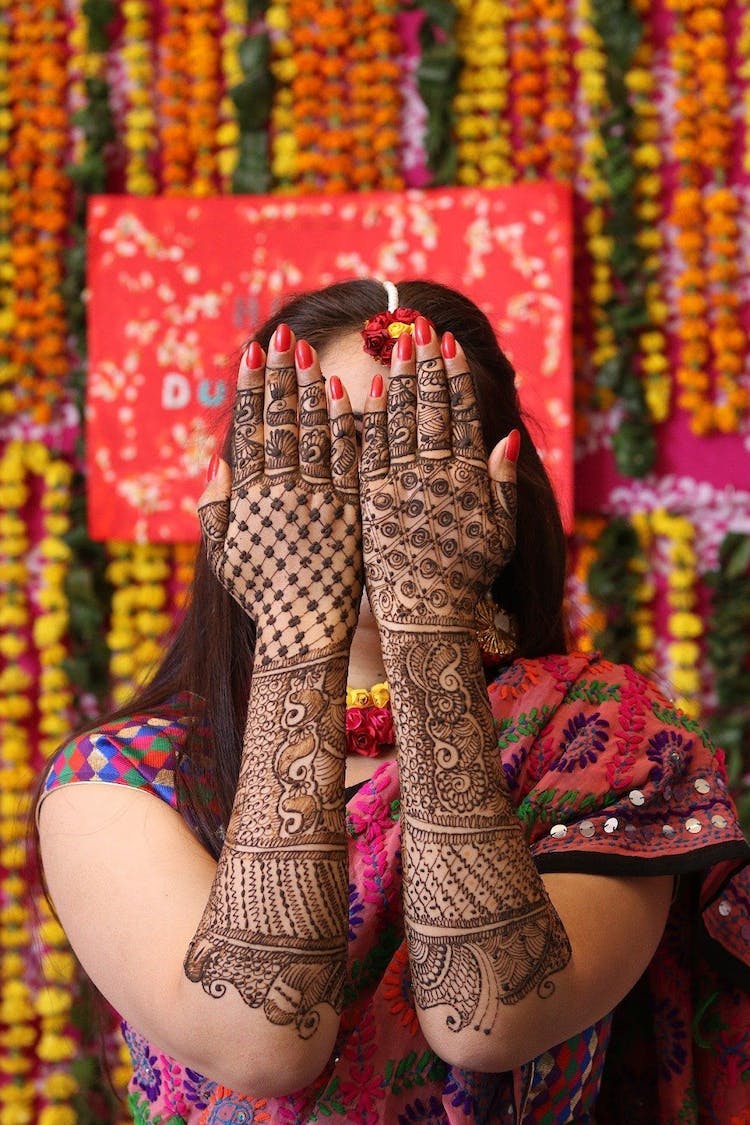 5. Floral Mehndi Design Bengali
The floral Mehendi designs are probably one of the best bridal mehndi designs. This everlasting pattern impresses everyone with its whimsical vibe. Whether it's a wedding or other occasion these designs certainly prove their eye-pleasing charm. Moreover, these beautiful carved leafy and floral pattern is the most simple and sophisticated mehendi design for bride.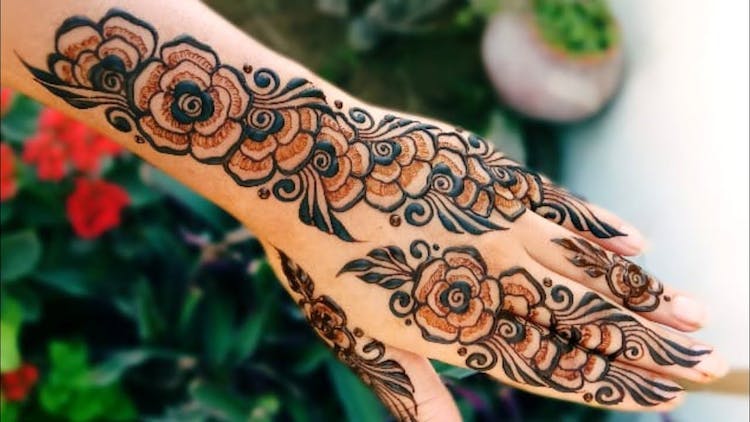 6. Most Stylish And Heavy Look Mehndi Designs
This graceful design is inspired by Gujarati mehndi designs. To bring such grace and beauty unique floral and peacock designs are carved in a cluttered manner. The full hand of bride is designed beautifully. This skillful and flawless mehndi design is very popular among Bengali brides.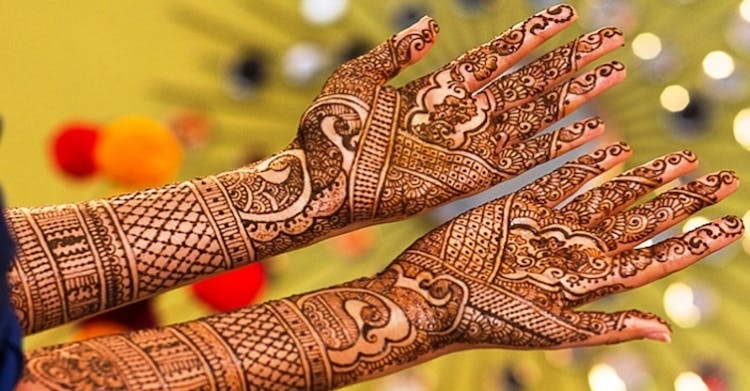 7. Popular Portrait Mehendi Design For Bengali Brides
Personalize your Mehendi design by including a portrait on your palms. This beautiful portrait holds the significance of your loving chemistry as a couple. You can also ask your Mehendi designer to do a portrait of you two or includes your name in the calligraphy pattern. This is a perfect choice to complement your bridal look in a stylish way.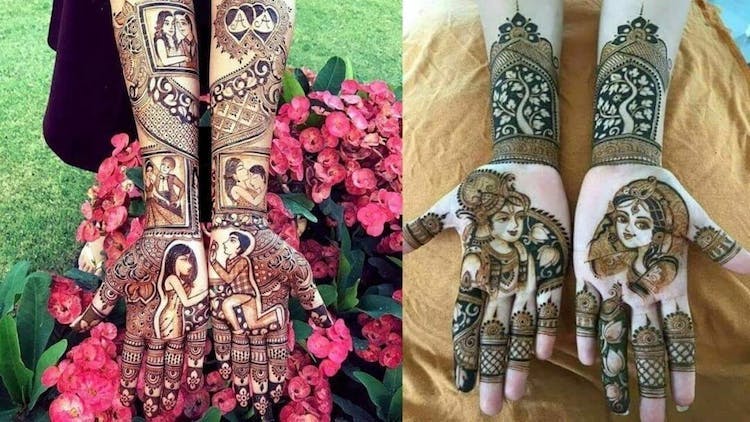 8. Gorgeous Mirrored Mehendi Designs
The mirrored Mehendi designs take this skillful practice to the next level. A beautiful symmetrical shape is designed in the center and adorned with vines and impeccable floral patterns. This new Bengali mehndi design is gaining immense popularity for its unique and intricate design.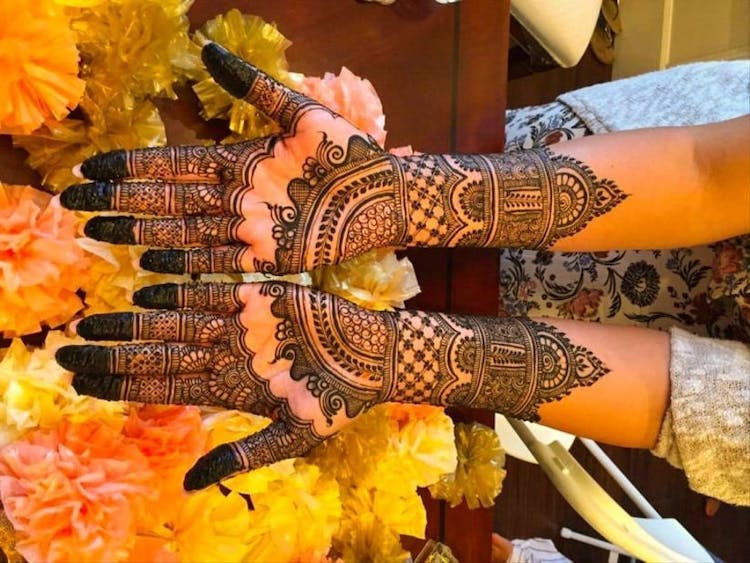 9. Peacock Mehendi Designs
One of the best mehndi designs is the unique peacock motifs. This stunning design is a true symbol of art. These Bengali mehndi designs are designed from the top of the finger to the wrist of your hand. Beautiful motifs like peacocks, lotus, leaves, and flowers are designed in a flawless manner. These minimal designs are just pure alluring.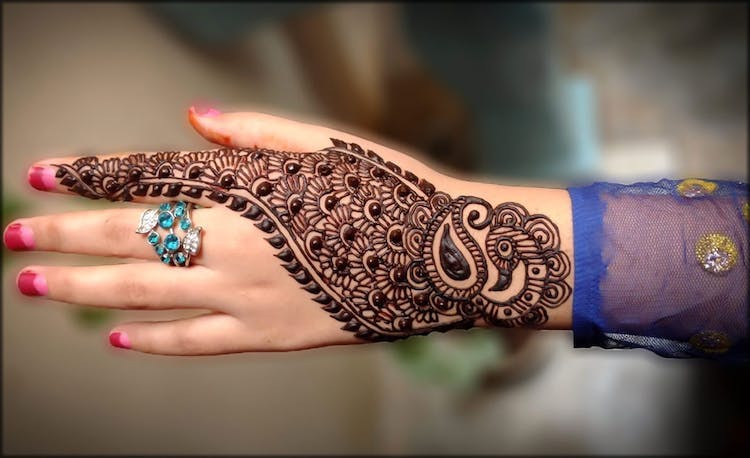 10. Simple And Beautiful Alta Design For A Minimal Bride
Believe it or not, a Bengali bride looks more gorgeous when she wears the rose-red Alta on her hands. But if you want to try something unique in your bridal look, then why not begin it with an alluring Alta design? Artisans have introduced various eye-catchy designs to give the bride a prettier and classy look. Moreover, this red dye is easy to wear and remove. The circular pattern design could be a perfect choice for a Bengali bride.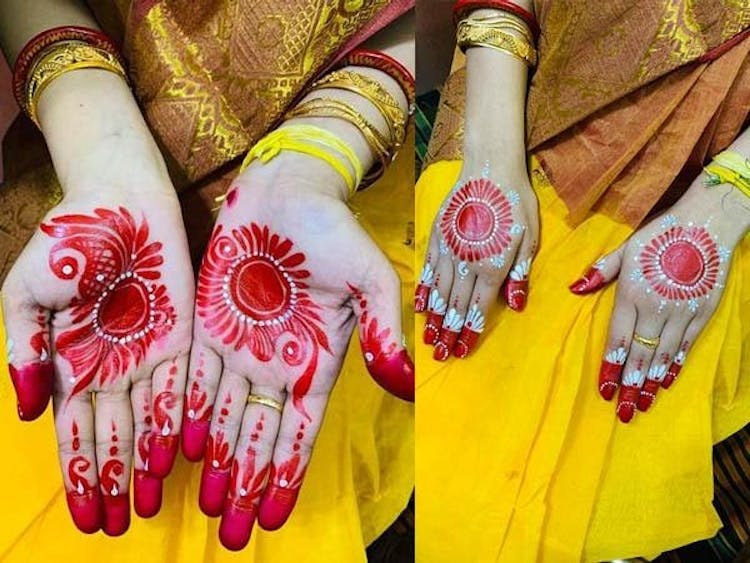 11. Arabic Mehendi Designs For Adorable Bride
These Mehendi designs are famous for their skillful swirls, diagonal motifs, and floral patterns. These beautiful designs are quite spaced out and feature elaborate patterns. The fingers of the bride are adorned with beautiful creepers. The criss-cross motifs from elbow to wrist make this a flawless beautiful design to be worn by the new bride.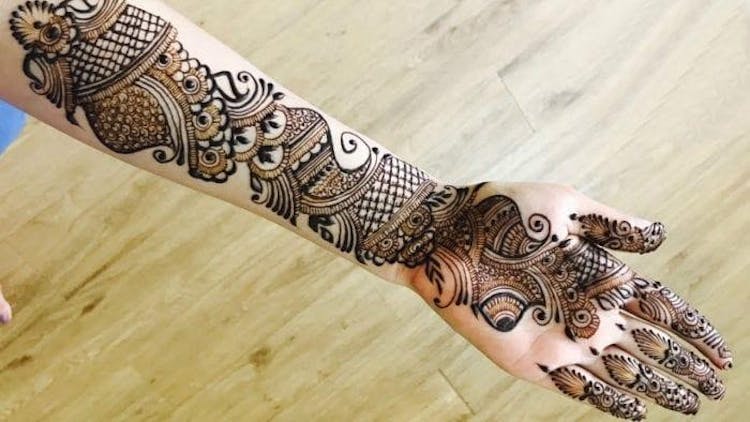 All these designs are unique and beautiful in themselves. These stunning designs can make you stand out. But to enhance the beauty of such designs and to make them a lifelong memory you need to capture them perfectly. Birdlens creation is a renowned wedding photographer in Kolkata famous for capturing beautiful wedding moments. Head over to their online website to get the best wedding photographs.