There is something very special about Banarasi sarees that provides a new bride most appealing and divine look. Yet, many girls prefer to wear a lehenga in their wedding ceremony but a Banarasi saree has a glamorous appeal that is going to provide you with an outstanding look. The guests invited to your wedding party can't stop themselves to praise your beauty and all this beauty can be truly achieved by wearing a gorgeous Banarasi saree. Do you know that Banarasi sarees are known as the queen of all silk sarees due to their wonderful fabric and beautiful designs? Not only a gorgeous attire but is one of the most ancient and traditional outfits of India which was worn by Vedic people in the time period of  1000 – 300 B.C. yet this elegant piece of silk fabric became more popular during the Mughal era.
Through today's blog, the best wedding photographer in Kolkata, Birdlens Creation has come up with a list of some of the most popular beautiful banarasi sarees for bengali bride.
1. The tradional red banarasi with golden brocade work
Nothing can match the beauty and elegance of a beautiful red Banarasi saree for Bengali bride. The red saree looks more pretty with a brocade work of golden leaves or flowers. Moreover, it is considered as a color of pure and divine for the wedding day. A red Banarasi wedding saree is also the traditional outfit that is loved by most Bengali brides. Wearing this beautiful saree with a matching blouse containing zari work with golden ornaments will provide you with a glamorous look.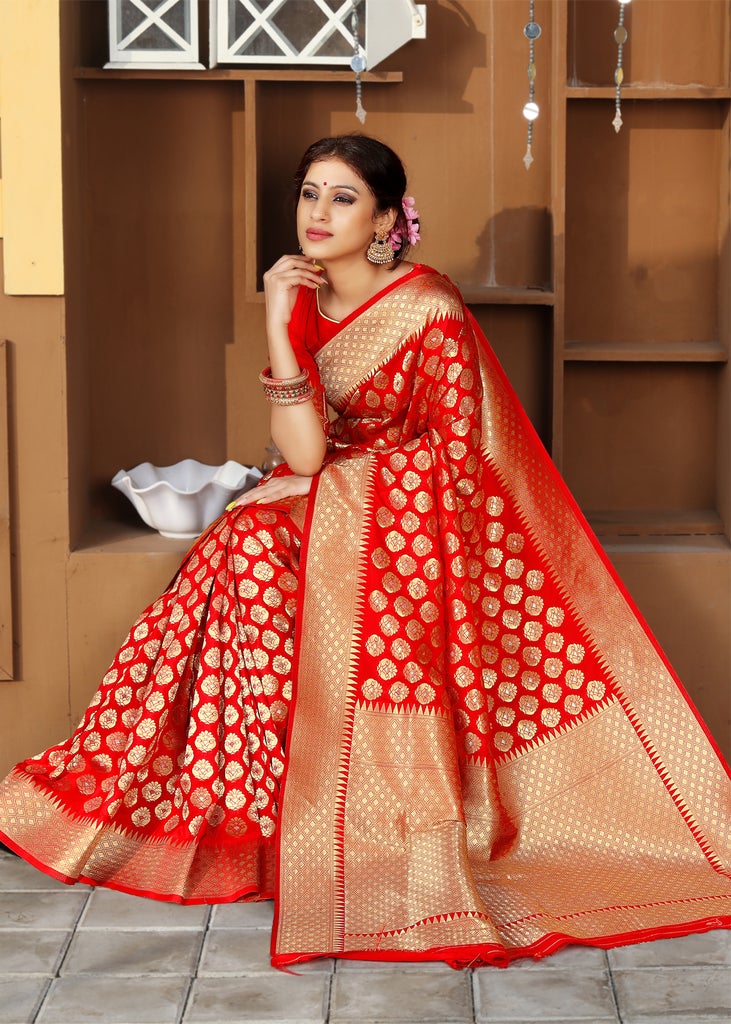 Must Read: Top 12 Pre wedding Shoot Dresses for Couples in 2022
2. Bright pink and gold Banarasi saree
If you have a medium or fairer skin tone then this wonderful combination of pink and gold will be the perfect choice for your wedding day. By wearing this you achieve the absolutely stunning bridal look in saree. The bright pink Banarasi with golden booti work looks really bridal.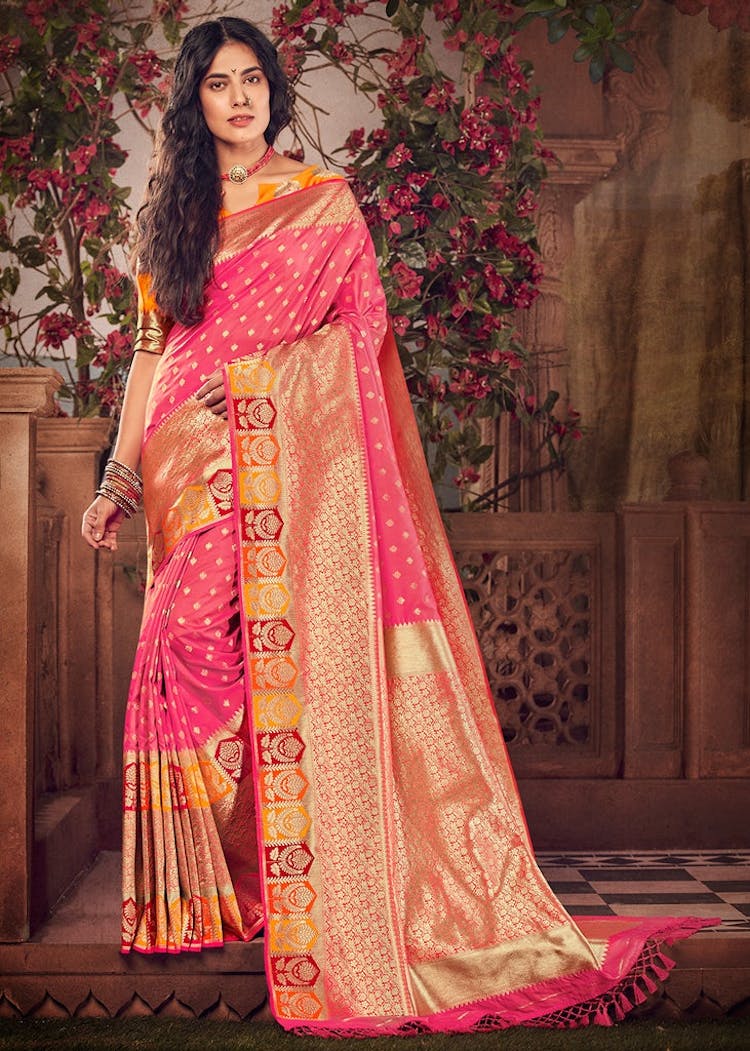 Recommended: Top 15 Bengali Bridal Photoshoot Poses Ideas-Birdlens creation
3. Fierry orange Banarasi
A fiery orange Banarasi with a golden or red blouse looks amazing on a new bride. Orange is considered a color of joy and happiness and fiery orange represents the warmth of sunshine. This vibrant color Banarasi saree for a wedding will complement your bridal look. Wearing this fiery orange saree with golden ornaments will provide an utterly gorgeous look.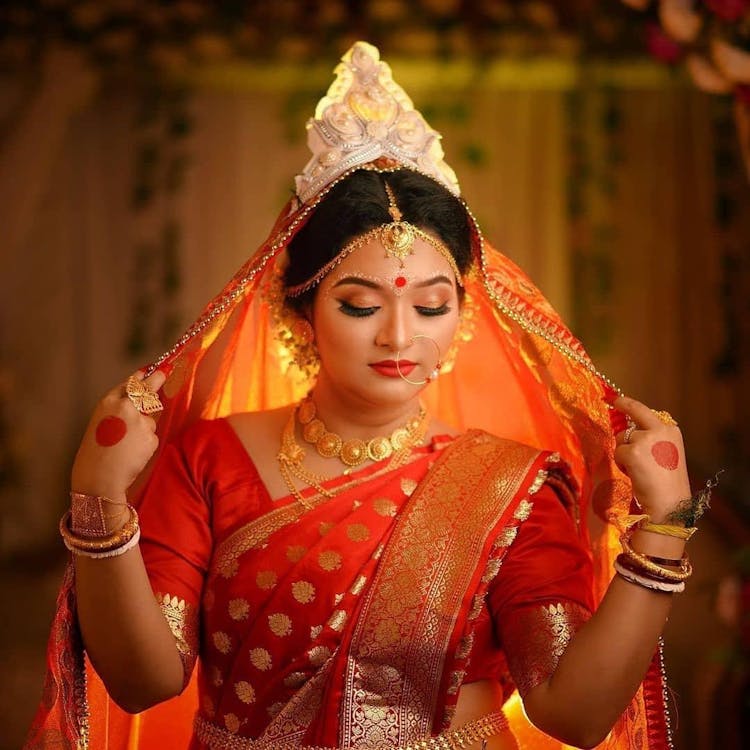 Also Read: Top 11 Bengali Bridal Mehndi Design Ideas [2022]
4. Banarasi saree with net pallu
One more brilliant choice of Bengali Banarasi saree for a wedding is wearing a blood-red Banarasi with a matching net pallu or dupatta. Red is treated as an auspicious color in Indian weddings. Moreover, it symbolizes love and romance. Thus, wearing a red Banarasi saree adds an element of grace to your bridal look. And it is also a very popular and most preferred Bengali bridal look.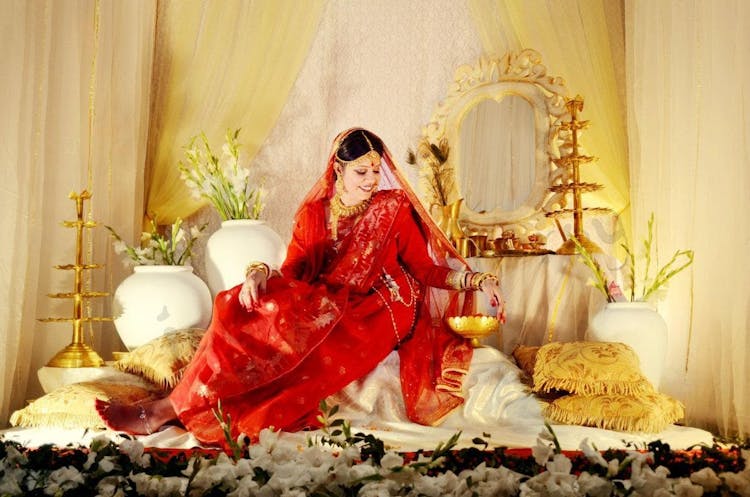 5. The elegant blueprint Banarasi
This one is the most unique and quirky combination which you would love to wear. Banarasi prints are the trending saree for wedding events. It is one of the most stylish and elegant reception looks for a bride. You can wear this stylish blue printed fabric with contrasting jewelry. Metallic ornaments with a touch of blue will look more beautiful and leave everyone's mouths open with your killer looks.
6. The lavish red and violet fusion
Two contrasting colors always appear stunning to our eyes. One such wonderful combination is the red and violet Banarasi saree. The golden bootidar work provides the saree with an appealing look. To add more beauty to this amazing saree, wear it with a three-quartered red color blouse with Kundan jewelry.
7. The Magnificent Beige Banarasi
The beige Banarasi sarees are the latest fashion trend. The color beige provides an elegant look to the Banarasi saree. This is one of the best reception sarees for the bride. This fantastic saree can look more appealing if you can wear Kundan or diamond jewellery with a bridal Kamar bandh. This special day does not come every day, so make it your memorable day by getting this soft and glam bridal look.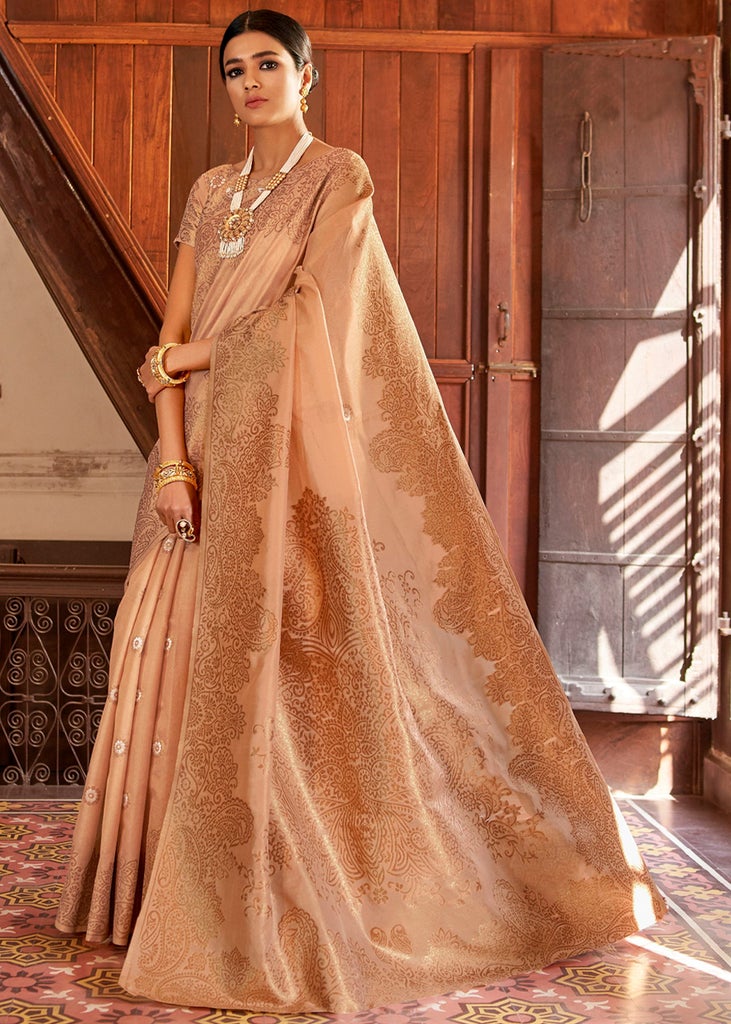 8. A pitch-black Banarasi with an orange blouse
Have you ever thought of wearing a black Banarasi in your pre wedding ceremony? If not then it's high time to get the diva look and amaze everyone with your beauty. Wearing a black Banarasi is the latest trend. Every eye will be fixed at one place when beauty in black steps in the event.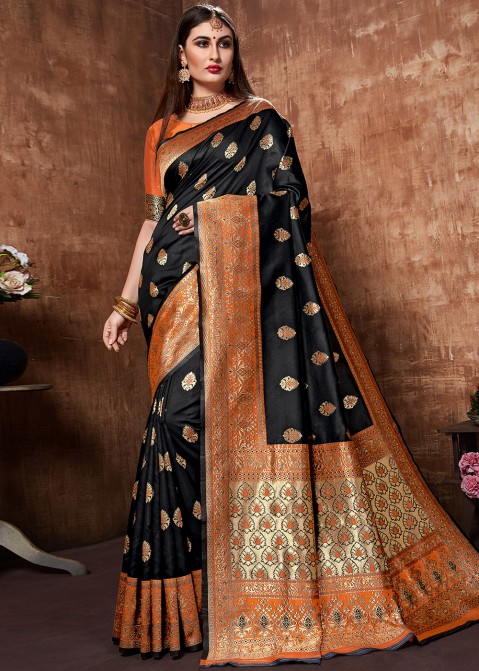 9. The lively yellow Banarasi
Not only red but a yellow Banarasi is also a traditional saree look for wedding events. The pre wedding events like the Haldi ceremony remain incomplete without wearing a yellow saree. This bright shade Banarasi saree looks gorgeous in the daylight. To bring the wedding vibes you can wear floral jewelry with it.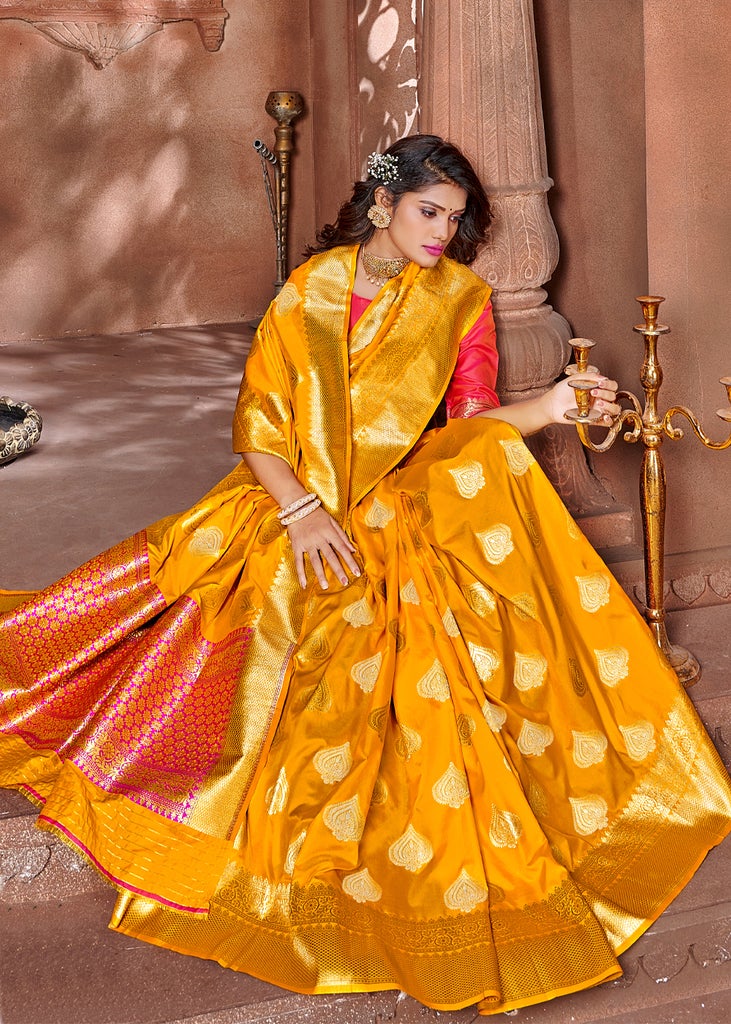 10. The vibrant Jamuni banarasi
Another beautiful shade in the Banarasi saree is the deep purple color. This vibrant shaded saree if contains a touch of silver brocade work will become a heavenly combination for a new bride. This is the most beautiful saree look for the wedding. Thus, you don't require heavy jewelry. Wearing a gajra in hair will definitely provide you with a fantastic bridal look.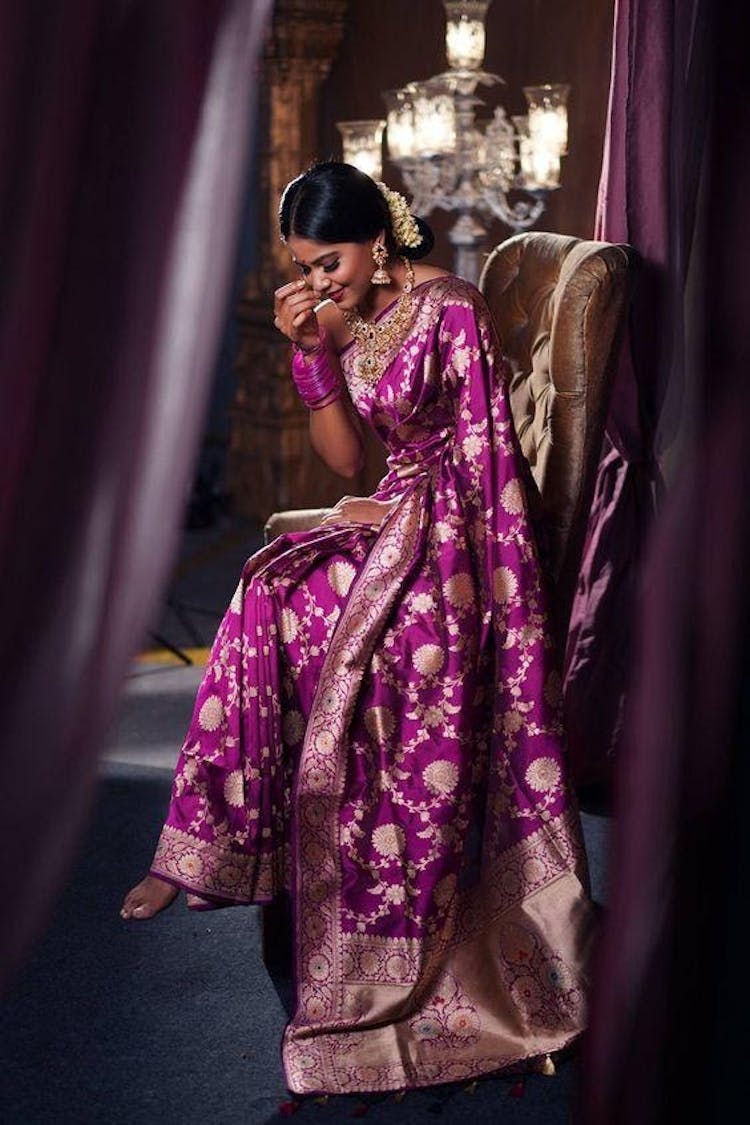 11. The heavenly light blue Banarasi saree
What an elegant and unique beauty this saree offers! A light blue Banarasi is a mesmerizing outfit for your wedding ceremony. It is one of the most exquisite wedding sarees for a bride. You can pair this gorgeous saree with a matching blouse and metallic or stone jewelry to increase its heavenly beauty.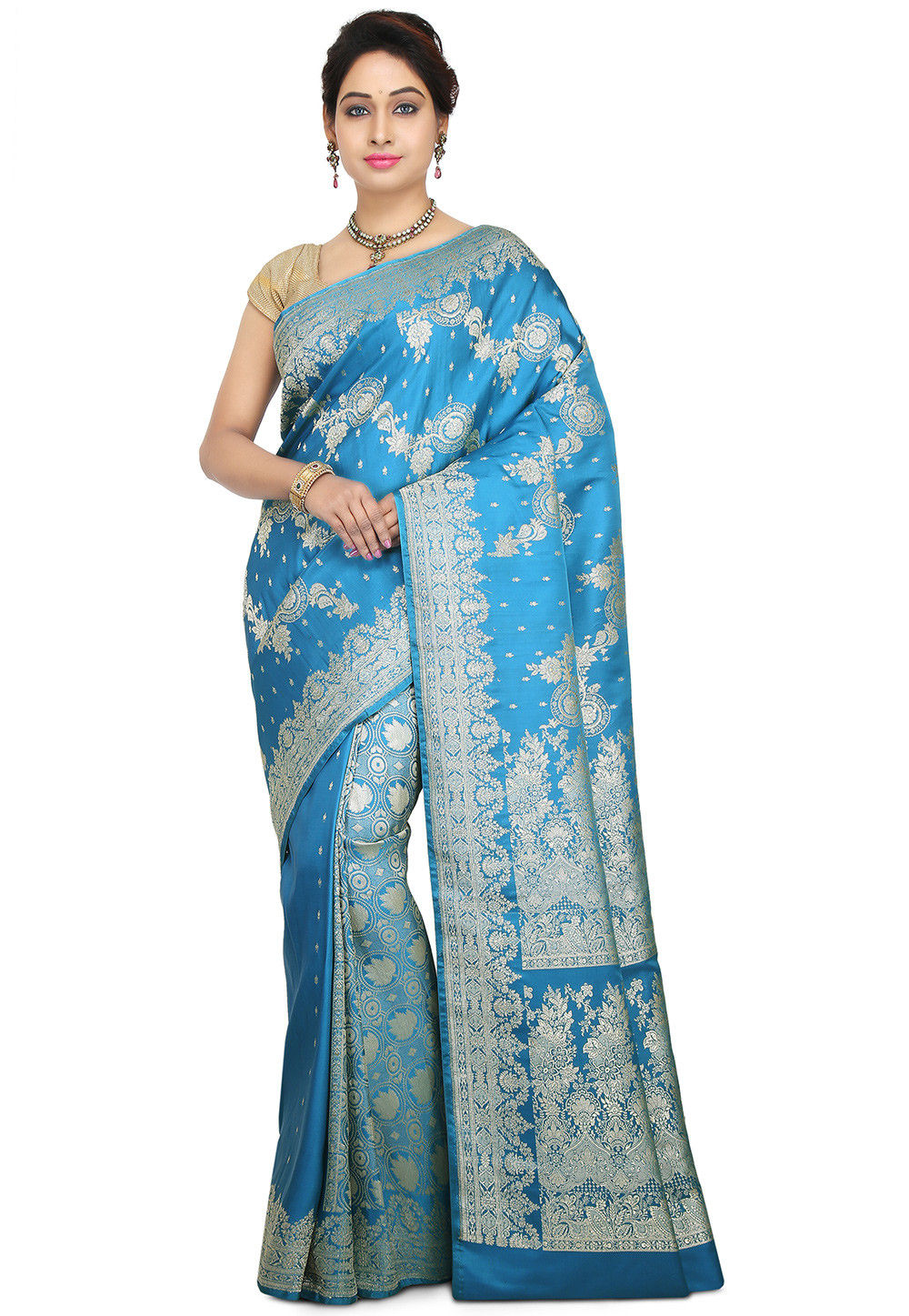 12. The magical touch of pink and green Banarasi
It is a very popular Bengali Banarasi saree-wearing style that is loved by a Bengali bride. After a red Banarasi, the combo of pink Banarasi with a light green blouse is the most preferred one. It can embrace your bridal look and provide a shining glow on your face.