A bride's hairstyle is considered a symbol of her beauty. Be it a silk saree or a designer lehenga, a Bengali bride's classic and gorgeous look can only be achieved with a beautiful hairstyle. Adding gold or floral accessory to the hair can add a special charm to the bridal hairdo. Nowadays, brides are experimenting with different kinds of bridal outfits. You can easily get a glimpse of countless charming bridal hairstyles in Bengali Wedding photography.
While there are numerous bridal hairstyles out there, choosing the most stylish one is necessary to achieve a diva look on your D-day. But let's admit the fact that choosing the correct one is not an easy task. Worry not, we have curated a list of 15 stunning bridal hairdos from the land of Bengali which will help you to find your dream bridal hairstyle. So, explore some trending bengali bridal hairstyle in this interesting blog which will surely give you some major hair goals.
1. The Graceful Wavy Bun
Bridal buns are the most popular hairstyle in a Bengali wedding. A wavy bun is a glamorous hairstyle that you can choose for your special day. The subtle beauty and elegance of these wavy hair locks have worn our hearts. Putting a mang tika in the middle parting of your hair makes it more beautiful.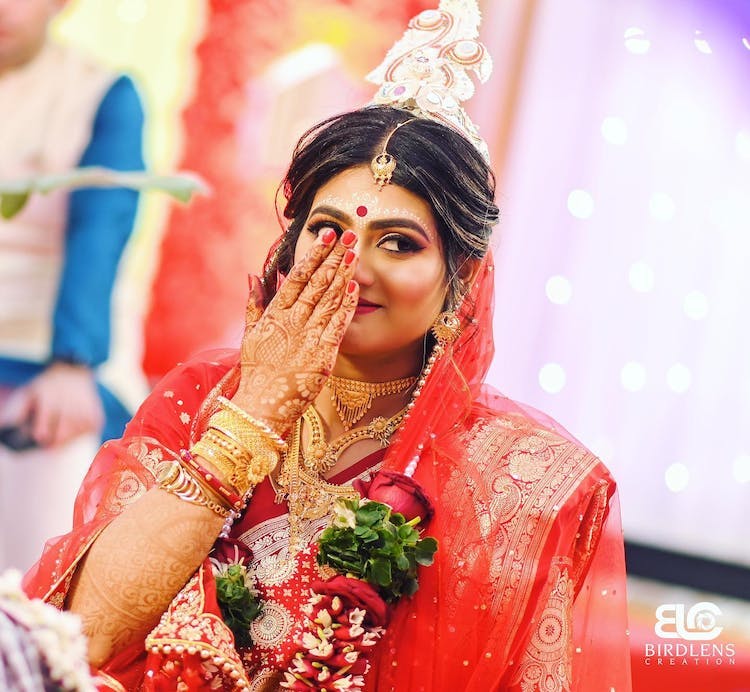 Recommended: Traditional Bengali Wedding Jewellery Collections 2022
2. Dreamy Curly Locks With Touch Of Gold
The beautiful and dreamy open hairstyle can add a dramatic twist to your bridal pictures. You can opt for a middle or side bun depending upon your face cut. We must take a minute to praise the beauty of this gorgeous bride who has perfectly contrasted her hair color with a saree by adding a hint of gold to her hair.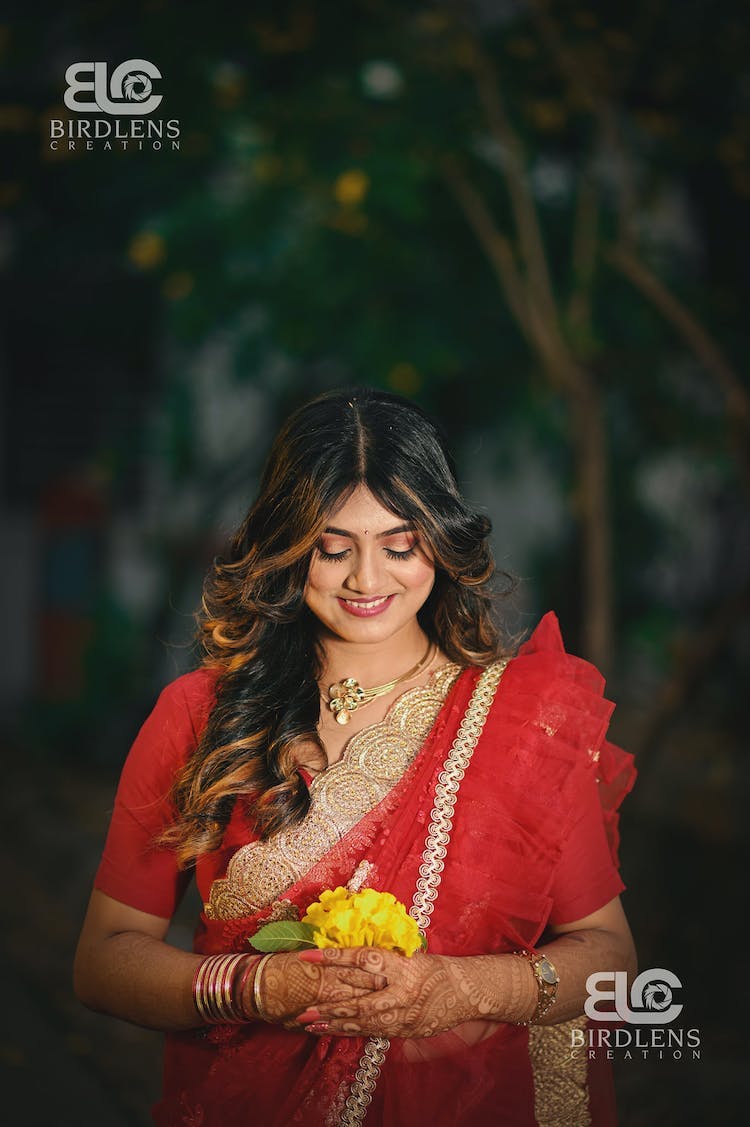 Also Read: Top 15 Trending Bengali Bride Reception Look Ideas In 2022
3. Most Stylish Twisted Open Locks
An open hairstyle with half twisted braid looks surreal in the wedding pictures. These luscious long locks look more pretty you can accessorize them with fresh flowers. Hire a team of experienced wedding photographers in kolkata to create a beautiful memory of your stunning bridal look.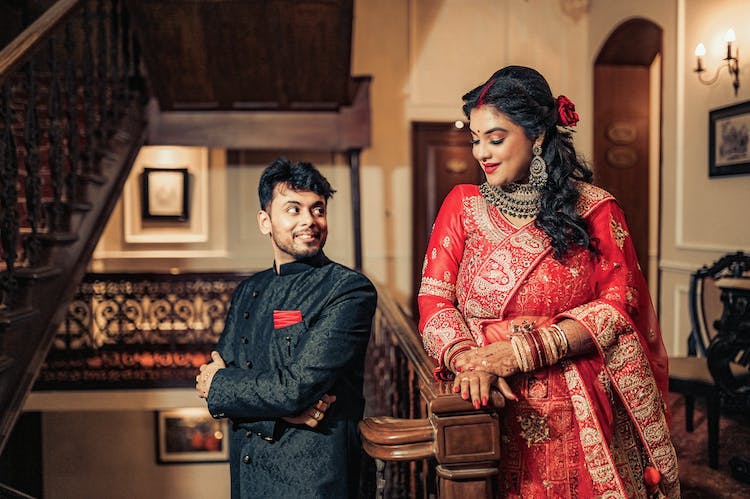 4. Side Fringe With Voluminous Braid
Take inspiration from this Bengali bride who has aced up her bridal look with a wonderful hairstyle. An outstanding fusion of side fringe and voluminous curl on the lower path is a perfect hairstyle for a grand affair like a wedding.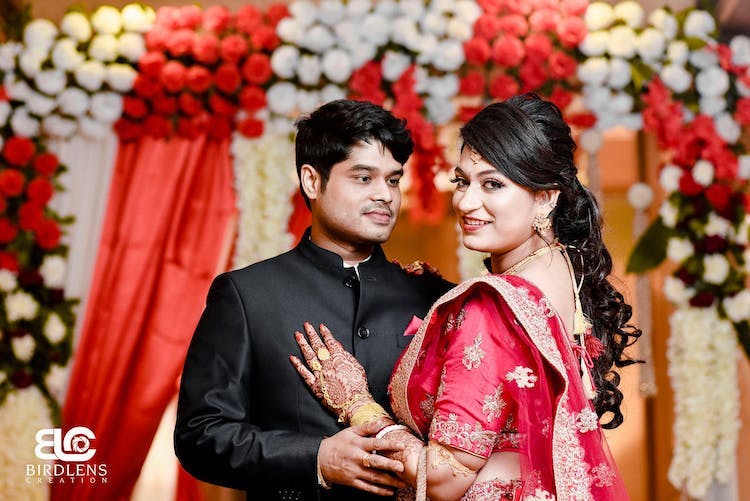 5. The Messy Bun With Floral Touch
This bengali wedding hair style is the easiest one to make. A messy bun looks extremely stylish on a Bengali bride. It can make you the center of attraction in your special event. Take a cue from this pretty bride who has accessorized her stylish messy bun with a beautiful floral accessory.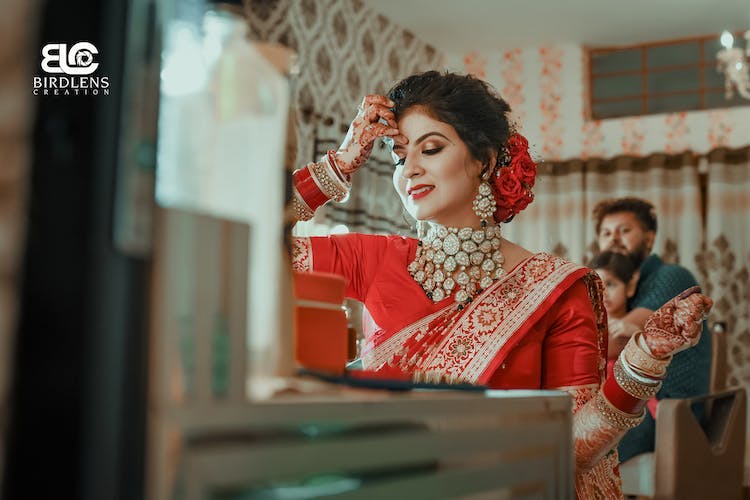 6. Retro-Style Puffed Bun
The retro-style puffed bun is a classic addition to the Bengali bridal hairstyle. This kind of hair bun looks extremely modern and beautiful on a Bengali bride. The dramatic puffed on the top adds a special charm to your bridal persona. This is one of the modish hairstyles for wedding day.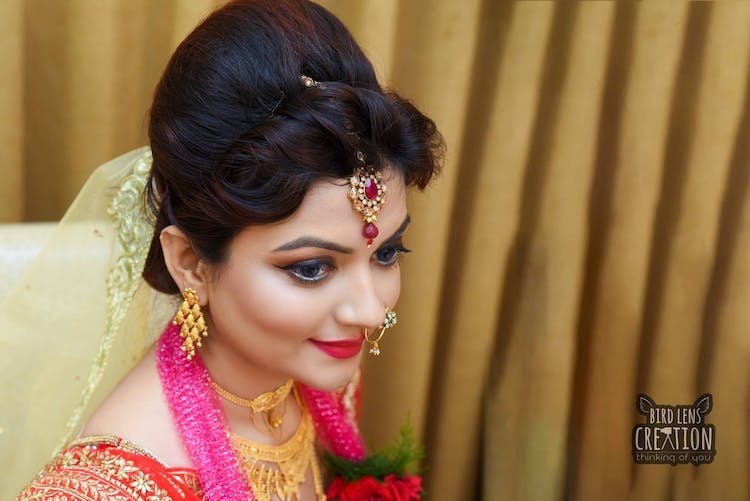 7. Classic Bun With Mid Parting
You might have seen this classic bun many times at Bengali weddings. This simple bun hairstyle for wedding goes well with gorgeous Banarasi sarees and exquisite gold jewelry. The mid parting of the hair looks more beautiful if accessorize with a gold mukut and a beautiful tiara.
8. A Lower Bun With Elegant Matha Patti
Another beautiful wedding hairstyles includes an elegant lower bun. This kind of hair bun is easier to make and it will also feel lightly weighted on your head. You can make it more attractive by decorating the front portion of your hair with a pearl matha patti design and the backside of the bun with jewel studs.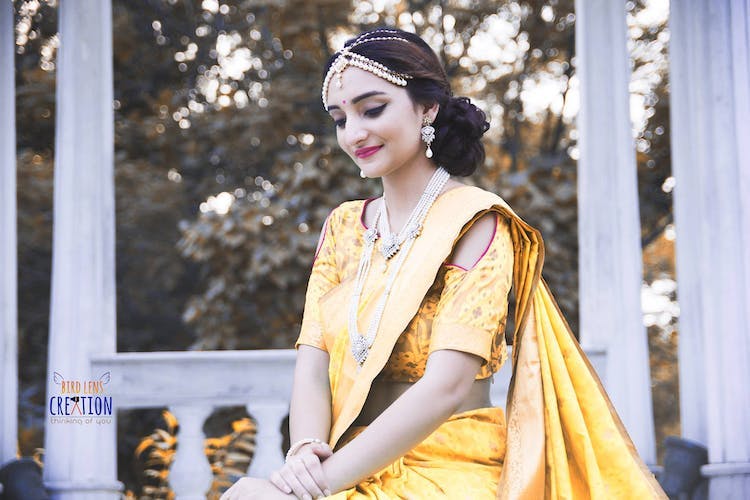 9. Simple Side Bun With Contrasting Flower
If you want something simple and graceful in your bridal hairstyle then you can opt for a side bun like this one. Simply part all your hair from one side and make it lose a side bun. Adding a large and single flower matching to your bridal outfit will offer you a serene look in your wedding pictures.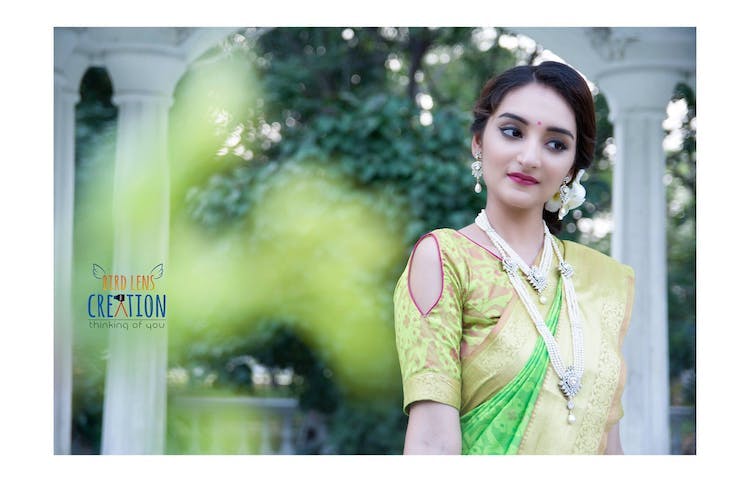 10. Charming Voluminous Braid
A voluminous side braid is a perfect wedding hairstyle for long hair. Adding a touch of pretty flowers in between your head can provide it with a fancy look. This kind of hairstyle can add a touch of glam to your pre-wedding bridal portraits.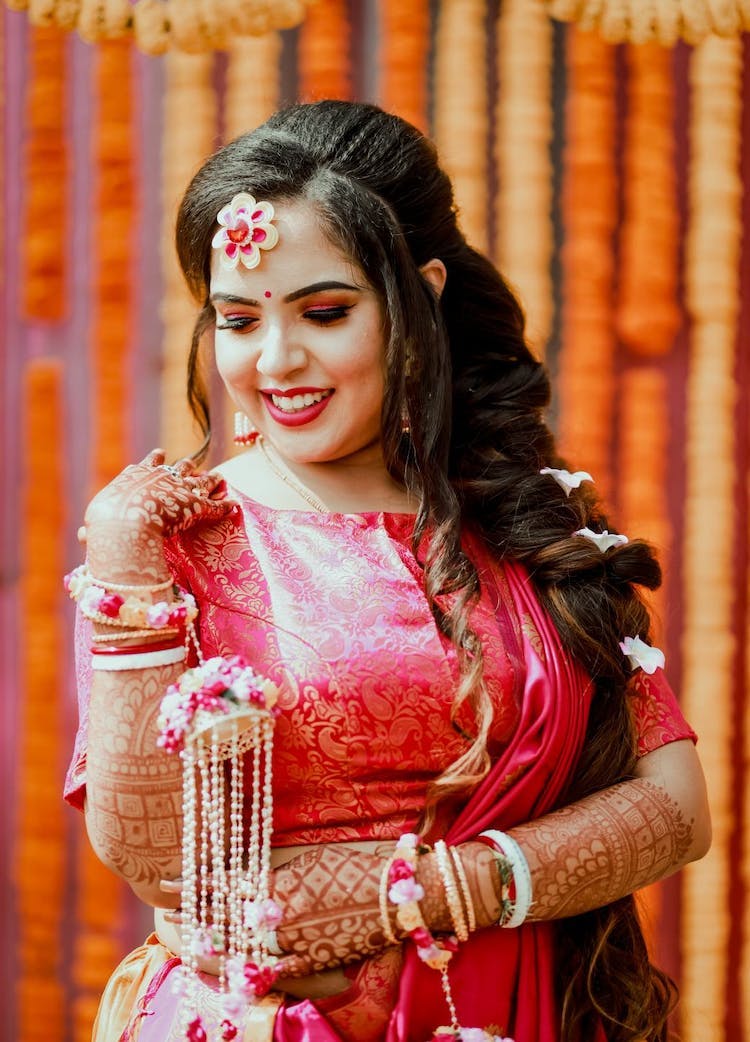 11. High Bun With Floral Hairdo
A high bun is a perfect wedding hairstyles for short hair. If you have short hair and you are fond of a stylish bun then this is truly an ideal option for you. Make sure to add a flower or hair jewelry to accentuate the beauty of this stylish bun.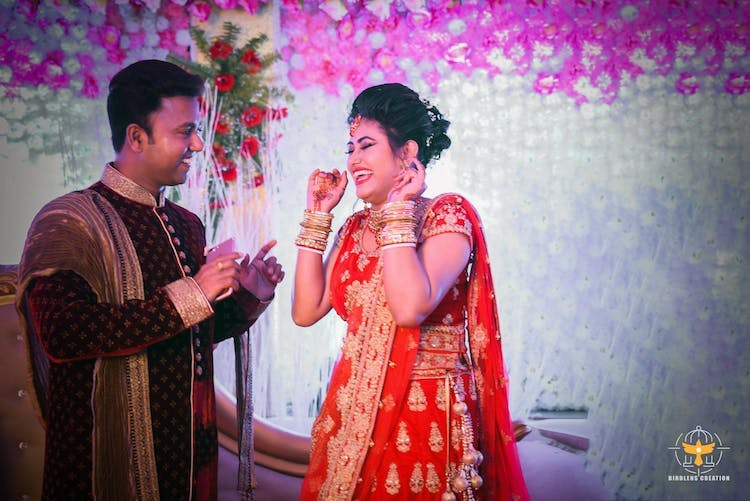 12. The Wavy Braid
This wavy braid hairstyle is just similar to a mermaid hairstyle which enhances the glamour of your bridal look. This bridal hairstyle for a Bengali wedding always looks classy and graceful regardless of the shape of your face. To add a beautiful twist you can accessorize this pretty braid with jewel studs.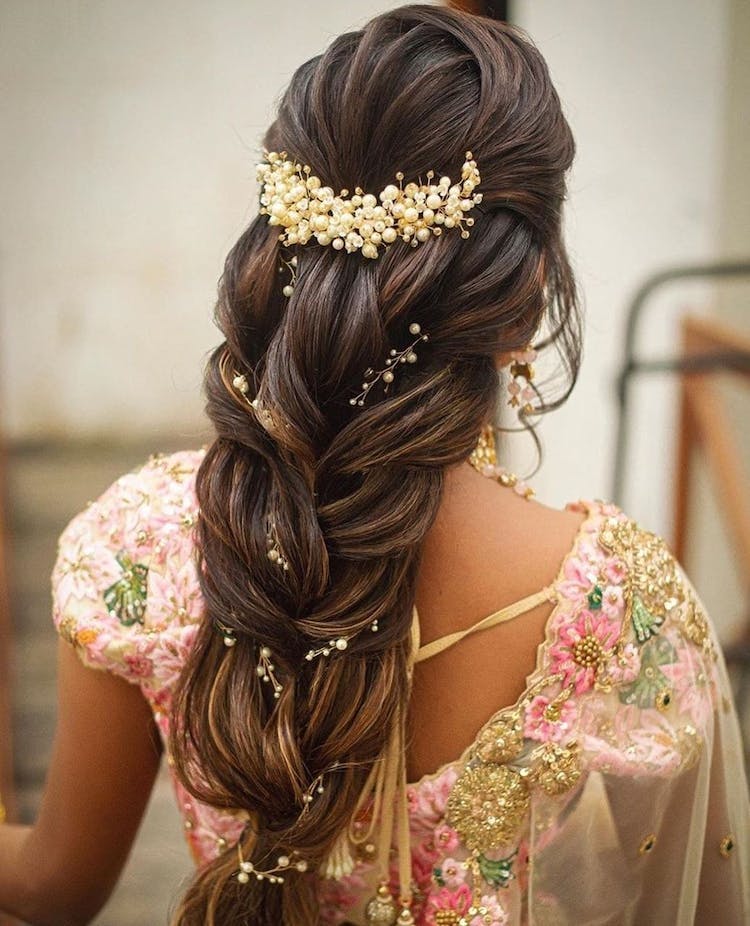 13. The Crown Braid With Hair Accessory
A crown braid hairstyle can surely make your wedding day look more impressive. Using pearl embellishments on your pretty crown will make it look unique and remarkable. Leave the lower portion of the curl open to create a cascading waterfall impact.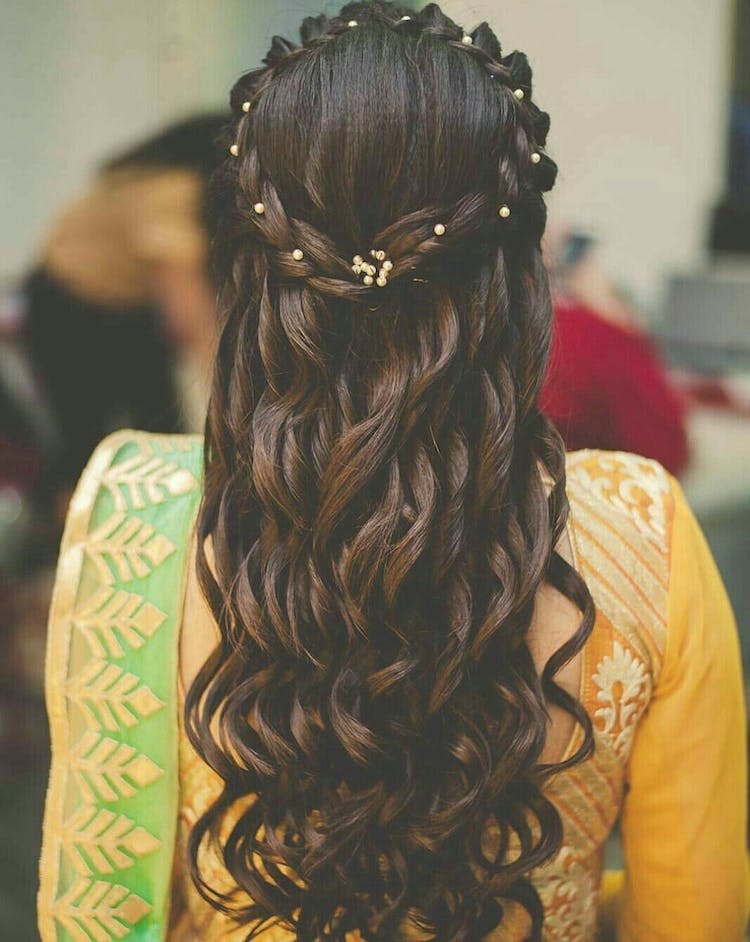 14. Dramatic Twisted Bun
A twisted bun takes an effort to be achieved but it also offers you the most gorgeous hairstyle for your wedding day. Ask your hairstylist to add a twist from one side of your hair. Roll the backside of your hair into a bun and make sure to use hairpins to keep your stylish bun in proper shape.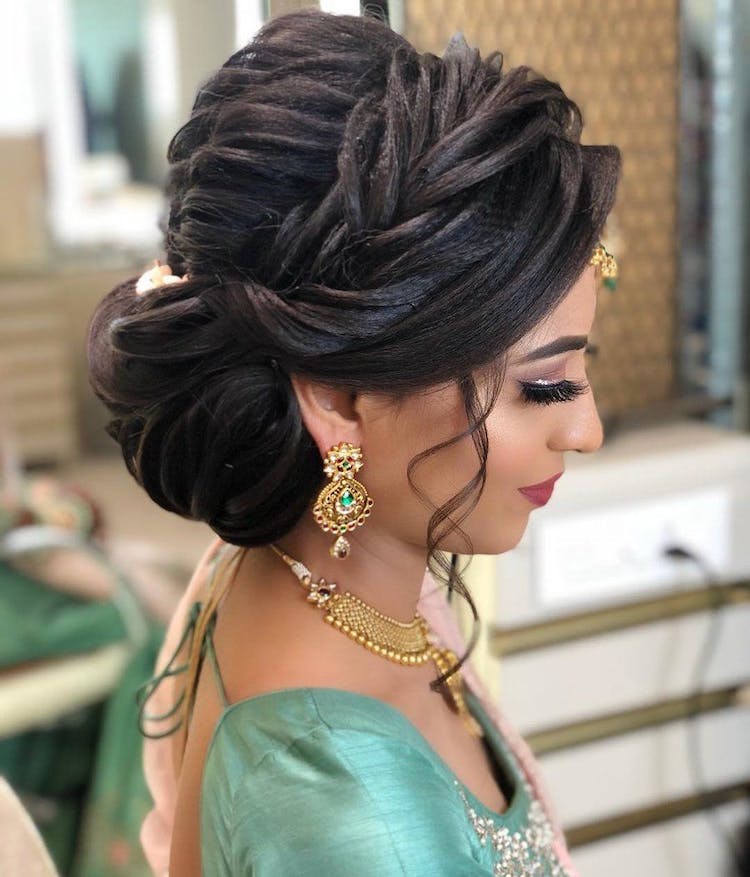 15. Gorgeous Rose Bun
Another amazing hair style for bengali bride is a dramatic rose bun. The small rings in your bun give a feeling of multiple roses on the hair. This can be a very glamorous hairstyle that is equally stunning as your bridal gown or saree.