Have you ever wondered what the most beautiful thing in a Bengali wedding is? Yes, you guessed it right the Bengali bride. But what makes her so special? Obviously her unique traditional attire. A Bengali bride entering in red Banarasi, a large red bindi, a beautiful white crown known as Mukut, and her traditional gold jewelry make her look like a real apsara. The Bengali bridal jewellery is the most important thing which makes a bride looks gorgeous. Jewelry is the symbol of femininity and Bengali brides are obsessed with their wedding jewelry. But what makes the Bengali wedding jewelry collections different from other jewelry? We, the best wedding photographer in kolkata have collected a list of bengali wedding jewellery. Read this blog to find out the most beautiful jewelry collection for a Bengali bride.
Hair Ornaments
1. Tikli
Tikli is also known as maang tika in other parts of India. It is basically gold jewellery that is worn in the middle part of a bride's hair. The tikli works as a hairpin that keeps the veil secure and in place. Tikli is designed with precious and semi-precious stones.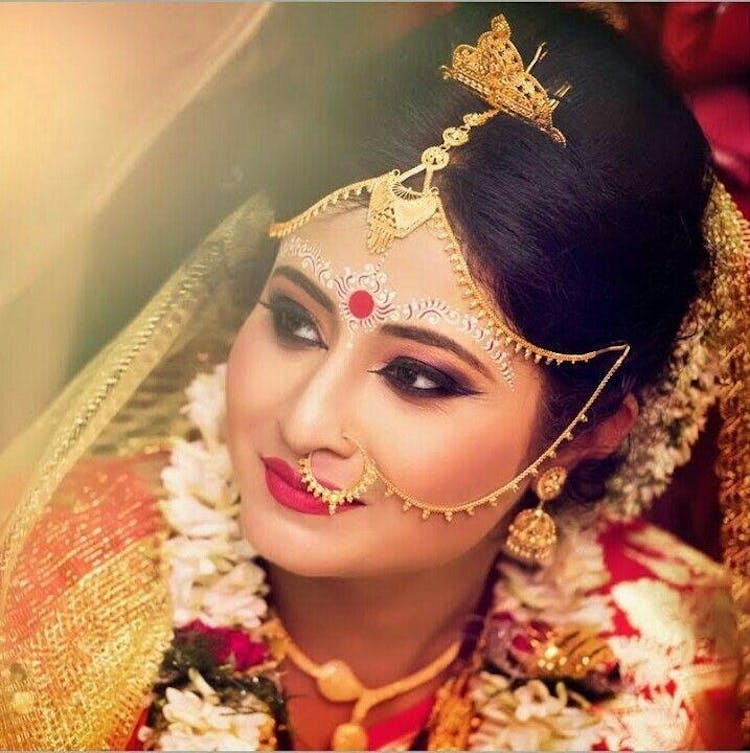 Recommended: Top 11 Bengali Bridal Mehndi Design Ideas [2022]
2. The Golden Crown Of A Bengali Bride – Mukut
Wearing a golden mukut on a wedding day symbolizes wealth and prosperity. It is also known as Tiara in some regions of Bengal. This golden crown is another hair accessory that is worn over the head for holding the veil. It provides a graceful and elegant appearance to the world – be – bride.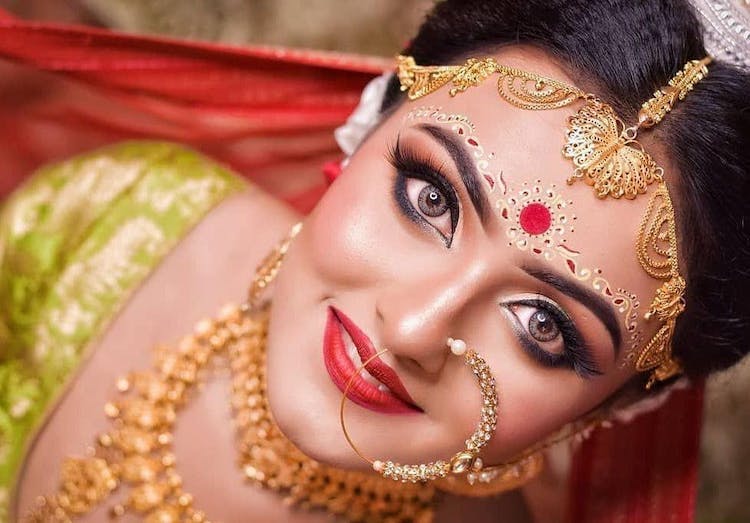 Must Read: 12 Beautiful Banarasi Sarees For Bengali Bride - Birdlens Creation
3. Traditional Bun Pins
A bun is the most common hairdo of a Bong wedding. The beauty of this lovely hairdo is increased by wearing the stone-studded golden brooch. The practice of wearing these designable gold–plated pins began from the olden zamindari days.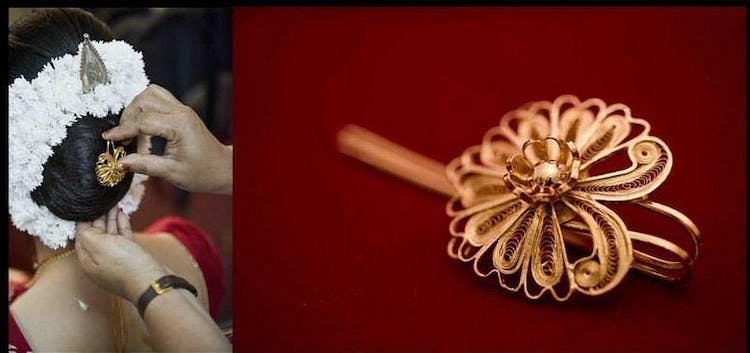 Facial Ornaments
4. Kaner Dul (Large Intricate Earrings)
Kaner dul or jhumka is another facial ornament and wedding jewelry for the bride. Jhumkas are gorgeously designed earrings for weddings and festive occasions. The design consists of flowers and strings. Many women love to wear golden ear-shaped earrings which are attached with beautiful jhumkas. This traditional earring provides a marvelous look to an Indian bride.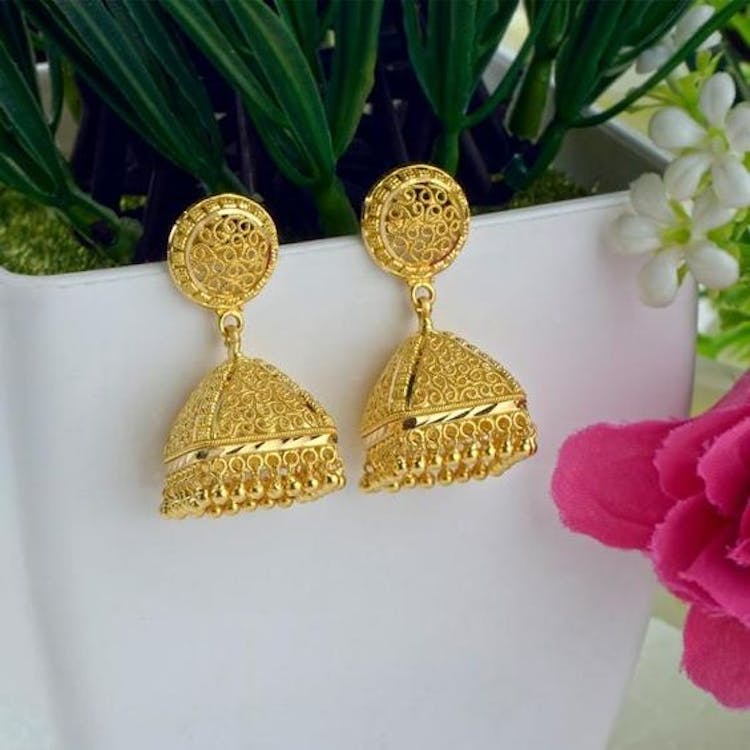 Image Source: wamanharipethesons
5. Nolok (Nose Ring)
The Nolok or Nath is a golden circular nose ring that is worn by Bengali brides. This nose ring has a delicate thin chain that is hooked with the hair of the bride. In the olden days, women used to wear these large nose rings to represent their family's wealth. This is a very beautiful ornament amongst all the bridal gold jewellery. Moreover, wearing this nolok is an integral part of a Bengali wedding. Today, you can get fancy floral-designed nose rings in jewelry stores.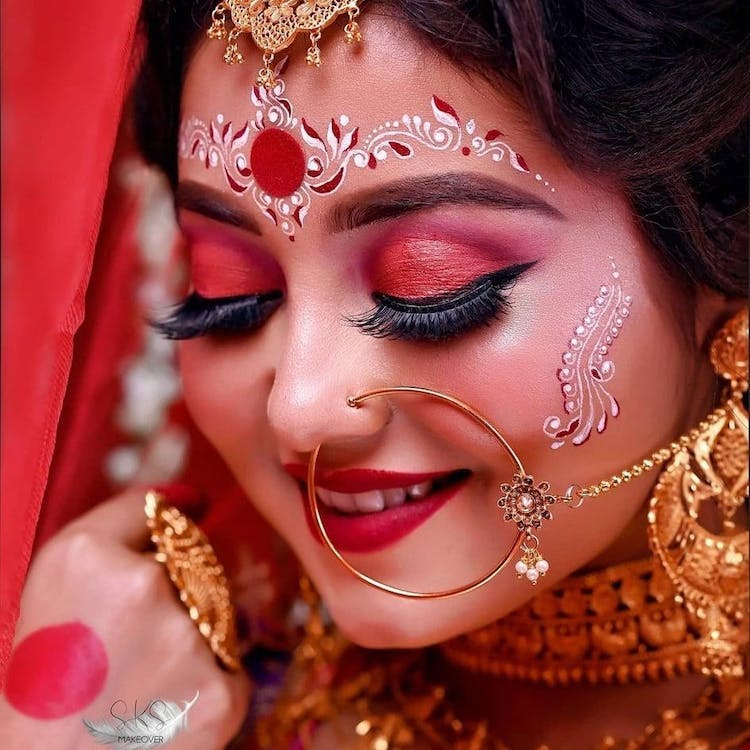 6. Nakchabi (Nose – Pin)
Nakchabi is a golden nose pin that is worn by Bengali brides on festive occasions and regular basis too. This small gem–stone studded nose pin increases the beauty of a bride and flaunts her glam look.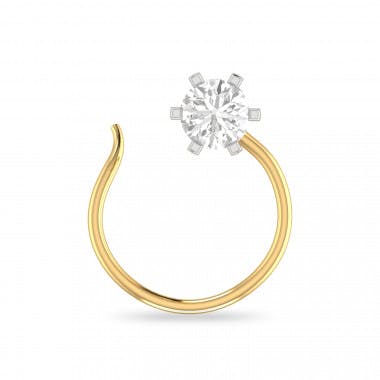 Image Source: pc jeweller
7. Kanpasha (Large Circular Earrings)
A kanpasha is a large gold stud that usually comes in a circular shape or leafy shape. These beautiful earrings with intricate designs are a great choice for women having round faces. Kanpasha is traditional bridal jewelry that was gifted by a mother to their daughters at the time of their wedding generation after generation.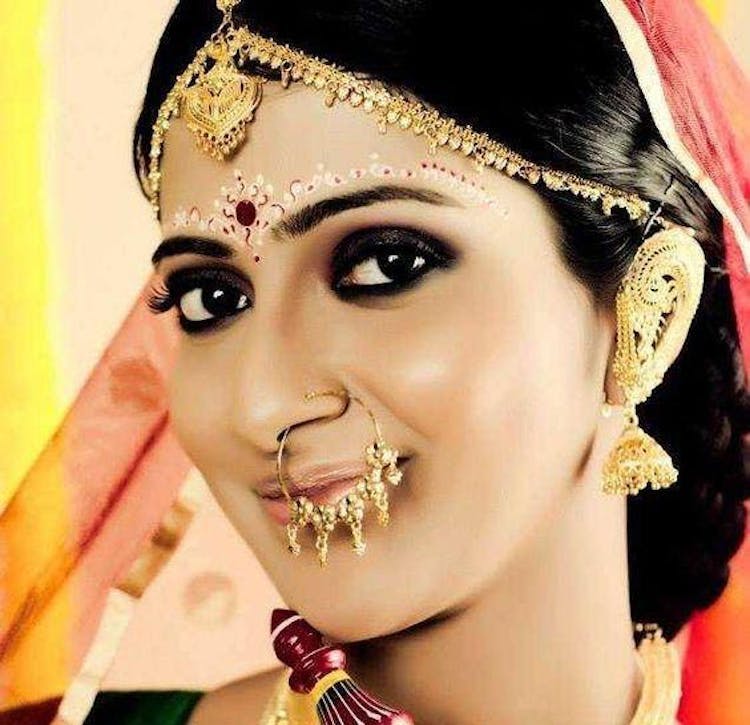 Necklaces
8. The Choker Necklace
Wearing choker also known as chic is an age-old tradition in Bengal. This gold necklace for a Bengali bride is broader in size but shorter in length when compared to a Saat Noli Haar. This bridal necklace is a must-wearing piece of jewelry for a Bengali bride. And when you wear this gorgeous necklace with the saat Noli har it will make you look like an alluring queen.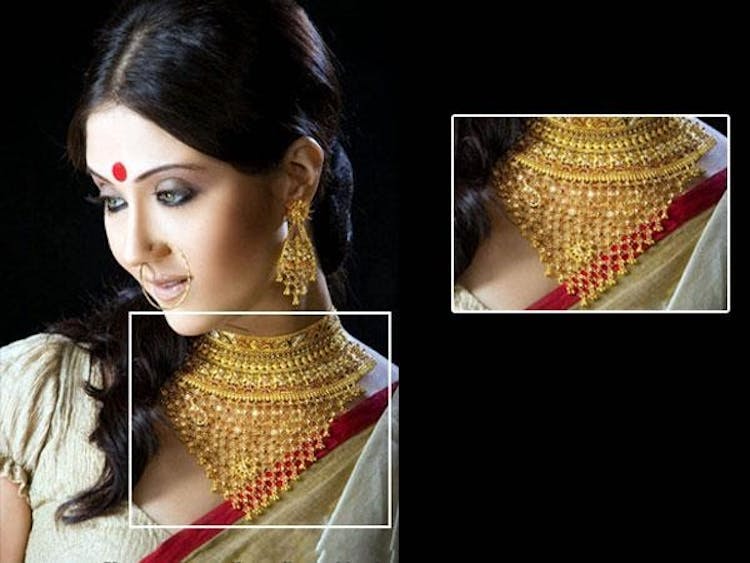 9. Sat Noli Haar (Layered Necklace)
A saat Noli har is an absolutely beautiful and luxurious necklace that has seven layers of golden chain attached with a bigger decorative locket. This necklace was worn by the wives of zamindars in Bengal on regular basis in the olden days. But nowadays, this luxurious masterpiece is worn by Bengali brides on their wedding day. The beauty of this necklace consists in its intricate design beautifully crafted by the designers. This gold necklace for a wedding is heritage jewelry that is passed by mothers to their next generation.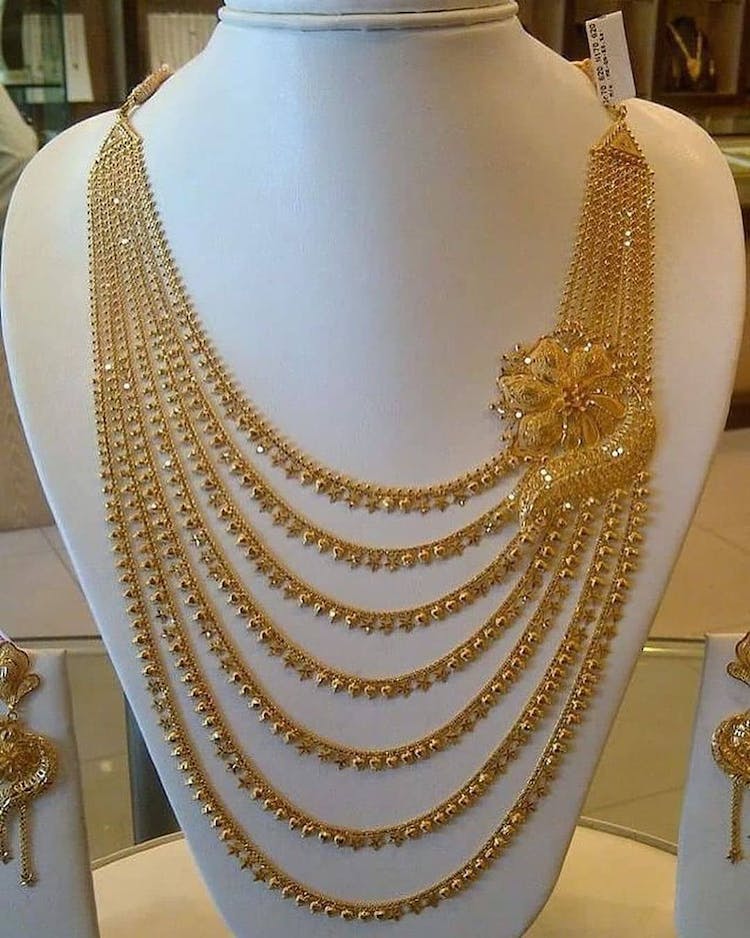 Image Source: pinterest
10. Sita Haar
This is a truly adorable long necklace in a "U" shape. A site har when worn by a bride enhance her bridal glow. It is available in various designs such as floral Meenakari, swinging necklace, and much more. The Sita haar is a golden chain studded with precious and semi-precious stones with a beautiful pendant in various designs. This classic necklace is inspired by "Devi Sita's necklace as mentioned in Ramayana. So, if you want to get a divine look then this Sita Haar is the perfect choice for you.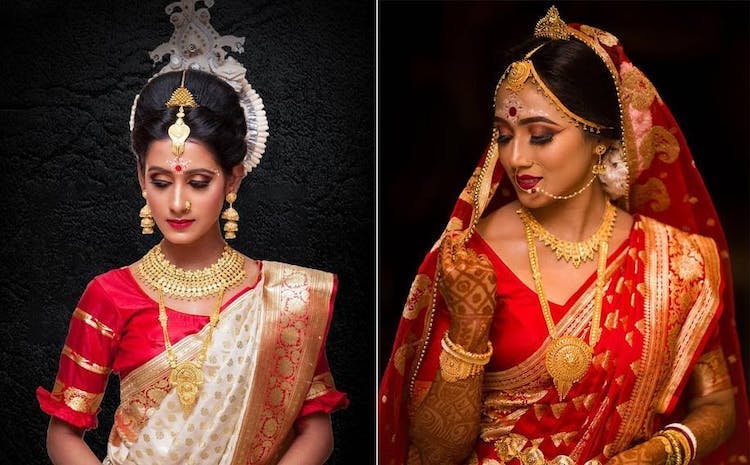 Bridal Bangles
11. Ratanchur (Hand bracelet)
Ratanchur is also known as Haath Phool is a very beautiful Indian bridal jewelry worn by Bengali brides in their hands. It adorns the palms of brides gracefully. A Ratanchur has a large pendant at the middle attached to a delicate chain that connects it with five rings.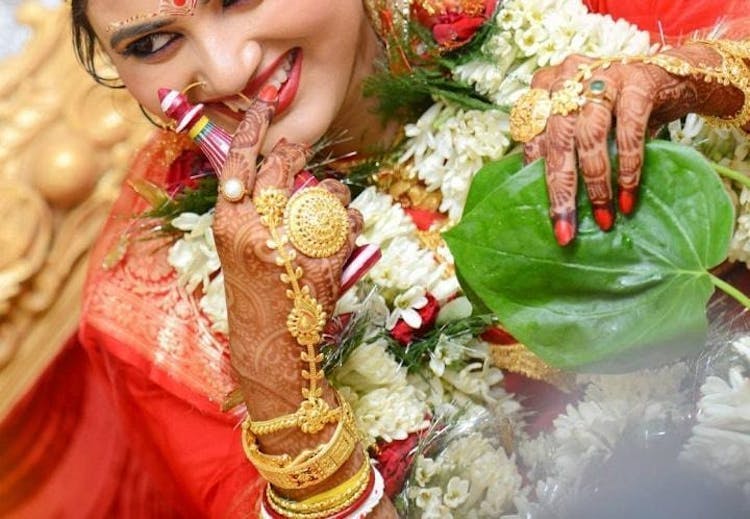 12. Bala and Chur (Gold Bangles)
Bala or chur is the gold bangles that are worn by most Bengali brides. The Bala is a round-shaped solid bangle that has intricate designs and it is worn in both hands. On the other hand, chur is a fusion of bangle and bracelet. It is a single-piece bangle worn in one hand. Both of the bangles look beautiful in the hands of a bride.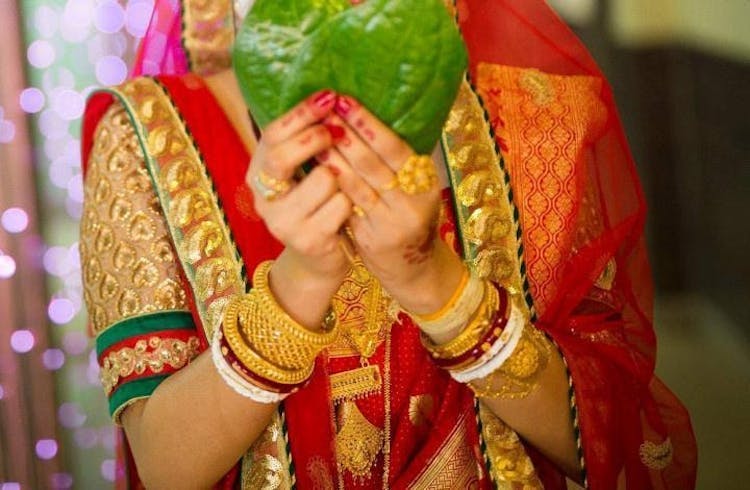 Some Exceptional Jewellery
13. Ananta (Gold Armlet)
It is inherited jewelry which is an elegant piece of bridal jewelry. This gold armlet contains a beautiful pendant in the middle with sophisticated lacework and a delicate chain.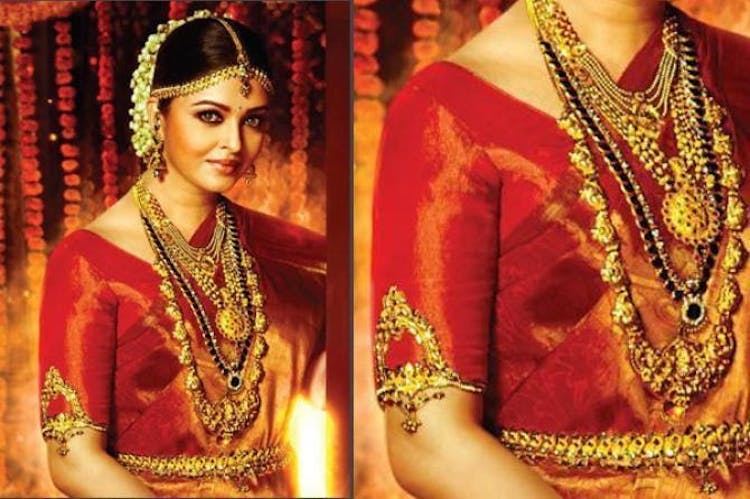 14. Kamar Bandh (Waist Ornament)
Kamarbandh is a mesmerizing necklace-like ornament worn by Bengali brides on their waist. Beautiful floral patterns were designed and attached with a delicate chain. It could be brilliant jewelry set for wedding events.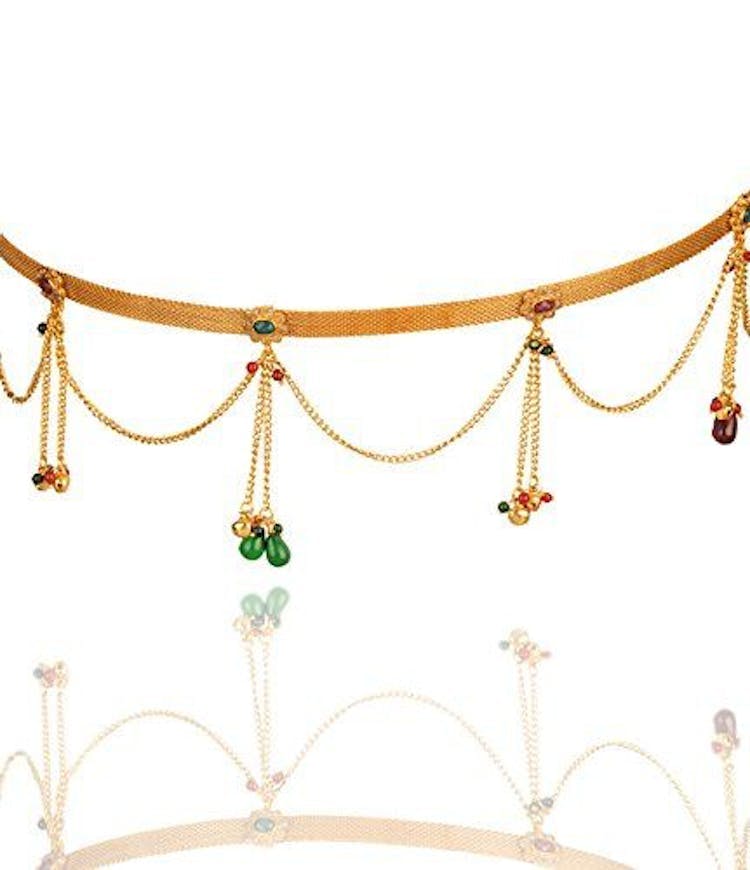 Image Source: amazon
So, these are some of the most beautiful traditional bridal jewelry set for a Bengali bride. Hopefully, you can choose an admirable jewelry design for wedding purposes from this blog.