Life is all about celebrating every small and beautiful moment. And when these beautiful moments are captured in the camera they give you some cherishable memories for a lifetime. Looking back at these memories will not only bring a smile to your face but will also allow you to relive the moment. And a dreamy pre-wedding shoot is just a perfect example of such beautiful captures. If your big day is approaching soon, then you must plan a wonderful pre-wedding shoot to preserve the magical moments before your wedding. There are multiple beautiful destinations in the city of joy that would offer you a splendid backdrop for a photoshoot and would make the whole experience captivating and magical. All you need for a dramatic pre wedding photoshoot in kolkata is a passionate photographer and some stunning poses.
So, here we are sharing with you some trendiest and unique pre wedding poses ideas clicked by our talented photographers.
1. Love In The Air Pose For Romantic Couples
What a romantic picture below the twinkling fairy light! This adorable couple holding each other pose depicts how much the couple loves each other. The charming groom is holding her bride in his arms and the gorgeous bride is putting her hands on the hands of her prince charming to reassure her commitment and true love.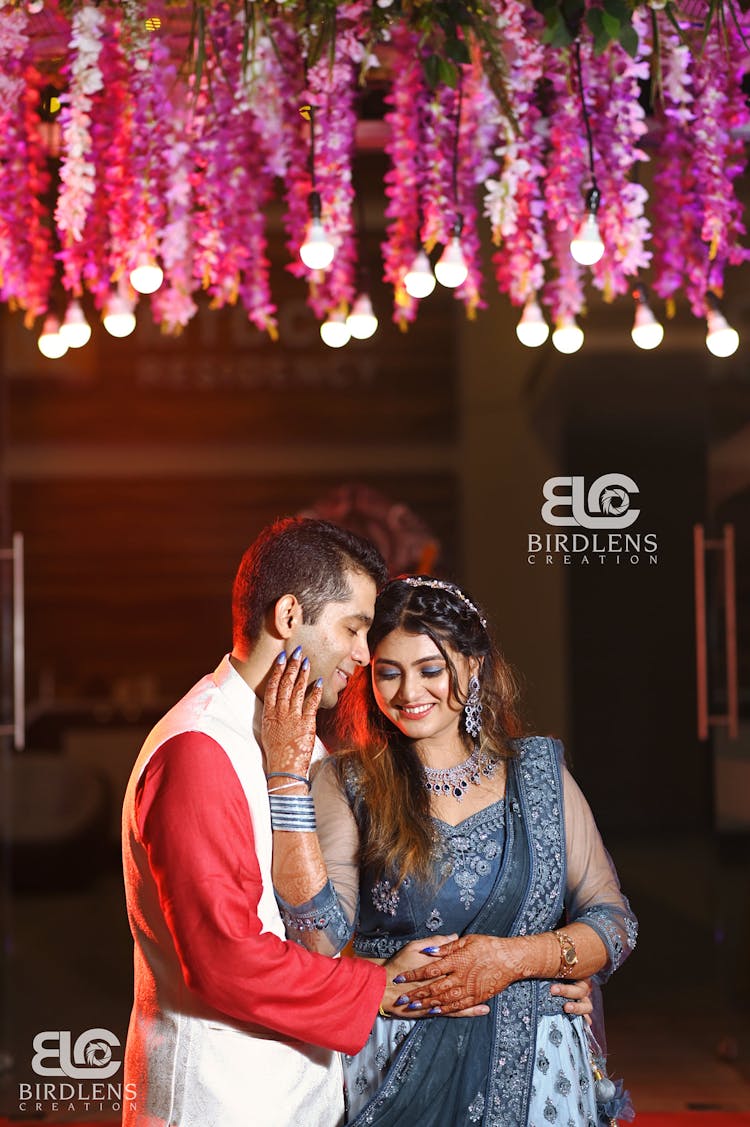 Must Read: Top 15 Bengali Bridal Photoshoot Poses Ideas-Birdlens creation
2. A Poetic Romance Pose In The Vintage Mansions
Looking for dramatic pre wedding photography in kolkata? Take inspiration from this cute couple. It's totally different fun to see your love secretly. Here is one of them where the groom is staring at his love of life secretly from behind. While our beautiful bride is lost in the world of poetry and literature. This may be the most dramatic pose to capture a sweet love story.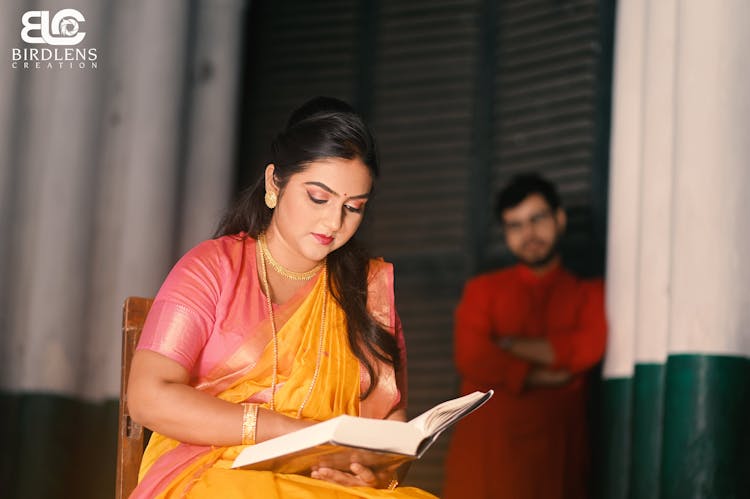 3. The Romantic Kiss In The Royal Rajbari
What can be more beautiful than shooting an engagement photoshoot in the calmness of a vintage mansion? She is my sort of concept that really works well in the pre-wedding photoshoot. This kind of romantic pose where the groom is holding his bride in his arms and kissing her can be a great moment to shoot a splendid pose. Long red gowns are the most preferred pre wedding shoot dresses for this vintage shot.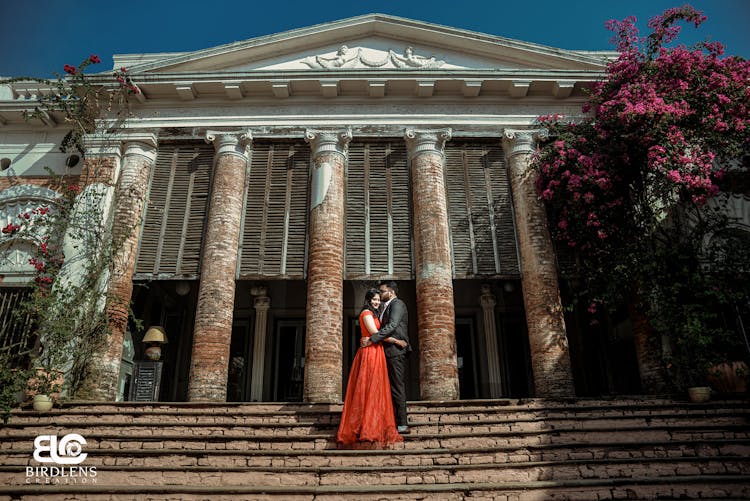 4. A Dreamy Forehead Kiss With A Natural Backdrop
You can tell a beautiful story with the help of a creative pre-wedding shoot. Forehead kisses are considered to be the purest form of love and one of the best couple pre wedding photoshoot ideas. Ask your photographer to capture this romantic story with a beautiful backdrop of splendid nature. Birds flying in the blue sky and the shadows of dreamy trees can enhance the beauty of your engagement photo shoot.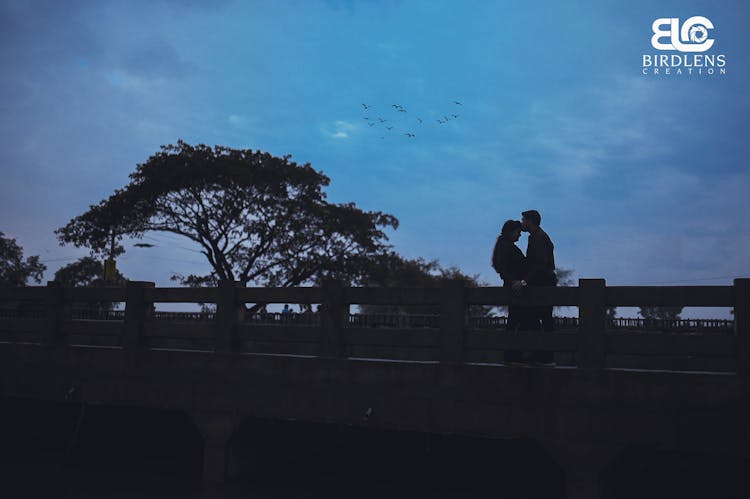 5. Drenched In Love Pose With An Iconic Backdrop
Among all the pre-wedding photography poses, this one is the most captivating pre wedding photoshoot ideas. Express the perfect chemistry between the two of you in a dramatic photoshoot. The free-flowing gown of the beautiful bride-to-be creates a perfect moment for a memorable shot. A wonderful backdrop of an iconic bridge in the picture will do wonders for your photoshoot session.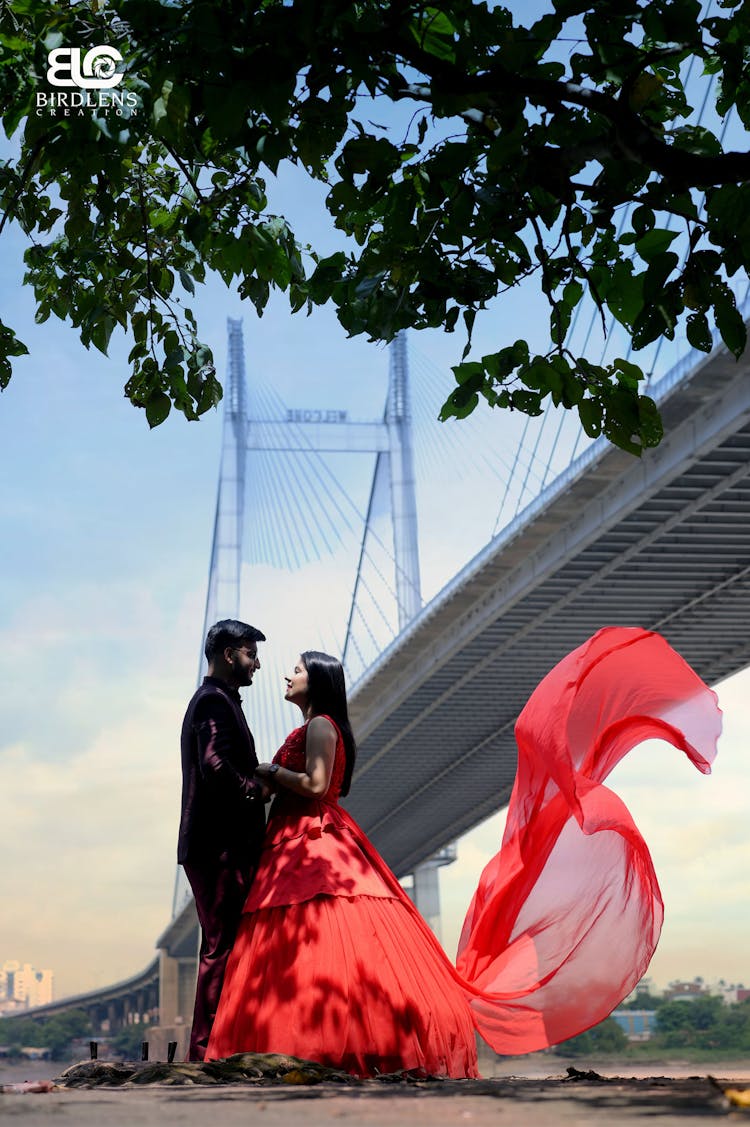 6. The Romantic Ride With Love Of Your Life
Taking your partner on a long drive on your dearest scooter or bike is a golden opportunity to spend some time together. And then you have a skilled photographer then you can truly turn this amazing moment into the best pre wedding shoot. This picture will look amazing in daylight with a natural backdrop behind it.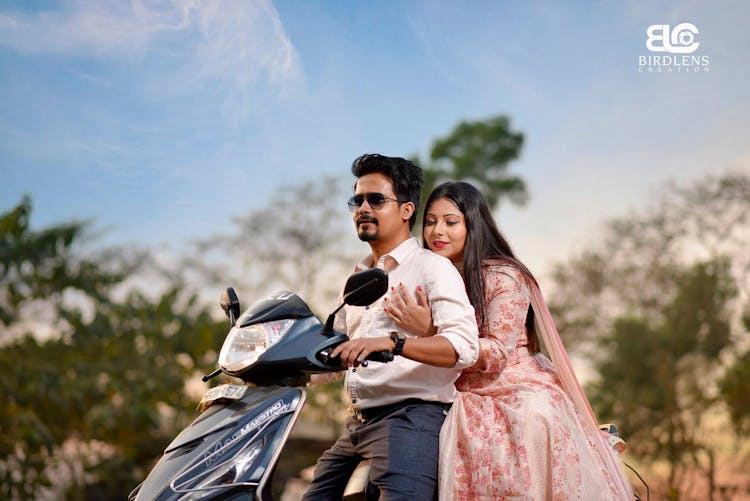 7. Let's Not Forget About The Beachside Love Story
Another wonderful and popular couple pose for wedding photography always includes a beachside love story. The blue sky, flying birds, and waves of the ocean can truly make your engagement photo shoot session a true fairy tale. Shooting at the sunrise or sunsets time will make the picture more amazing.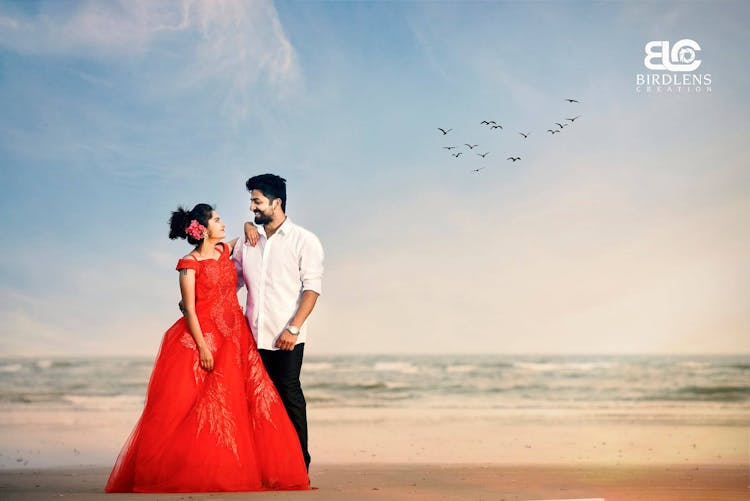 8. The Adorable Cuddle Pose
An adorable back hug is a very beautiful couple photoshoot poses. A chirpy bride hugging her prince charming form behind is a symbol of true love. Leaning on your groom can also provide you with a candid shot of a beautiful moment. This is the best way to express your stronger bond into the picture frame.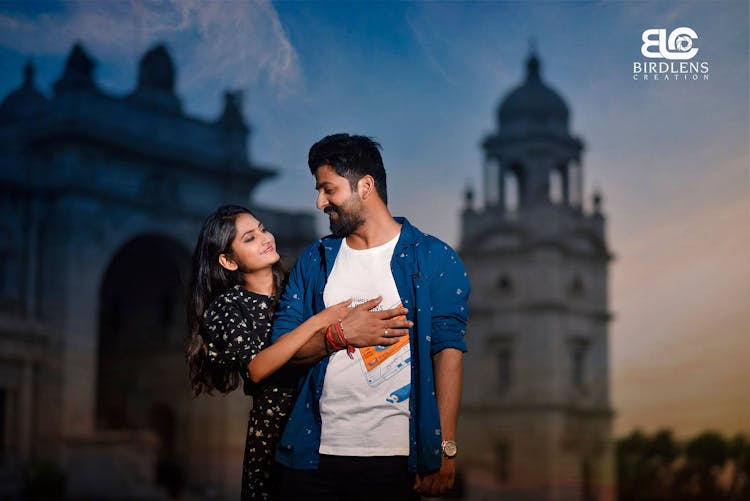 9. A Dramatic Twirling Pose Inspired From Bollywood Movies
If you are a great Bollywood fan then you must have seen this dramatic twirling shot couple of times. A romantic twirling pose with a monumental backdrop will recreate the most romantic scene of a Bollywood movie. You can also try this eye-pleasing pre wedding pose in saree to flaunt your ethnicity.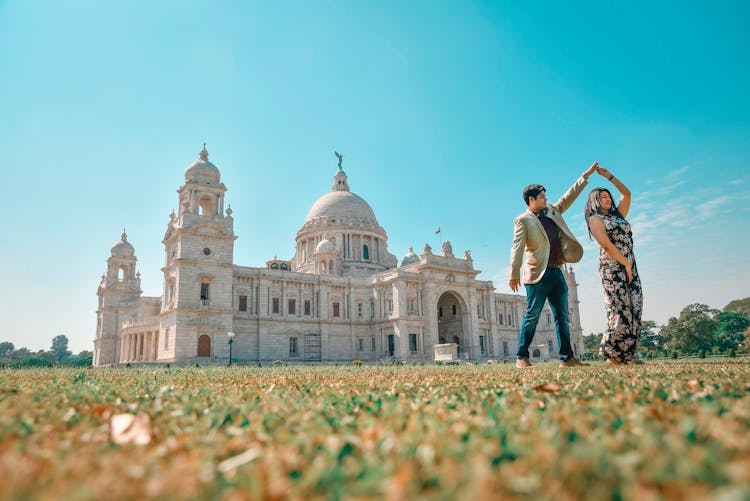 10. An Artistic Silhouette Of Two Love Birds
A sunset silhouette is the most artistic pre wedding photoshoot poses that depicts a romantic tale of two love birds. Groom holding her bride in his arms offers a surreal feeling when you look at the pictures. This kind of pre-wedding pose can reflect the true essence of love with the help of creative photography.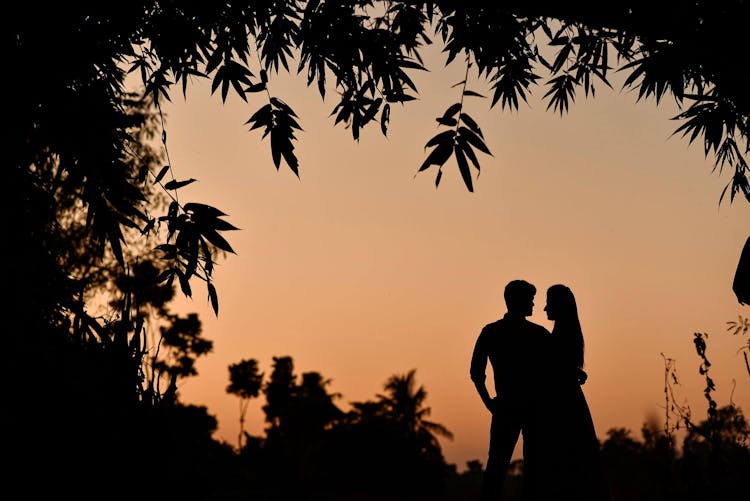 11. Sleep In The Lap Of Love Amid Natural Splendors 
Another trending pre-wedding poses ideas are romantic picnics. Plan an outdoor trip with your beloved in the parks or woods to click the most magical moment in the lances. Sleeping in the lap of your beloved will truly bring the romantic vibes around to shoot a perfect pre-wedding story.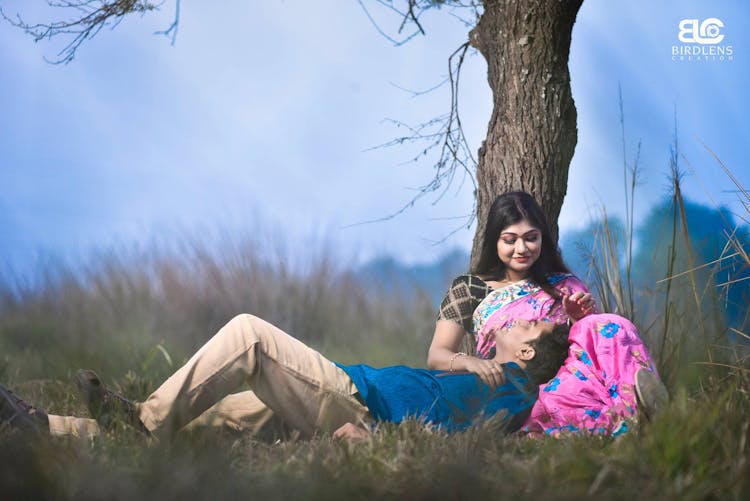 12. Walk Hands In Hands Pose On A Romantic Night
Holding hands while walking is one of the most beautiful and simplistic ways to create a romantic story in a picture frame. Planning this outstanding shoot at the poolside can offer you an aesthetically pleasing pose to look back at. Wear a flowy gown or stylish Anarkali to match the charm of your beloved groom.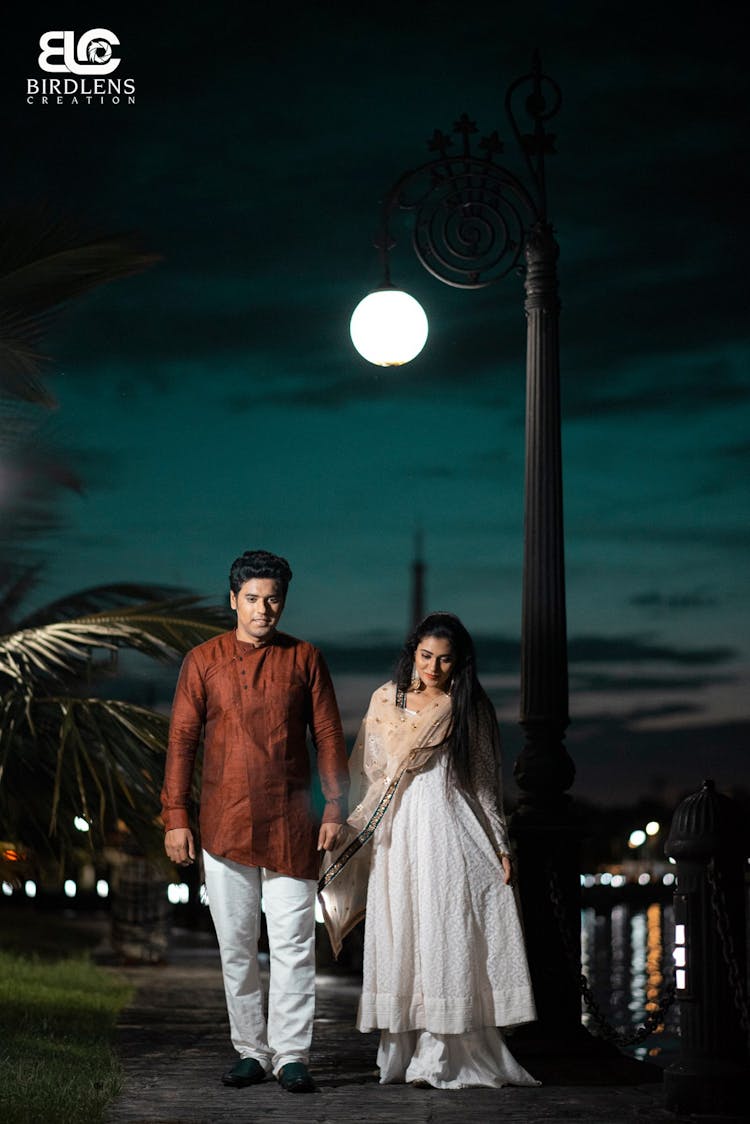 13. Coolest Love Story Inside The Water
Let's end this amazing guide on pre-wedding poses ideas with one of the trendiest poses which is an underwater shot. If both of you are great swimmers then you can create a wonderful tale by shooting inside the water. If you want to try something unique and captivating then an underwater shot is the best way to capture a breathtaking photograph.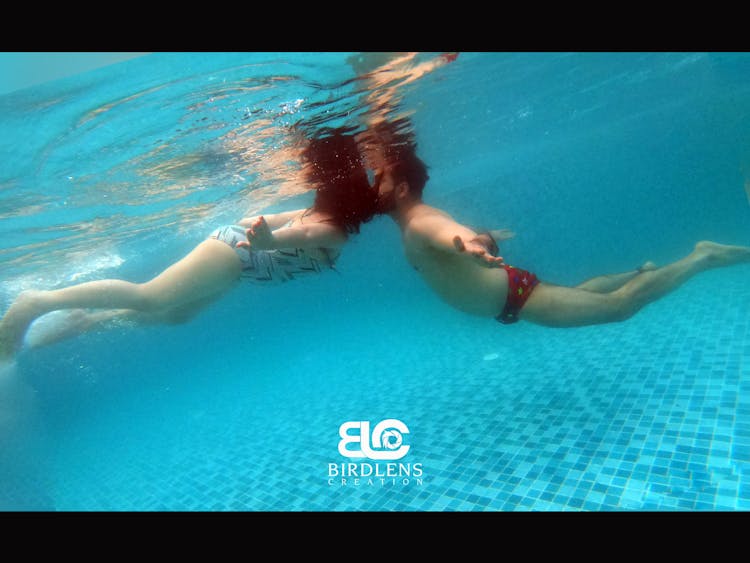 Plan a creative and stunning pre-wedding shoot with a candid pre-wedding photographer and choose a perfect pre-wedding pose that matches your personality. Follow the instructions of your photographer and let everything go with ease.