Hey girls, raise your hands if you are finding ways to look beautiful at your ring ceremony. And why not? After all, you deserve the right to look like the most pretty bride-to-be on your special day. Nothing steals the limelight more than the unforgettable glam look of the bride-to-be in an engagement ceremony. From a pretty dress to stunning makeup and statement jewelry, every element of your engagement look makes you feel like a real princess. But the most significant element of a glamorous engagement look is a stylish hairstyle. Because hairstyling has the power to make your appearance the most glamorous one. Your choice of hairstyle can make you stand out amongst the crowd. While some girls prefer to pick a stylish hair bun, other brides opt for captivating braids and ponytails. You can consult top-notch wedding photographers in Kolkata to get the perfect pictures of your glam look. You need to choose a hairstyle that can add an extra bit of shine and grace to your personality. So, let's get started with some latest ideas for bridal hairstyle for engagement to get the most captivating bridal look.
1. Open Curl Bridal Hairstyle For Engagement
This gorgeous bride-to-be has decided to leave her hair open in loose curls on her engagement day. A Bengali bride always tries to look elegant and beautiful at her engagement ceremony. A long bridal hairstyle is the best option for brides having lustrous hair. Middle part your hair and set it to lose to achieve the most gorgeous engagement looks.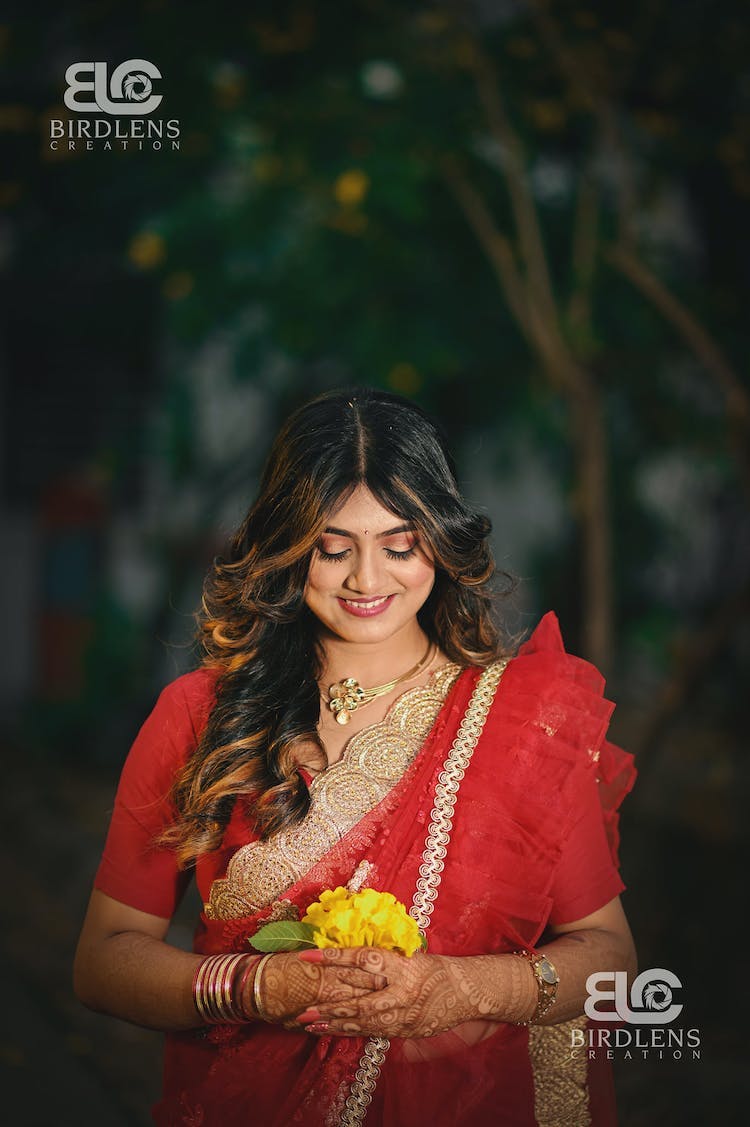 Recommended: Top 11 Bengali Bridal Mehndi Design Ideas [2022]
2. Stylish Crown Hair Style For Engagement Bride
A classic crown braid hairstyle with a little puffed can do wonders to your engagement appearance. To add an elegant touch to your engagement hairstyle you can accessories the crown braid with a floral wreath. This will highlight all your best features in the engagement day look.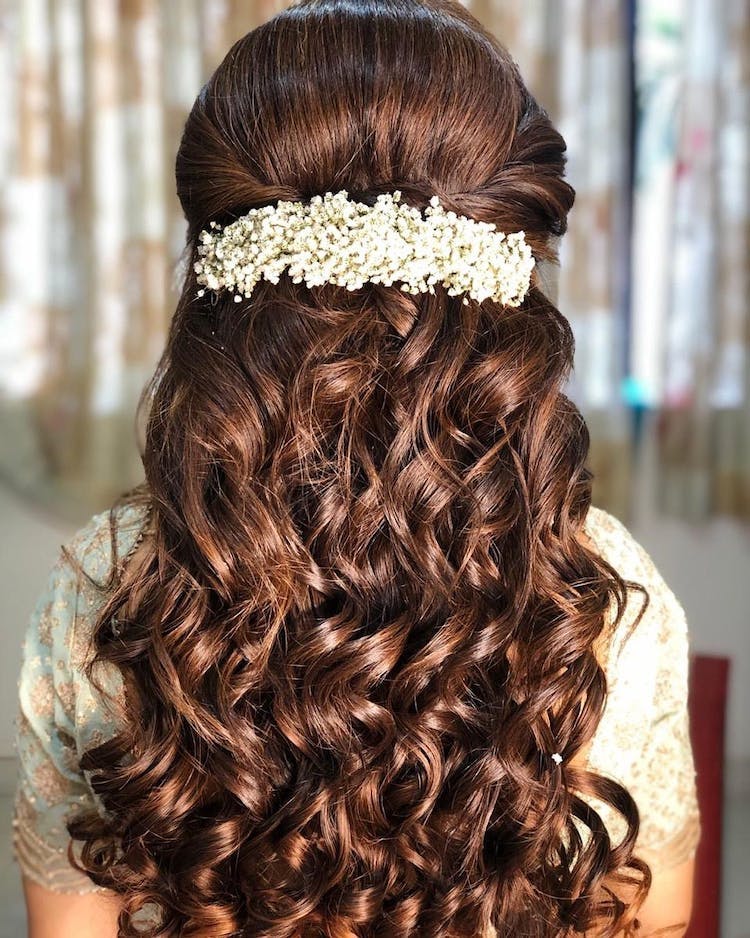 Must Read: 15 Latest Engagement Dresses For Groom In 2022
3. The Puffed Hairdo For A Retro Look
A puffed hairstyle is the best bridal hairstyle that can make you look simply gorgeous. To achieve a retro bun hairstyle leave out some strands of your hair towards the front and create a high bun with the remaining one. Leave the rest of the hair open to get a captivating look.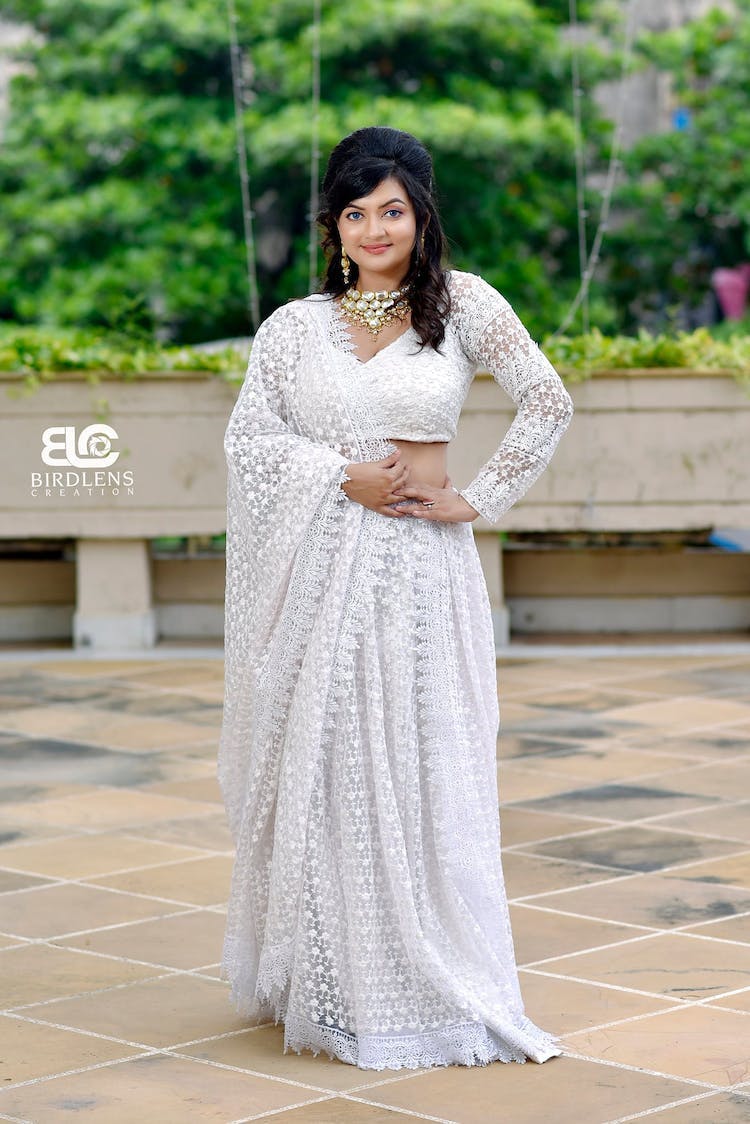 4. This Curly Hair Bun Is A Favorite One
A curly hair bun with side strands is an easy hairstyle for short hair. This curly hair bun is a show stunner that adds a pinch of drama and elegance to your engagement look. Make sure to keep a few locks of hair out of your curly bun to provide a sophisticated touch to your dazzling hairstyle.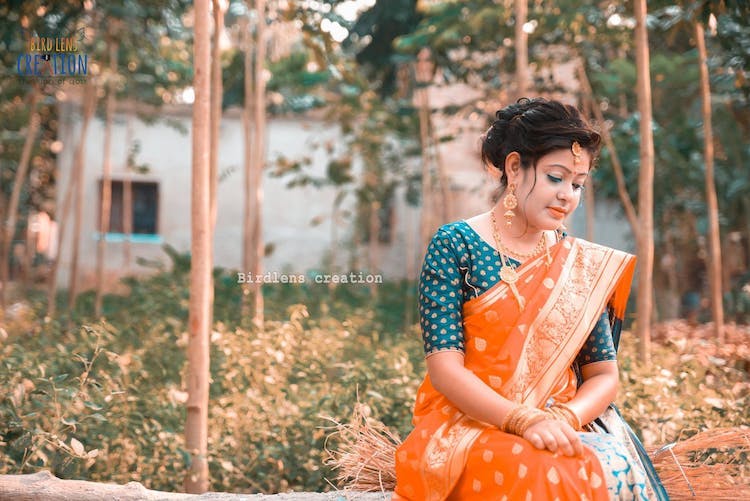 5. A Wavy Ponytail To Play The Style Game
A wavy ponytail has been often spotted in bengali wedding photography. This extraordinary choice of choosing a voguish ponytail can make you look more glamorous. This twisted braid with a surreal ponytail is the best option to try with an engagement gown.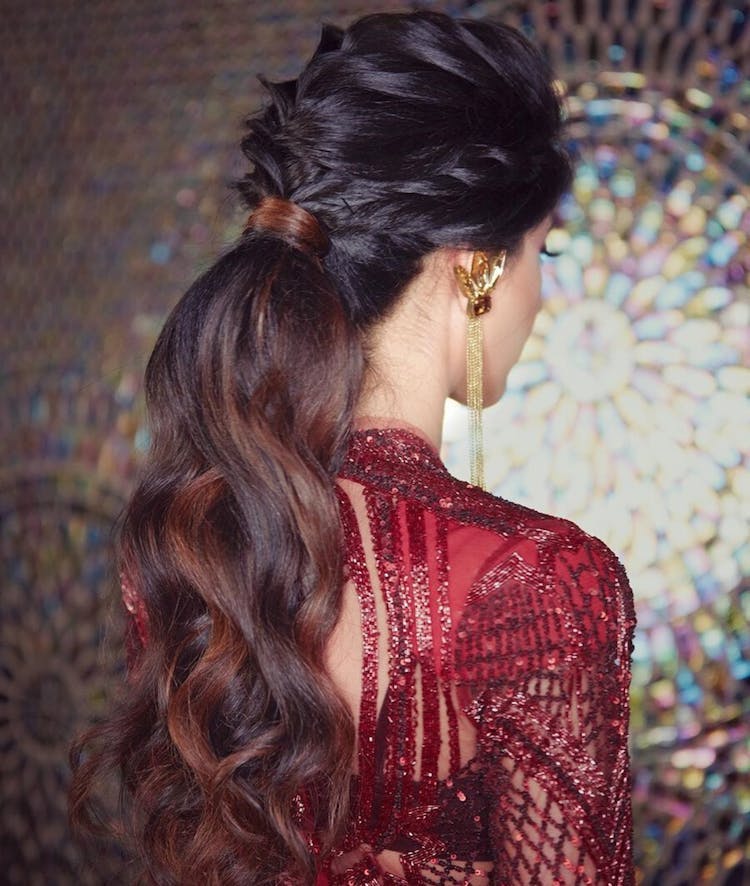 6. This Elegant Low Bun Is The Best Hairstyle For Engagement In Saree
A stylish bun is a popular choice for events like engagements and weddings among Bengali brides. This gorgeous low bun hairstyle is a perfect fit for a gorgeous banarasi saree. Accessorize with this beautiful bun with a statement matha Patti to get an amazing look.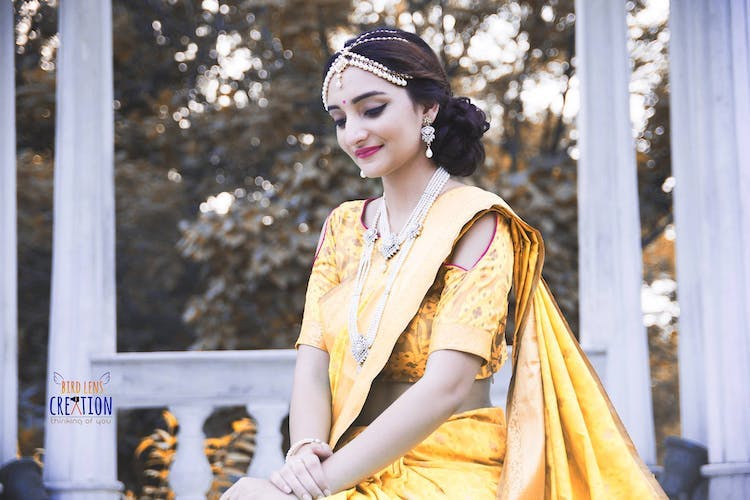 7. A Voluminous Braid With Pretty Hair Accessory Is Truly Hard To Ignore
If you are to wear an ethnic outfit like a luxurious saree or designer lehenga then you must choose a voluminous braid to achieve a fancy look. A voluminous braid is a classy engagement hairstyle for bride that goes well with Indian outfits. You can accessorize this gorgeous braid with beautiful hairpins or fresh flowers to provide it with a dreamy look.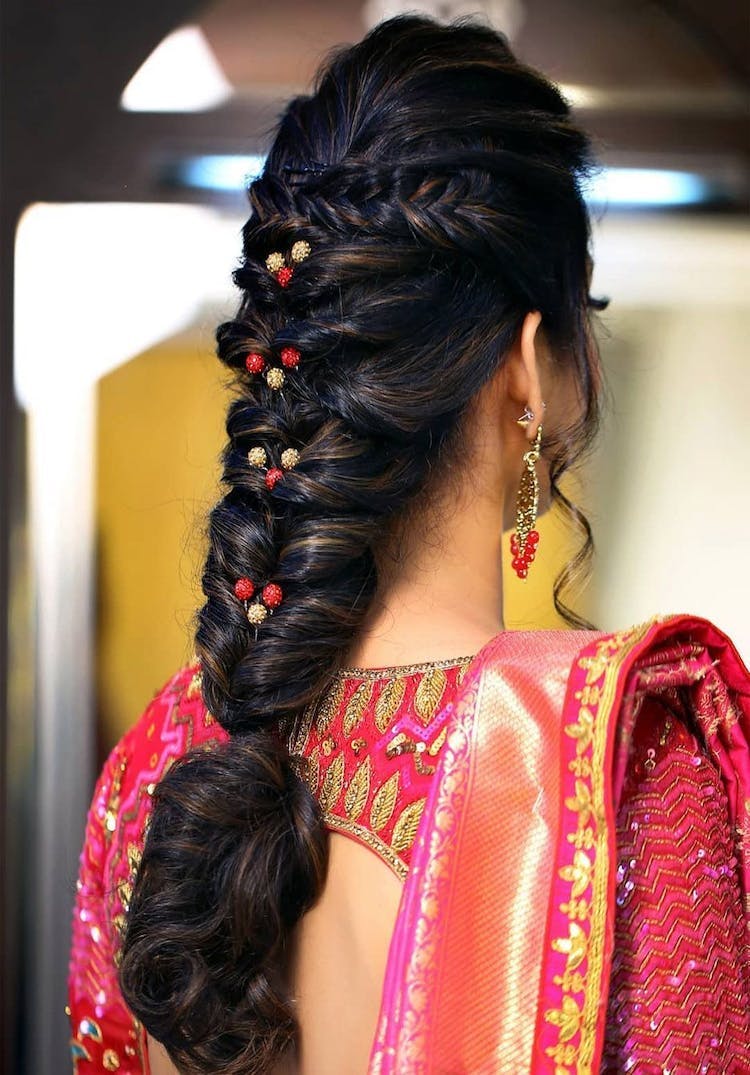 8. A Gorgeous Fish Braid Can Sometimes Work Wonders
A fish tail braid is another beautiful ring ceremony engagement hairstyle for bride. This boho inspires stylish braid gives you a super amazing look on your engagement day. It adds a wow appeal to your glam look. You can add some dainty embellishment to your braid to look stunning for your engagement photo shoot.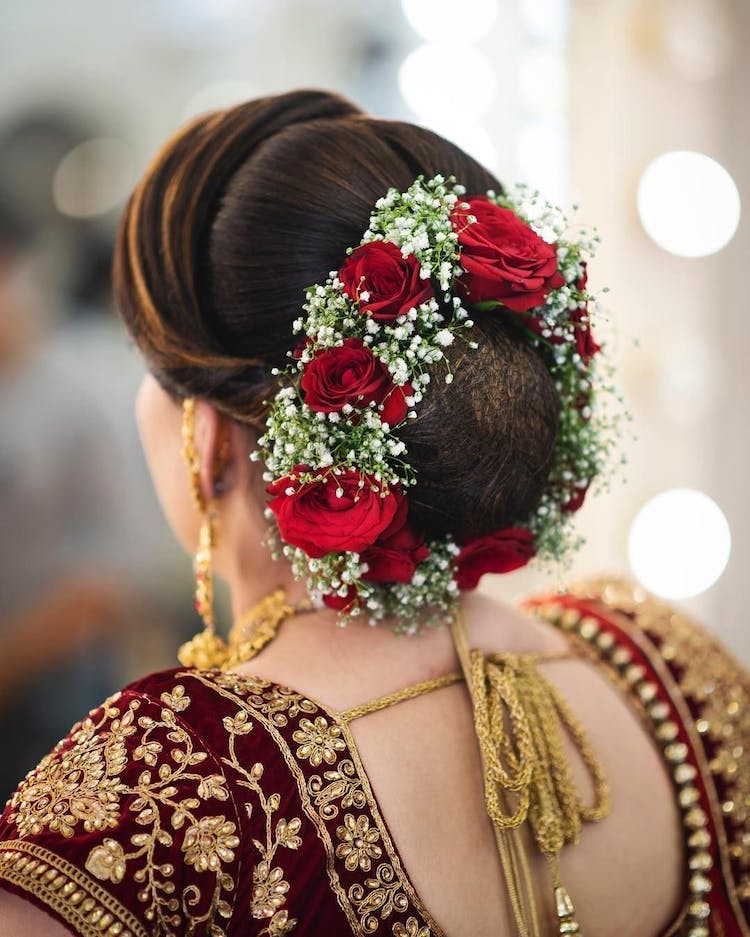 9. A floral Bun Is The Most Sophisticated One
Who doesn't love flowers? This kind of floral bun can offer an eye pleasing charm to your engagement day look. A mesmerizing combination of red roses and baby breath decorated over the hair bun looks ethereal.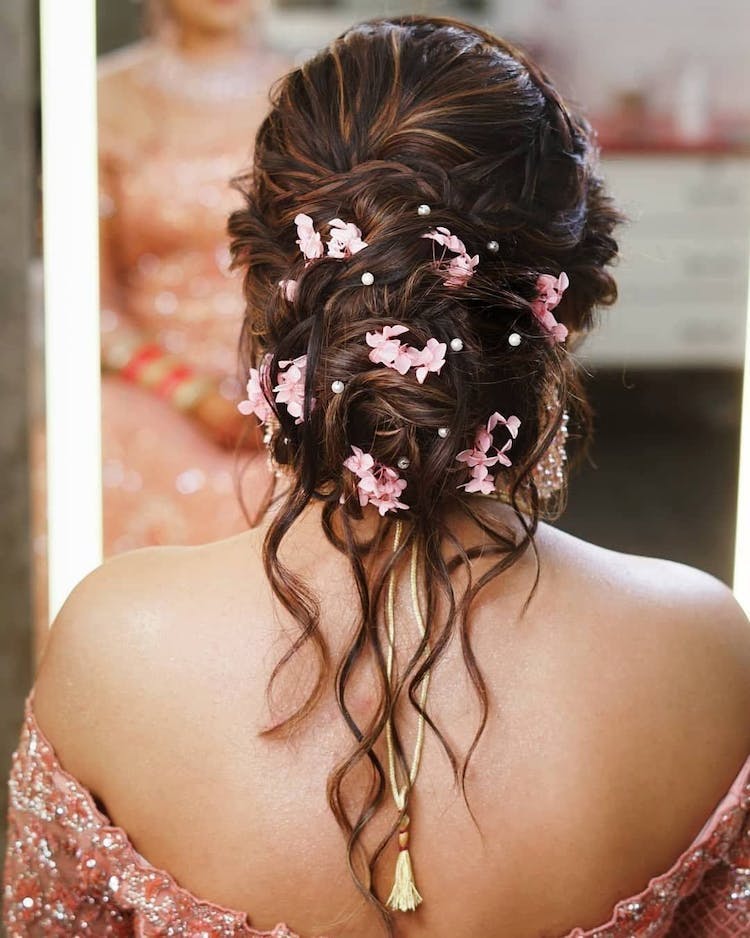 10. Messy Knotted Bun To Spice Up The Glam Look
A messy bun is the most captivating hairstyle preferred by Bengali brides. This modern hairstyle can give you loads of compliments for your modish engagement look. A soft messy bun looks stunning and also adds volume to the hair. The most beautiful thing in this bride's engagement look is how beautifully she has complemented her bridal gown with her hair accessory.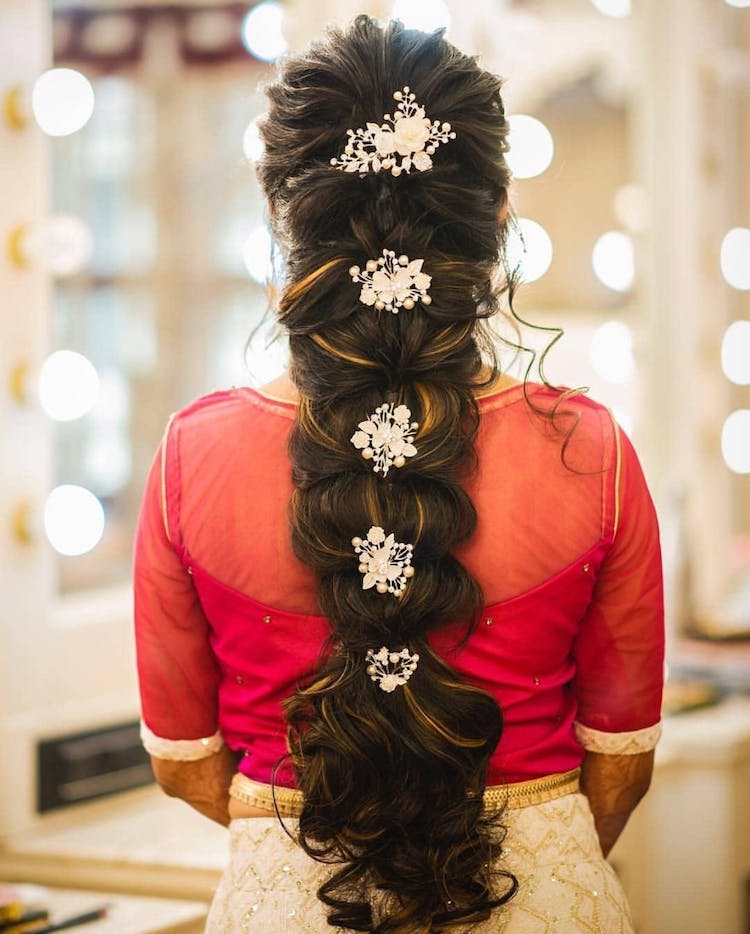 11. A Braided Bun For Stealing The Lime Light
This one with beautiful pearl embellishment is our favorite on this list. A braided bun can help you to make a style statement in your ring ceremony. This kind of bun looks spectacular with a floral lehenga or a pastel gown. This beautiful bun can add a glam touch to your engagement look.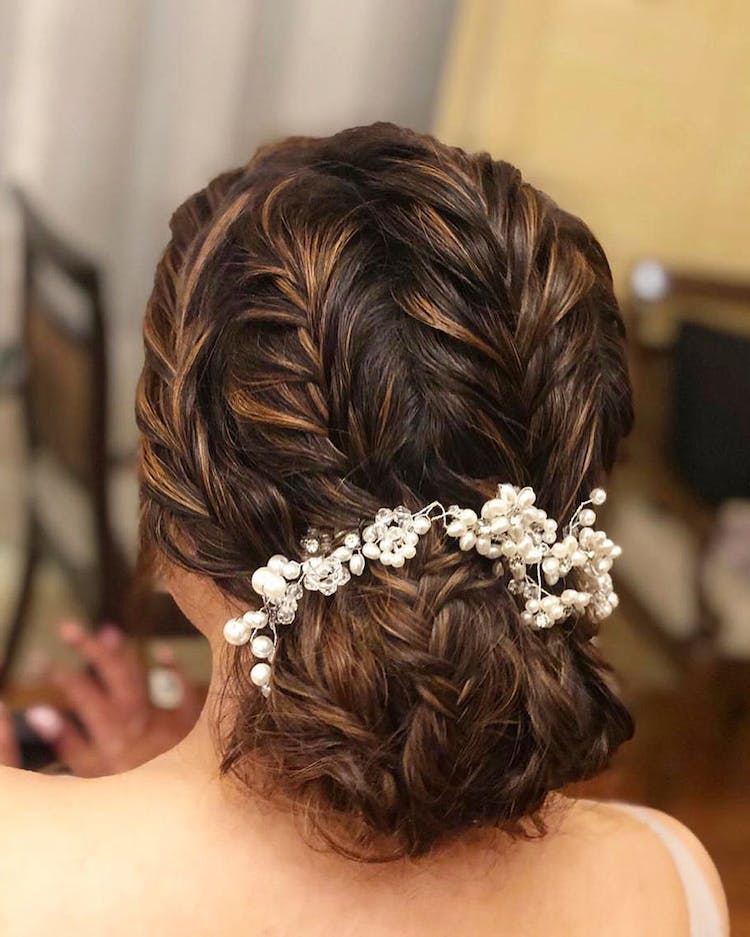 12. The Most Beautiful Cascading Curls Bridal Hairstyle For Engagement
Nothing can be more romantic and attractive than a cascading hairstyle. Golden blonde hair with wavy curls is the perfect fit for a princess-like look. All you need is a floral wreath to tie around your hair to highlight your lose curls.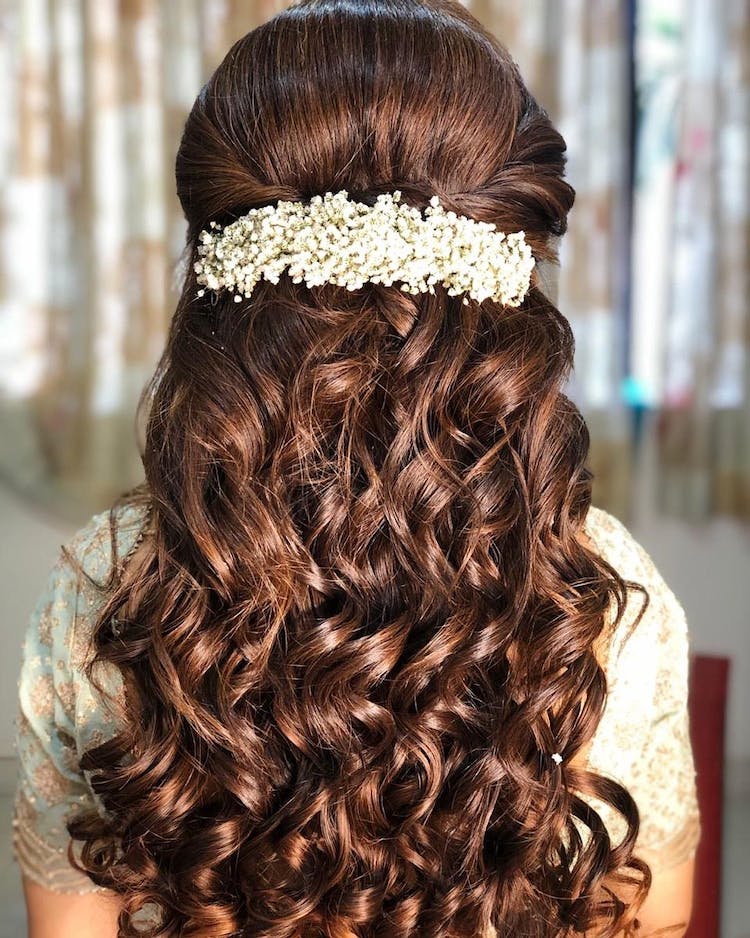 13. How About This Classy Donut Bun?
If you wish to get a classy look on your engagement day then you can opt for a traditional donut bun. A donut bun hairstyle goes well with a silk saree and traditional gold jewelry. Make sure to tie a floral gajra on your hair bun to highlight this eye catchy hairstyle.