Well, you've two have embarked on this new adventure known as a wedding, and we can not be happier!  The engagement is the very first step toward a happy married life that you and your partner will share. As a result, selecting the right engagement dresses for the groom is important. We, the best wedding photographer in kolkata have collected a list of latest engagement dresses for the groom. Choose the best groom dress for engagement from our list of and amaze your bride-to-be! 
Before we go into the engagement dresses for the groom we've hand-picked for you, make sure you select the top fashion designers in the industry to get your hands on some of those stunning groom engagement outfits. We have everything from tuxedos, sherwanis, to kurta pyjamas for you! Take a look at them below!
1. Pistachio Green Sherwani Set - Best Groom Dress For Engagement
We're starting off our selection of the best engagement attire for the groom with this stunning piece by Manyavar. The sherwani's vivid pistachio green colour is one of our favourites. The sherwani outfit is further enhanced by hand embroidery in delicate floral prints. Thanks to the high slit which enable a mix of colours, the contrast creamy churidar looks smooth and makes the dress shine brightly.
Recommended: 12 beautiful Banarasi sarees for Bengali bride
2. For Special Engagement Night, What About A Red Suit?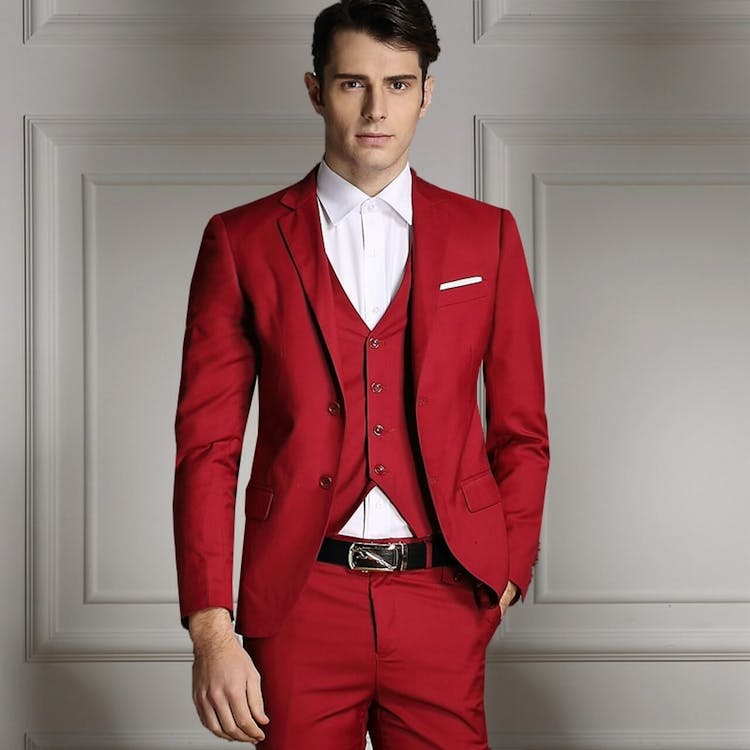 To be honest, we admire men in formal suits, and we're sure that many men do as well. If both you and your partner are fascinated with suits, there is a solution for you. The shades of red and white. A formal white shirt and tie look great with a red blazer and pants. Take a look for yourself! 
3. Why Not, Color Coordinated Engagement Dresses With Your Fiancée?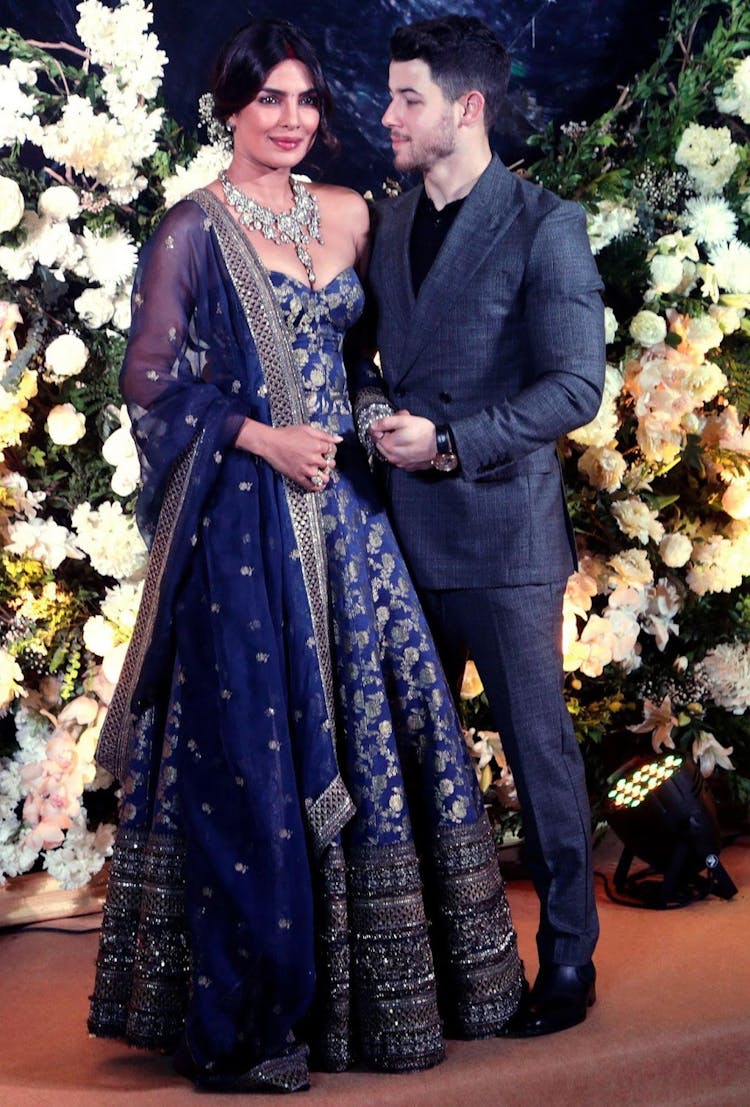 Let the shade of your simple engagement dress for groom be the first of a million things you and your partner will embrace for the rest of the years. It could be her favourite colour, or yours, or simply something that symbolizes your connection. Take some inspiration like him, who matched his dress with his future wife's and put some floral patterns to make it look even more spiffy. 
Must Read: Top 12 Pre wedding Shoot Dresses for Couples in 2022
4. You Can Have The Perfect Blend With Indo-Western Outfit!
The fusion engagement dress for groom has an asymmetric Indo western sherwani suit with white pants. The Mandarin collar and silver buttons give the coat a sophisticated look. It also has floral art carved all over it, making it look much more attractive. Do add this engagement sherwani for the groom on your shopping carts! 
5. For The Engagement Party, A One-Of-A-Kind Full Resham Embroidery And Kali Pattern Dress!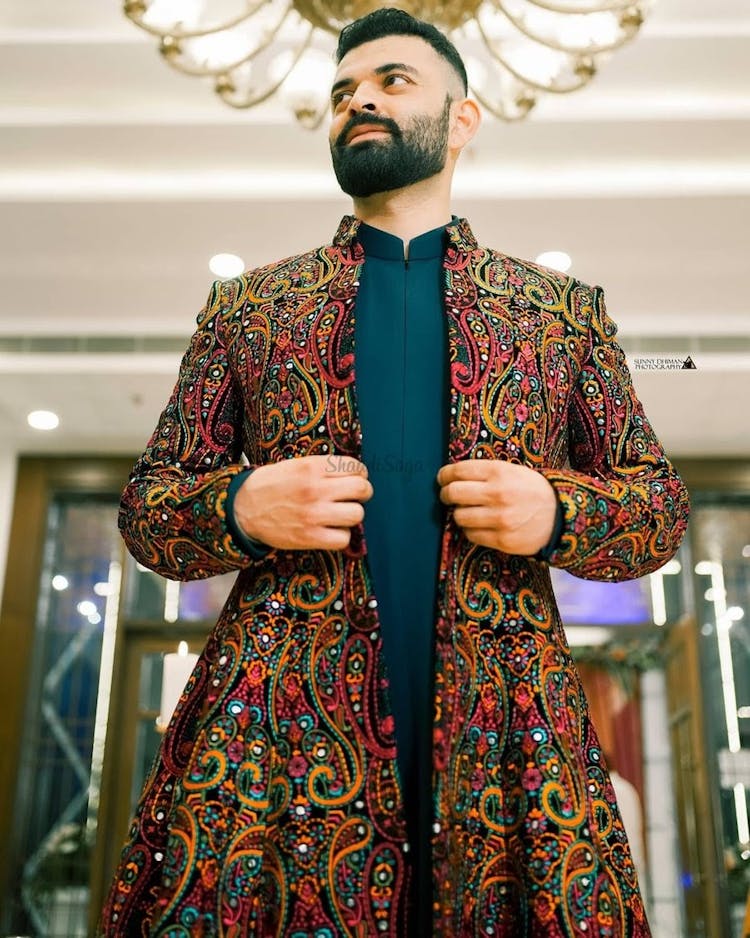 Searching for an embellished dress to complement your engagement attire? Check out this gorgeous Resham embroidered and kali design dress by Bharat & Reshma, which looks incredibly handsome when worn on your most important day. 
6. Pink Embroidered Kurta With Floral Jacket On Ranveer Singh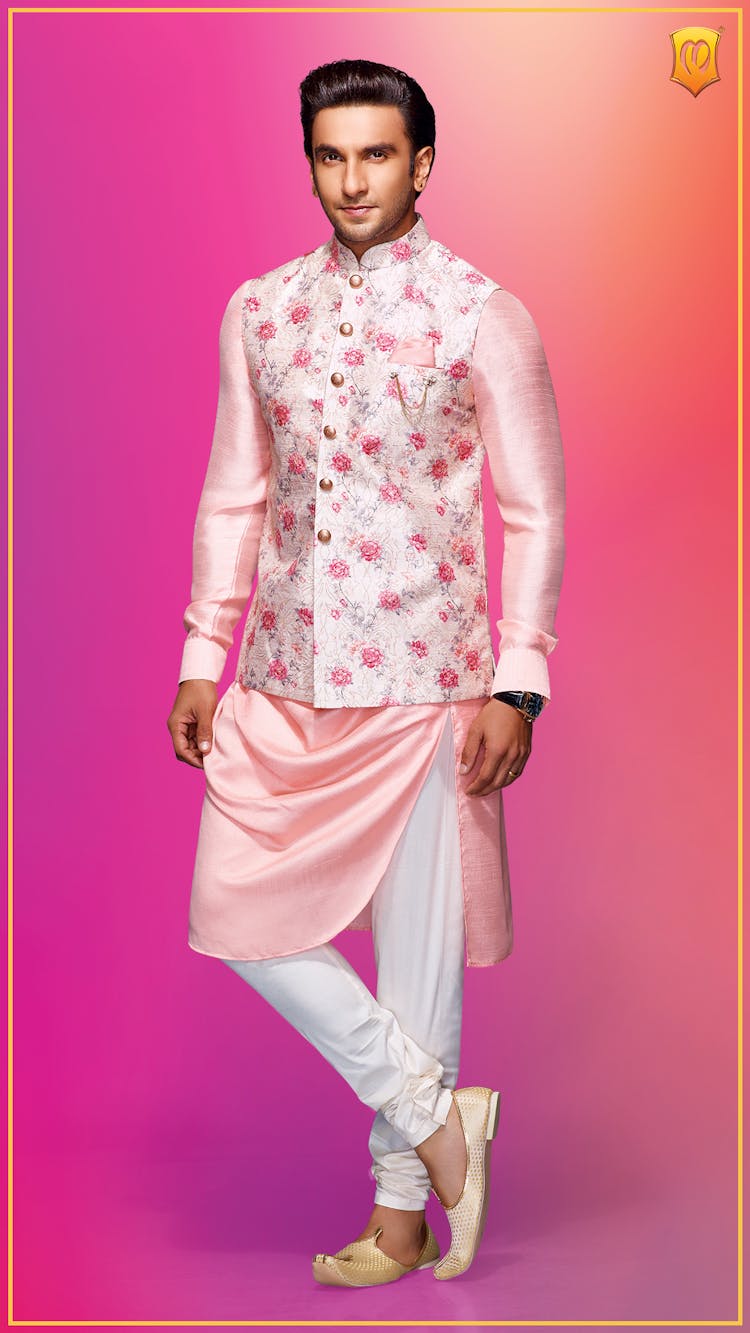 The flowing hemline on the peachy pink suit lets you stand out from the rest. The delicate shine of the mixed silk fabric attracts attention to you. This groom dress for engagement has been raised to a whole other level just by adding a floral coat with zari needlework and gold buttons.
7. We Can't Get Enough Of This Glitter Blazer Look!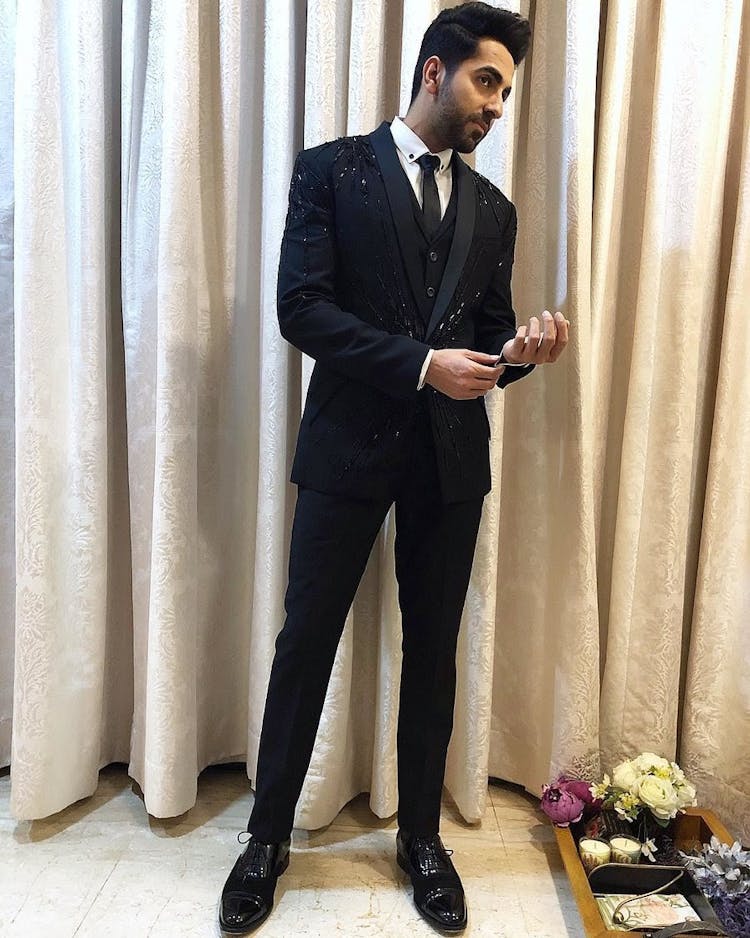 Thinking about dressing up for your engagement party but can't seem to keep away from the glitter? Take inspiration from Ayushman Khurana, the heartthrob of Bollywood. The classic black suit with touches of glitter from the blazer has charmed us completely, one of the best suit for engagement.
8. The Combo Of Pastel Kurtas And A Floral Nehru Jacket Is A Big Wow!
Pastel colours could be the option to go if your engagement is on a bright sunny day. Then that will provide you with a magnetic vibe, driving your fiancé to fall head over heels in love with you over again. The short kurta is paired with a silky mix Churidar pyjama and a Mandarin collar on the coat. The engagement dress for groom gets immediately transformed by adding an embroidered Nehru Jacket in white to a rather simple outfit.
9. Dress All White For Your Engagement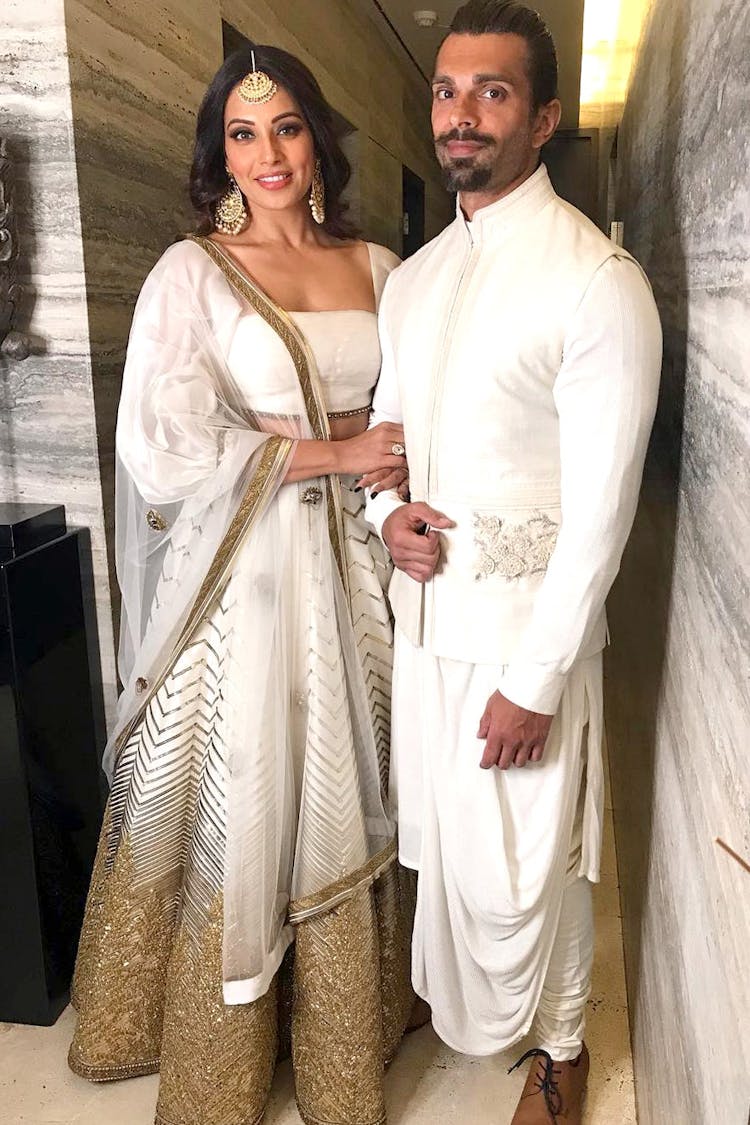 Karan Singh Grover is a Bollywood actor who never stops to wow us with his stunning wardrobe choices every time he leaves his house. When the actor, who is known for wearing fusion clothes, showed out in this exquisite all-white dress, he gave us traditional wedding fashion goals.  
10. Choose Vibrant Colours For Latest Engagement Dresses For Groom 
There's no need to stress about a three-piece suit or a lavishly embellished sherwani when you're not ready for it. A soft kurta in a vibrant colors like blue, pink, or yellow can be just what you're looking for. We admire this basic yet elegant blue kurta combined with a beige Nehru coat, and the fact that he chose traditional trousers just adds to our admiration for the outfit.
11. In This Narendra Kumar Creation, Rahul Khanna Appears Sophisticated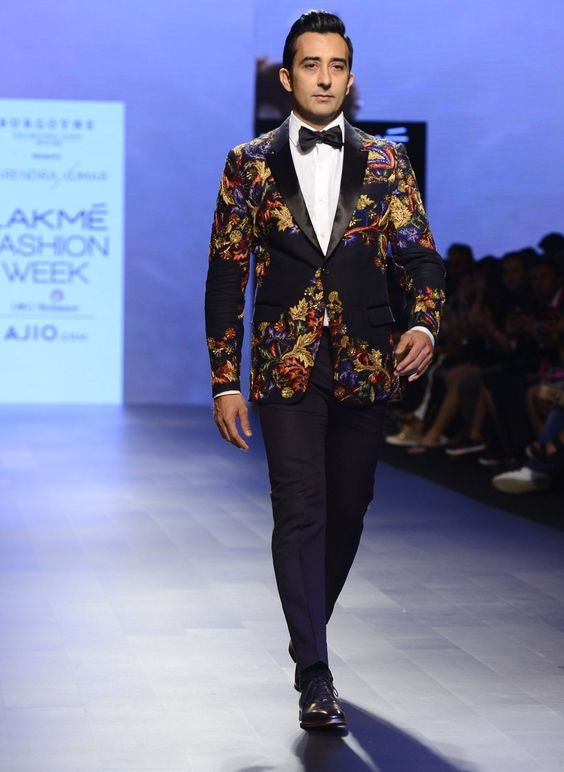 The colourful three-piece by Narendra Kumar is yet another patterned tuxedo choice for you or your fiancé to dress for your engagement party. Just this time, the blazer's patterns appear metallic. If you're searching for something to wear to an evening party, this is an excellent pick.
12. Sherwani And Dhoti Pant Combo To Feel Like A Royal Prince At Your Engagement Night!
In a magnificent golden sherwani and dhoti combo, you'll make your bride a competition in fashion.  The overall dress is made up of various colors of gold. The groom engagement outfit is finished off with a brooch and a few necklaces. A set of jutis has been added to make it perfect.
13. Elegant Indo-Western Engagement Sherwani For Groom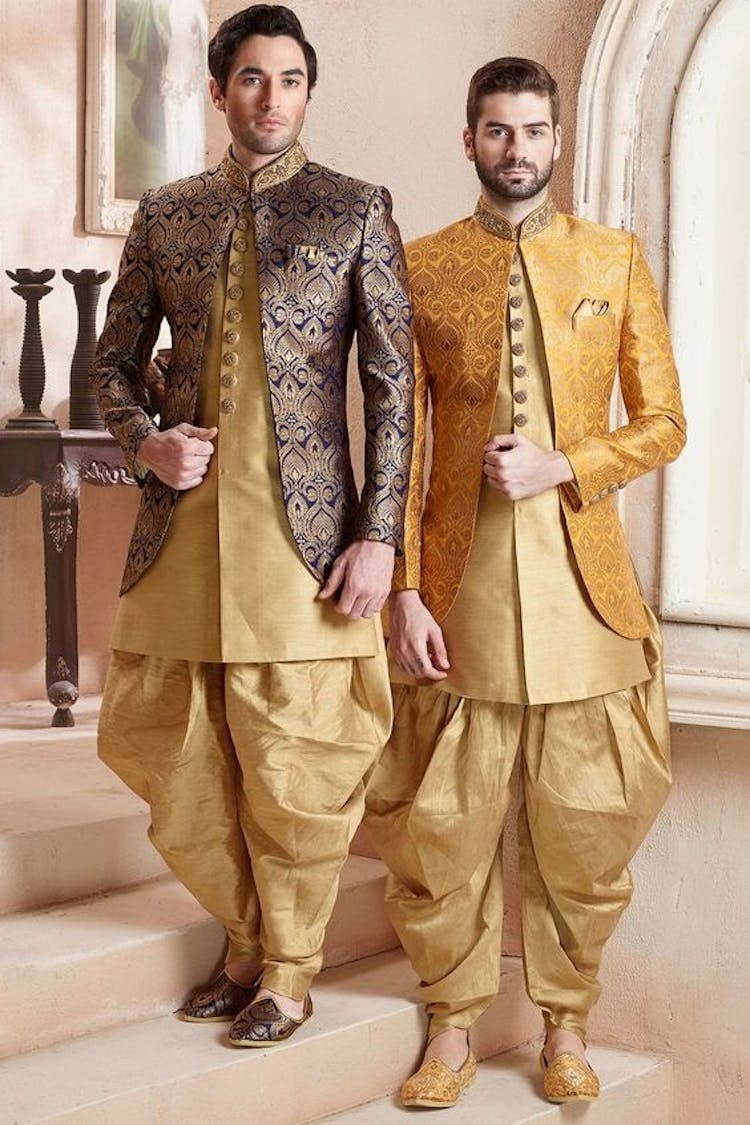 If you want something luxurious but don't want to wear something traditional or western, fashionable Indo-western sherwanis with zari stitched Brocade are the way to go. It's a good mix of both styles. This is another western engagement dress for groom dress, in my opinion, is both stylish and ethnic.
14. Mughal Inspired Engagement Dress For Groom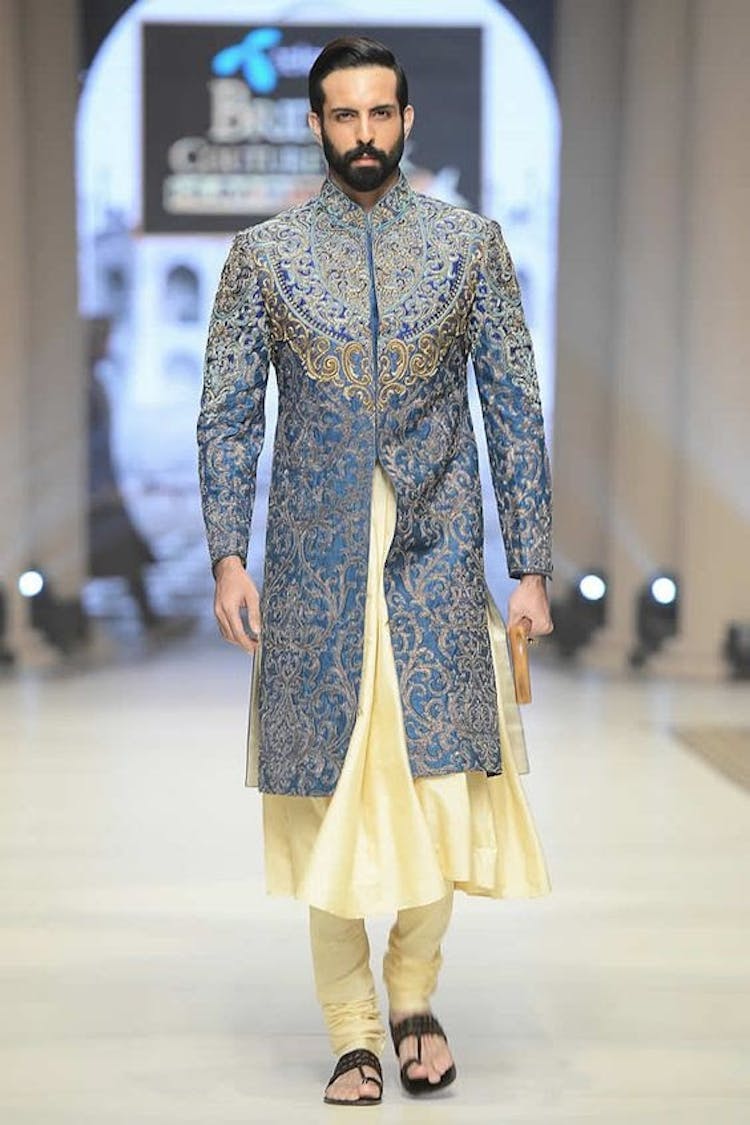 The Mughal-inspired Dress, has made a return into comtemporary Indian fashion. With a flaring kurta layering it and a contrasting long coat in various cuts over it to look heavenly. 
15. Bandhgalas - groom engagement dress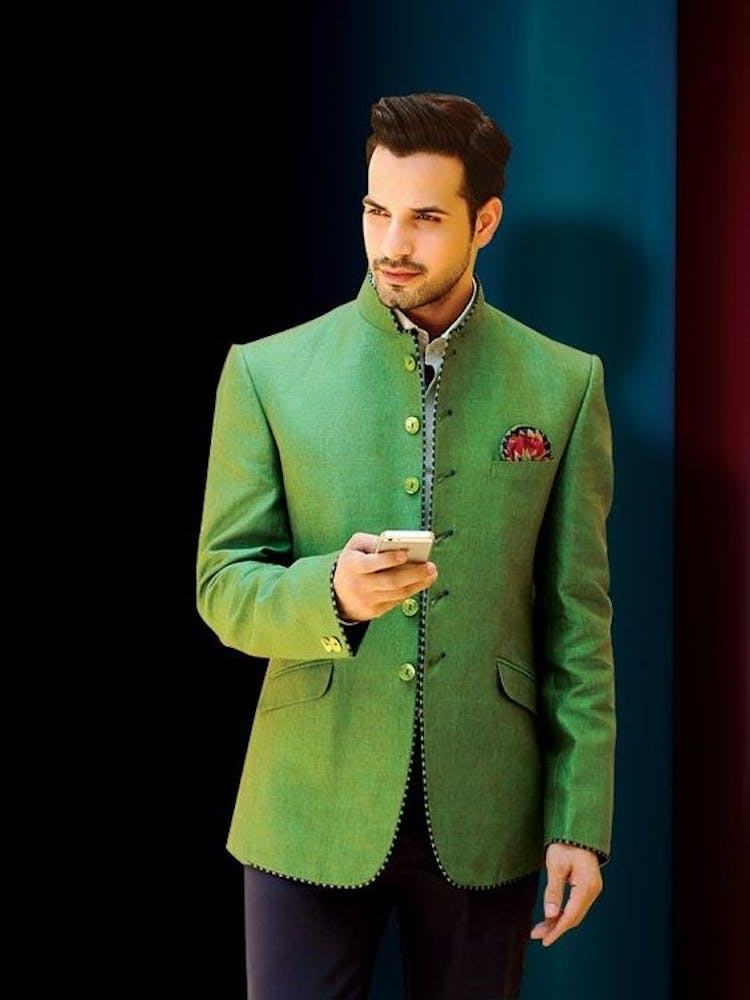 As they are crafted of heavy materials and thus are buttoned, bandhgalas exude a sense of 'royalty.' They're a wonderful way of making a statement, and they're undoubtedly one of the most popular choices in engagement attire for groom in India! For a festive formal style, mix it with pants or Jodhpuri Pants.