Every girl dreams of looking like the most beautiful princess on her wedding day. A bridal ensemble is the most important element of her wedding day look. Designer lehengas and saree are the most popular choice amongst Indian brides for their wedding day outfits. Likewise serene white wedding gowns are the weakness of Christian brides. The simplicity, grace, and elegance of these Christian wedding outfits will literally make you its big fan. A Christian bride walking down the aisle in an elegant Wedding dress with a bouquet will remind you of the beautiful moment of a fairy tale. Discovering a beautiful bridal outfit is no more a stressful job. Brides can find a ton of extravagant wedding outfit designs at a reasonable price. But if you still getting confused to choose the best one, then keep reading this fashion blog. Check out this gorgeous christian wedding bride dress ideas that will make you the most glamorous look on your wedding day.
1. Here Is A Beautiful Off-Shoulder Christian Wedding Bride Dress.
An off-shoulder gown adds a romantic vibe to your wedding day look. This is the perfect wedding attire for a modern bride. You can rock this stylish outfit with a long veil over a stylish bun. The simplicity and elegance of such a beautiful wedding gown make you look every bit dreamy. Always hire a professional wedding photographer in Kolkata if you want to save the beautiful memories of your wedding day in the best possible way.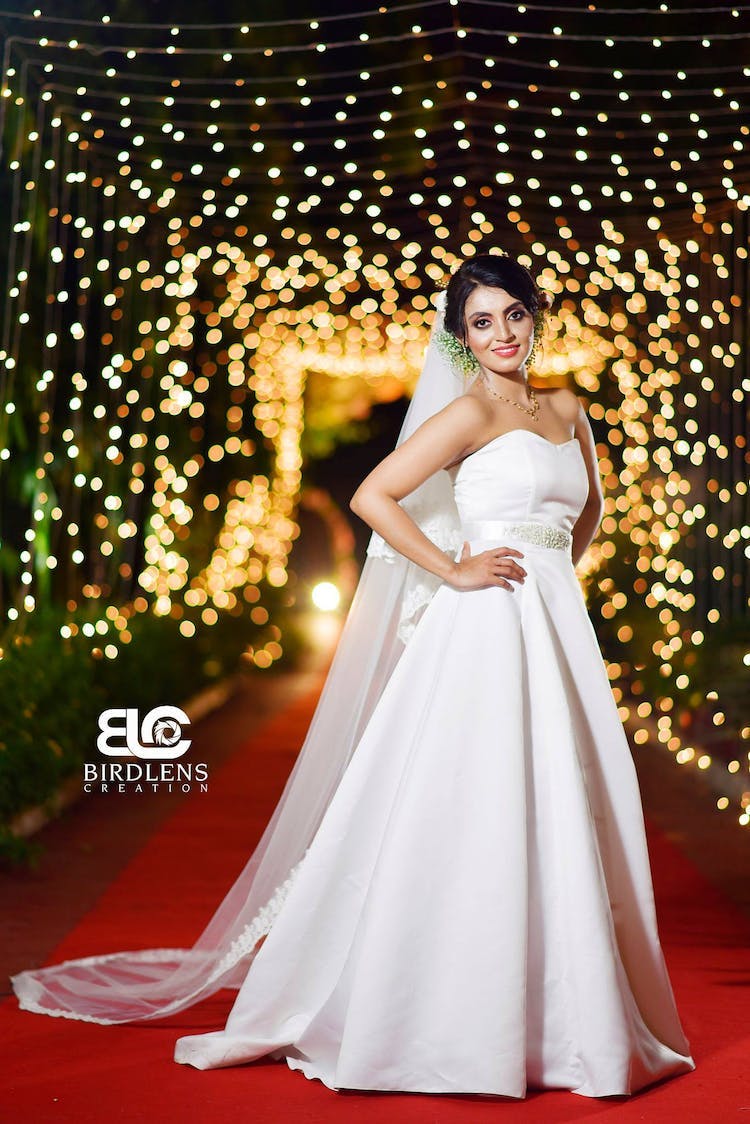 Must Read: Top 15 Gorgeous Bengali Bridal Hairstyle Ideas In 2022
2. An Elegant Gown For Christian Wedding To Make You Feel Like A Princess
A white frilly wedding gown can make you look like a real princess on your wedding day. This gorgeous bride has worn a sleeveless wedding gown with floral embroidery on her special day. The golden hand embroidered on her wedding gown is enhancing the charm of her bridal look.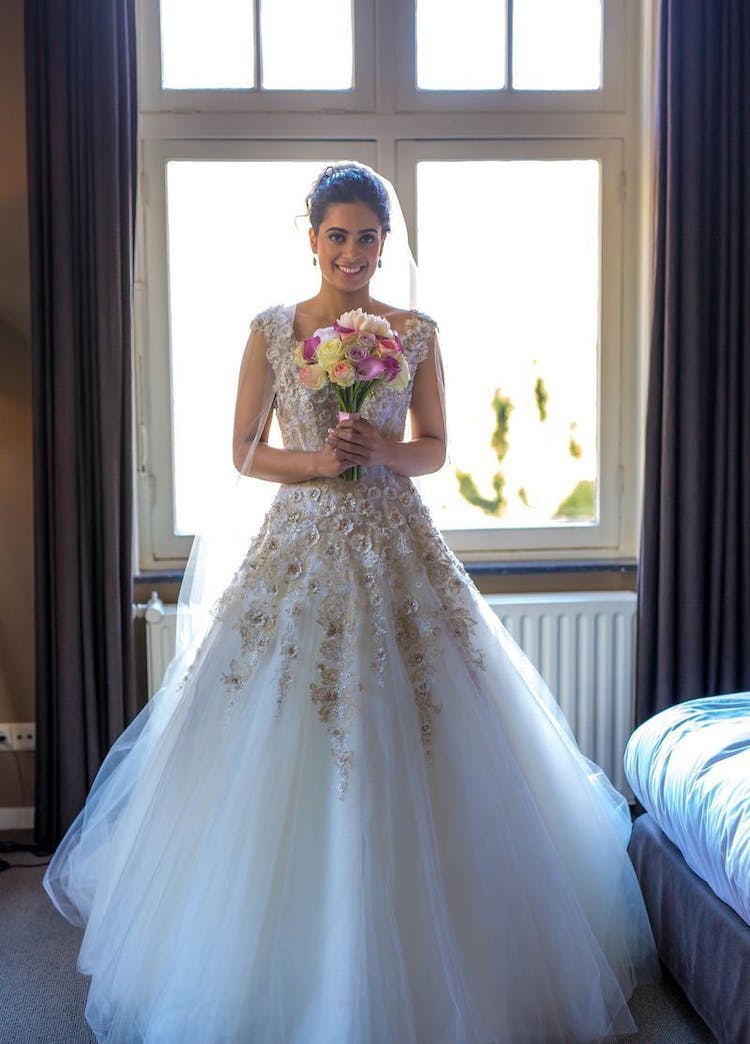 Recommended: Top 12 Pre Wedding Shoot Dresses For Couples In 2022
3. A Stylish Givenchy Gown With Dramatic Flairs
What can be more beautiful than a wedding gown with dramatic flairs! The beautiful flairs of this pure white wedding gown will add a special glam to your look. You can keep your hair open with this stunning wedding gown to make a serious style statement as a bride.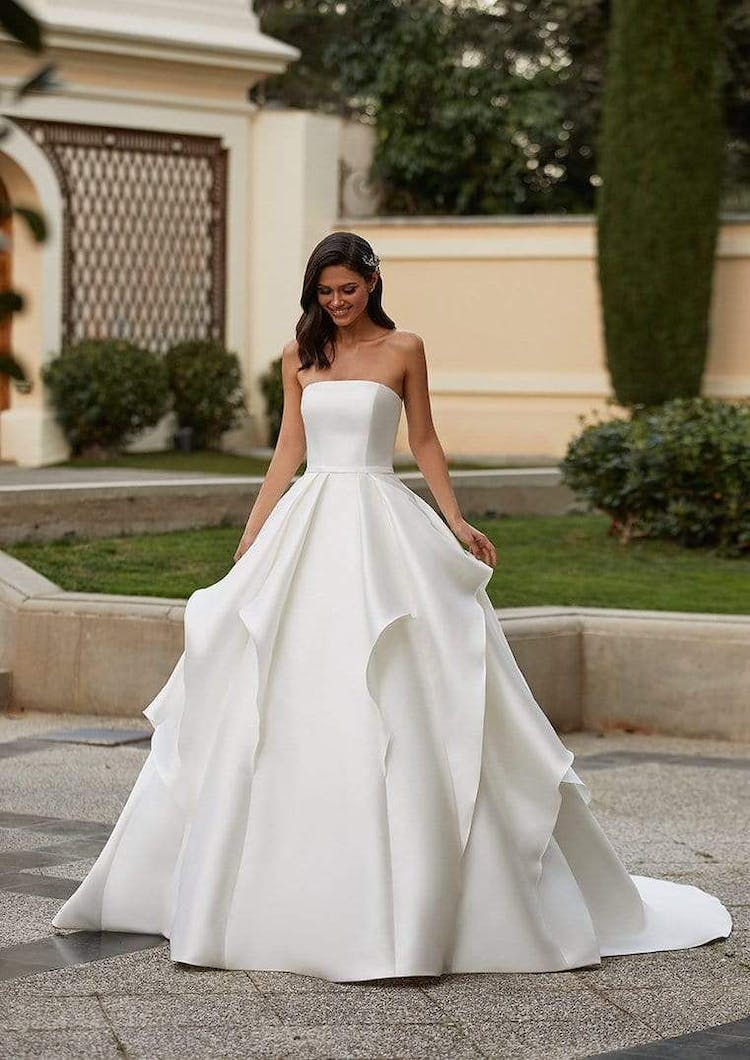 Also Check: 13+ Poses Ideas For Pre Wedding Photoshoot You Need To Know
4. A Deep V Neck Gown For The Bold & Beautiful Brides
If you want the hottest bride of this wedding season then you must end your search with a deep V neck gown. This sexy wedding attire will make you a fashion-forward and sassy queen on your wedding day. They can turn your evening affairs into the most memorable moment of your life.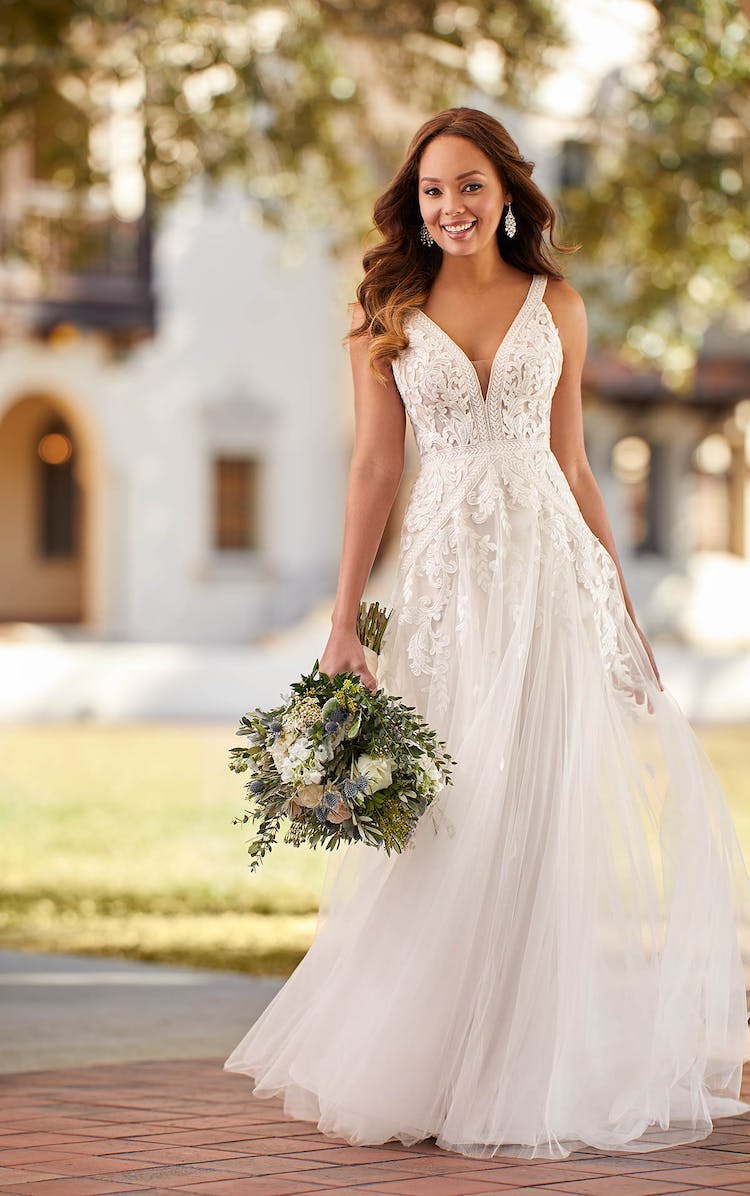 5. This Straight Cut Christian Bridal Gown With Free Flowing Veil Can Grab All The Attention
This gorgeous bride is looking an epitome of beauty in her straight-cut wedding gown. This beautiful wedding gown for Christian bride can flaunt the perfect figure of a sassy bride. Team this magnificent gown with a long and sheer way to steal millions of hearts away.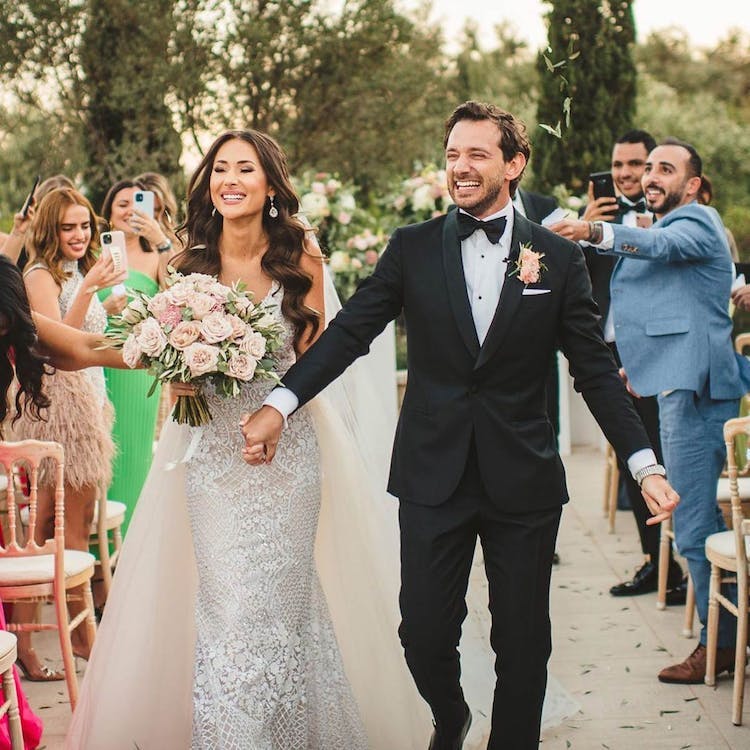 6. A voluminous Gown Is A Perfect Fit For A Fairytale Theme Wedding
A voluminous Christian marriage dress for the bride is the most dramatic gown to wear on the wedding day. This beautiful wedding outfit is adorned with sequence and floral embroidery. She has pulled off her wedding day look to perfection by wearing a floral tiara-like veil over her head.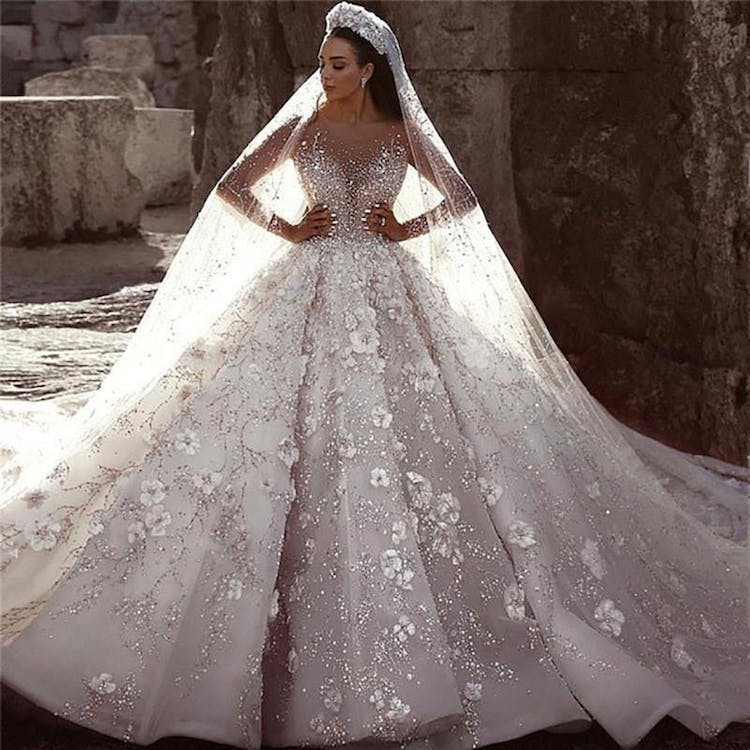 7. A Floral Gown Is A Lust Worthy Christian Marriage Dress For Bride
This beautiful bride has picked an off-white floral gown for her wedding day. An appealing combination of floral embroidery and the off-white satin gown looks mesmerizing. Her dramatic veil is making this bridal portrait more dreamy.
8. A Sequin Wedding Gown Is A Splendid Choice For A Glamorous Wedding Tale
Another glamorous option for a Christian bride is a dazzling wedding gown adorned with sequences. This silk fabric pretty gown is making her the hottest bride. The glitz and glam of this stunning wedding outfit are a perfect fit for an unconventional bride. You can opt for a ponytail to complement the super glamorous look of this wedding outfit.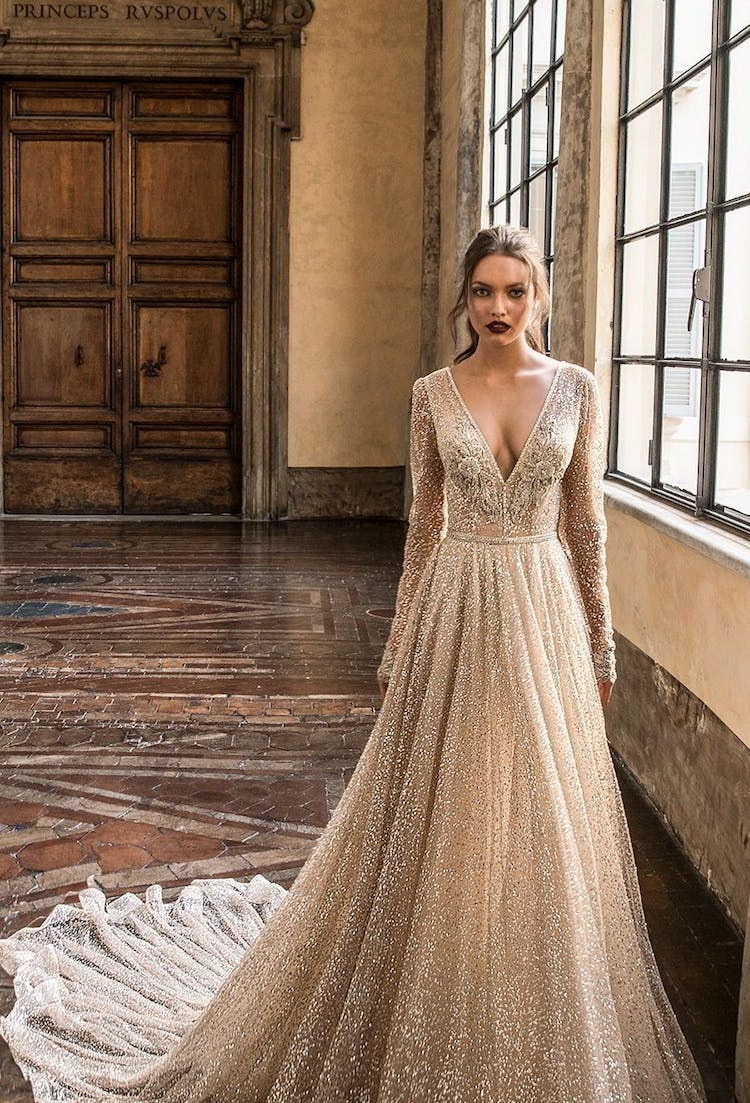 Image Source: Wedding Inspiration
9. Pastel Gowns Are The Most Unique And Sophisticated Outfit For A Charming Bride
Break all the stereo types by choosing a wedding gown in pastel shades. Add a hint of pistachio, to your wedding outfit to get the most subtle and prettiest look for your wedding day. This pastel christian wedding gown for bride looks more elegant in an eco theme wedding.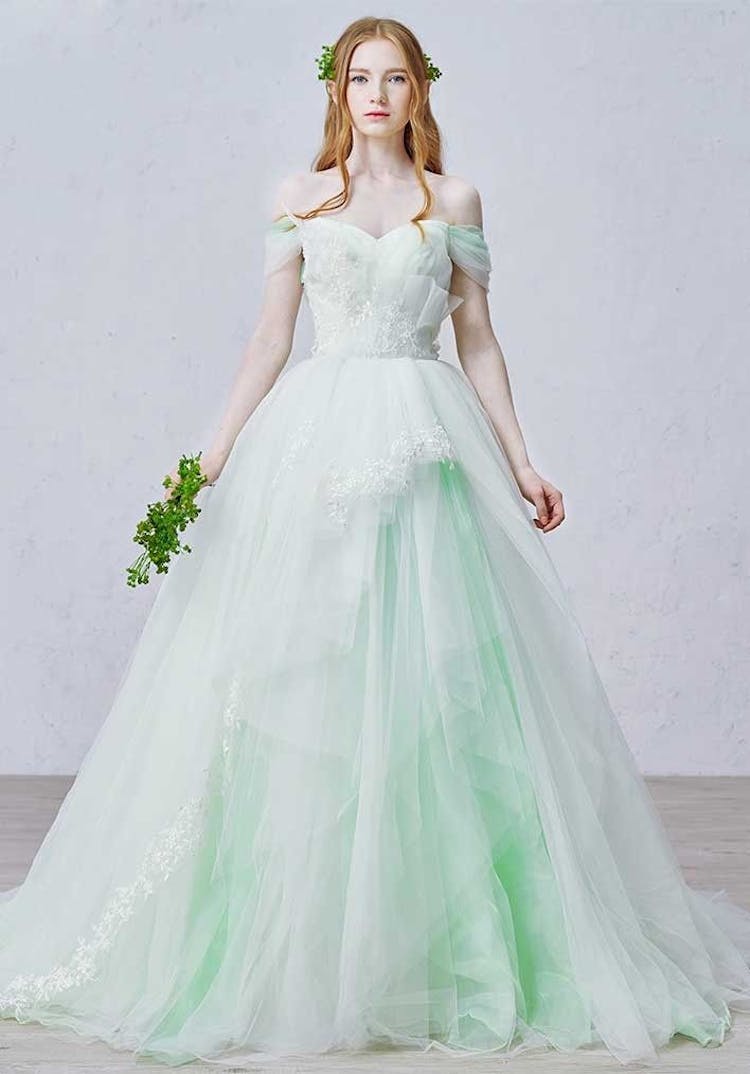 10. A Simple Satin Gown Is a Perfect Outfit For Minimal Brides
This glamorous flared gown looks beautiful when paired with diamond jewelry. This wedding gown suits the bride having a slender figure. It will give you a vintage-type theme on your D-day. Adding an extra long veil to this stunning wedding outfit can do wonders to your wedding day look.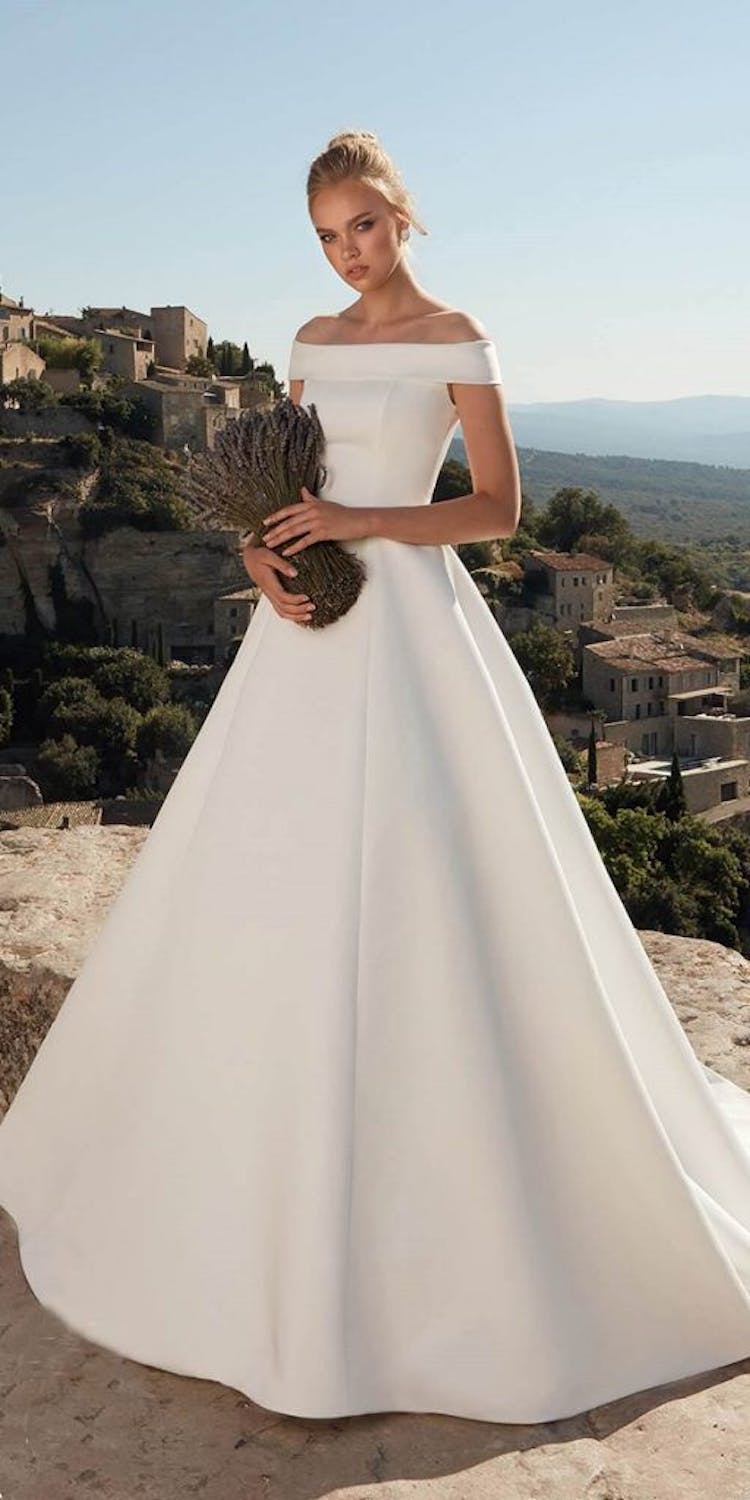 11. Show Off Your Bold Side With A Backless Wedding Gown
This bride has picked a backless wedding gown for her special day. This is the most glamorous option that you can choose for a wedding event. It's perfect for the bride who wants to reveal their bold side. Tie your hair in a stylish bun with this glamorous wedding dress to rock your wedding day look.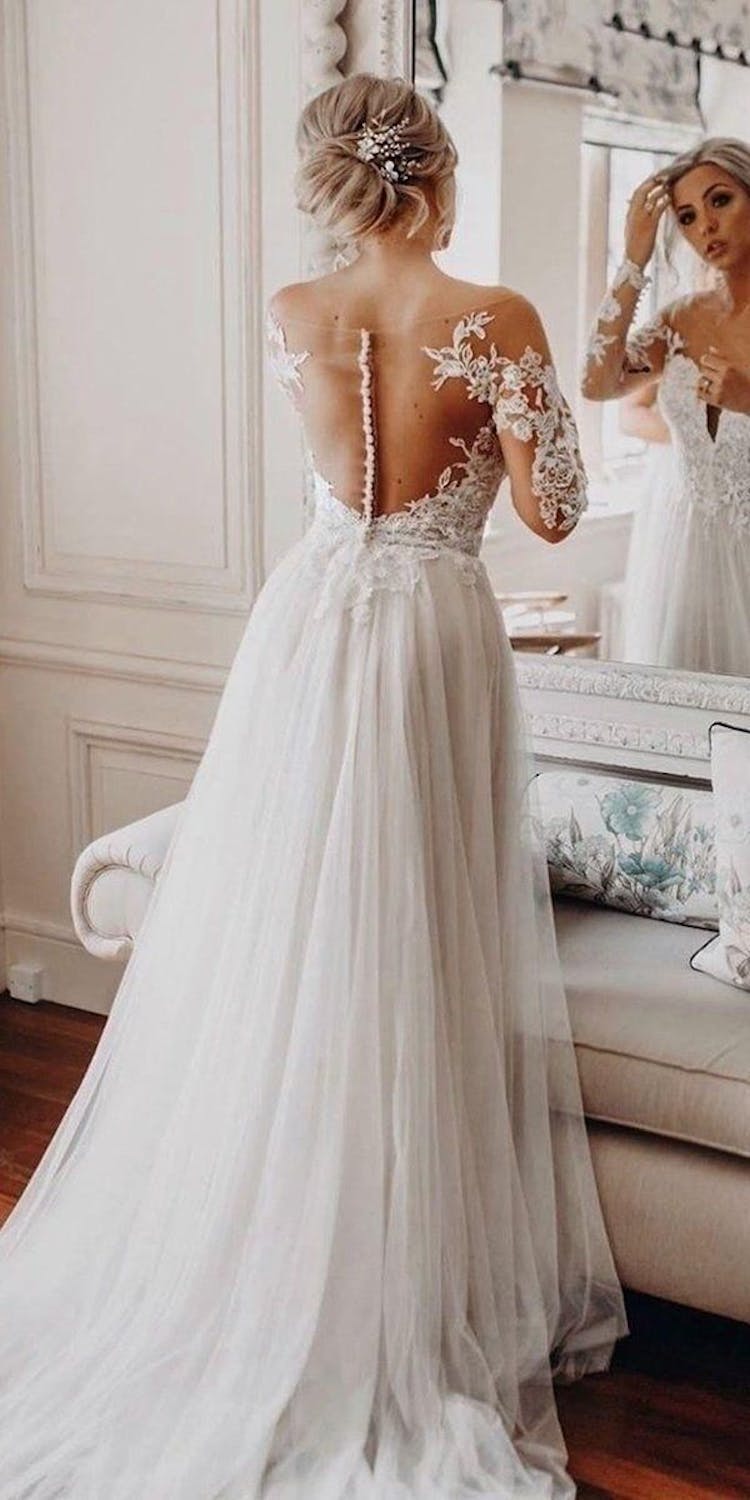 12. Try A Fish Cut Christian Wedding Bride Dress To Mark A Statement
A fish cut or mermaid cut wedding gown is so subtle and gorgeous to wear at the wedding event. This super-glamorous wedding gown can add a glam factor to your curvy figure. The asymmetric design of this stunning gown will add a charming appeal to your bridal look.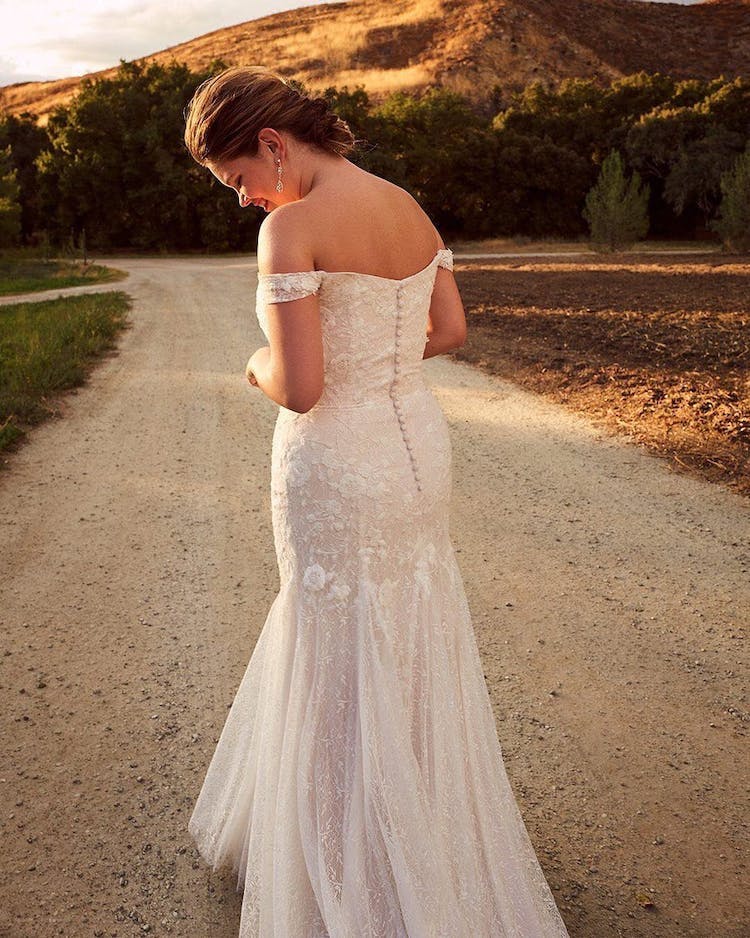 13. The Conventional Look Of A Christian Bride In Pastel Saree With Veil Is Something Hard To Ignore
Ending this wonderful fashion guide with a conventional and elegant option for Christian brides. You can choose a pastel shades wedding saree for your Christian wedding to be the prettiest bride. Pair your captivating saree with a long flowy veil to get the most classy look. This pretty wedding outfit will surprise everyone with your charming looks.