What's that one wedding function which marks the beginning of wedding festivity level to the fullest? Yes, you guessed it right. It's the vibrant and fun-filled Haldi function. As the name states, this traditional event is related to Haldi or turmeric which is considered auspicious and also has medicinal properties. According to the traditional belief applying Haldi to both the bride and groom before the wedding brings prosperity to the new life of the couple. Usually, both bride and groom wear ethnic wear in yellow at the Haldi ceremony. This vibrant ceremony is also accompanied by a dance performance and singing of songs by the bridesmaids of unmarried siblings. This one-hour affair of a fun-filled environment needs to be captured perfectly with a dramatic pose by hiring passionate and creative wedding photographers in kolkata. These beautiful haldi poses can be a beautiful lifetime memory for you that will always bring smiles to faces. So, if you are wondering how to achieve the perfect and dramatic Haldi pose then read out this interesting blog that contains 15 stylish and latest poses for the Haldi ceremony that will help you to look beautiful in pictures.
1. A Lovely Bride Looking Away From The Lenses
The first haldi ceremony poses that deserves a place on this list is this wonderful vintage pose. A beautiful bride wearing a yellow saree and floral jewelry on a sunny day looking away from the camera is a dreamy one. The wonderful backdrop of blue sky and lush greenery behind brings perfection to this entire shoot.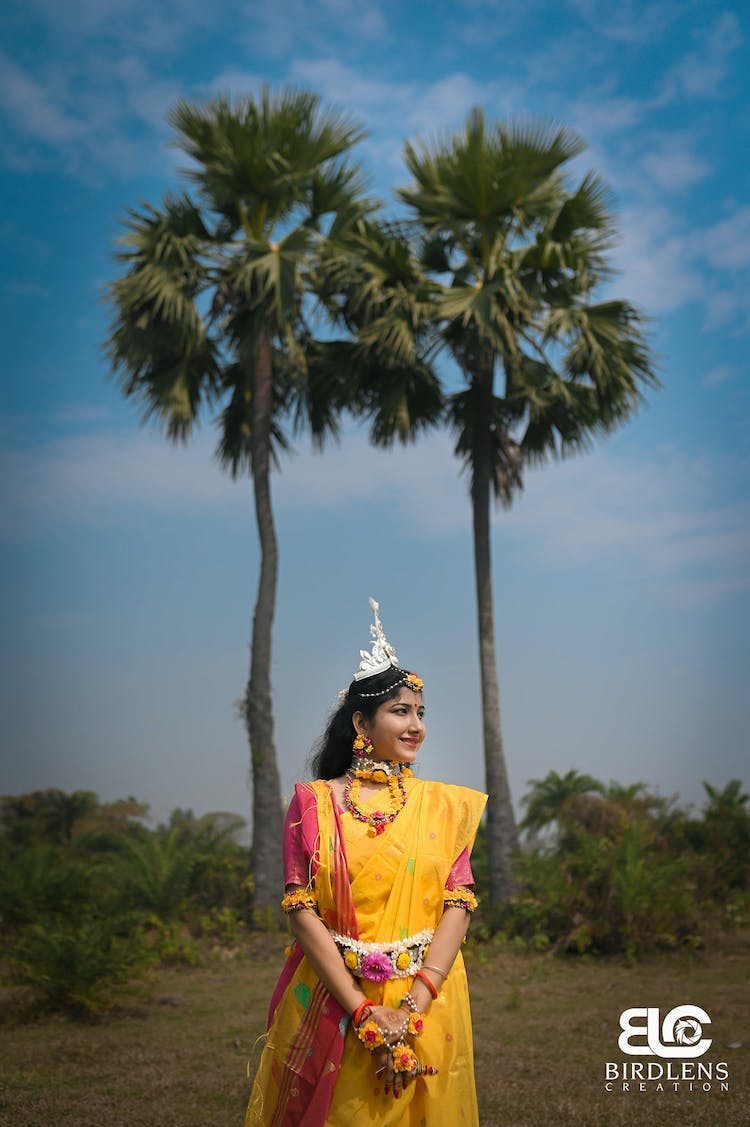 Must Check: 15 Gorgeous Haldi Ceremony Dress ideas For Brides in 2022
2. Dramatic Pose Of Haldi Bride
Another beautiful pose of our lovely bride is captured artistically. The way she stands angular position holding a prop in her hands has truly won our hearts. This creative haldi ceremony photography is a must try to capture the extreme beauty of the Haldi bride.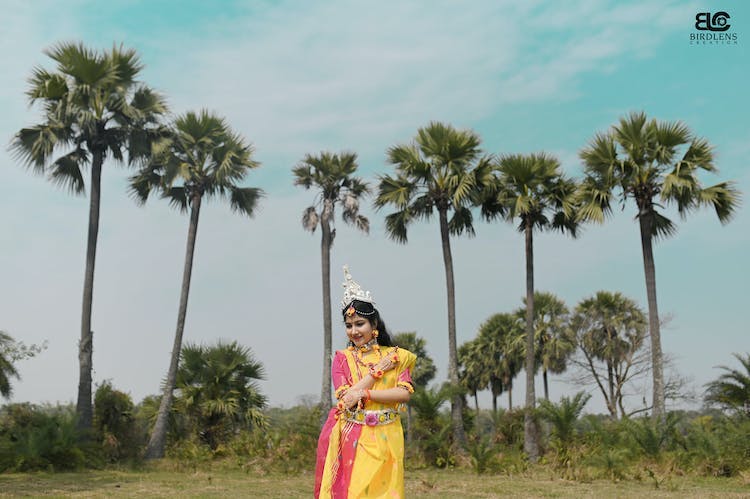 Also Read:Top 15 Trending Bengali Bride Reception Look Ideas In 2022
3. Haldi Pose Of Bride
Applying auspicious Haldi on a pretty bride is a common wedding picture in bengali wedding photography. Here the brother of the bride is applying haldi to her bubbly sister is a wonderful moment that needs to be captured to create wonderful wedding memories.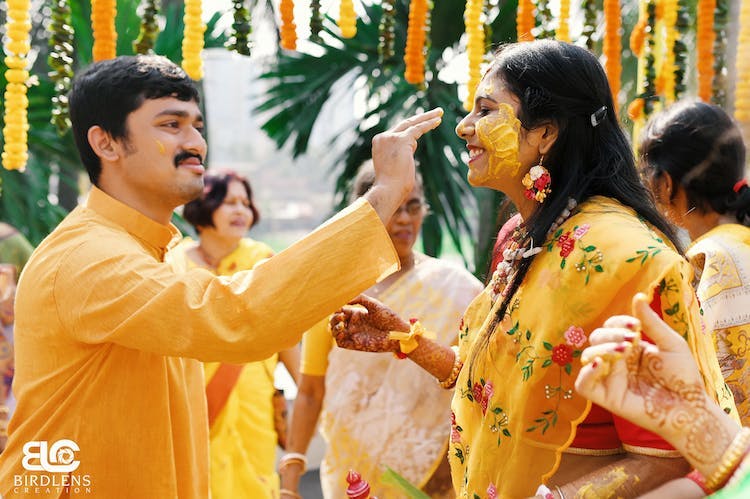 4. Gorgeous Bride Turning Back
Presenting a splendid bridal haldi photoshoot which is perfectly reflecting the grandeur and charisma of the gorgeous bride in pictures. The way she is looking behind adds a touch of vintage feels to the wedding pictures.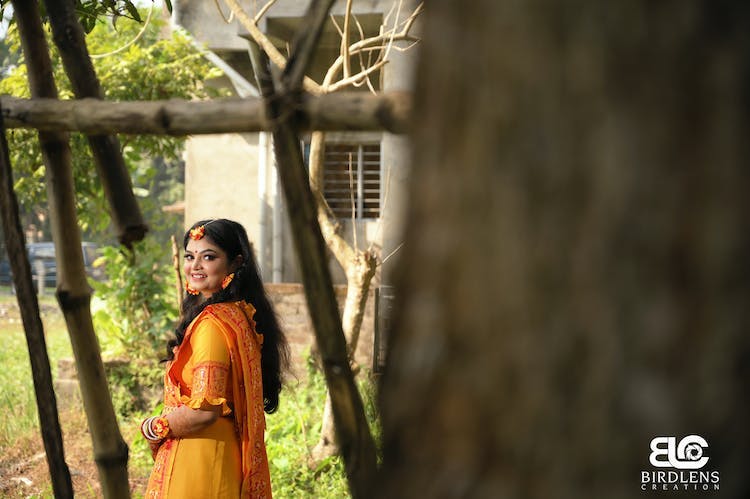 5. A Joyful Haldi Couple Pose
Celebrating the Haldi function of both the groom and bride together at the same place is a new trend. So, clicking a fantastic couple haldi poses is a must to make your Haldi ceremony more beautiful. A bride and groom standing close and posing together show some major couple goals in the wedding pictures.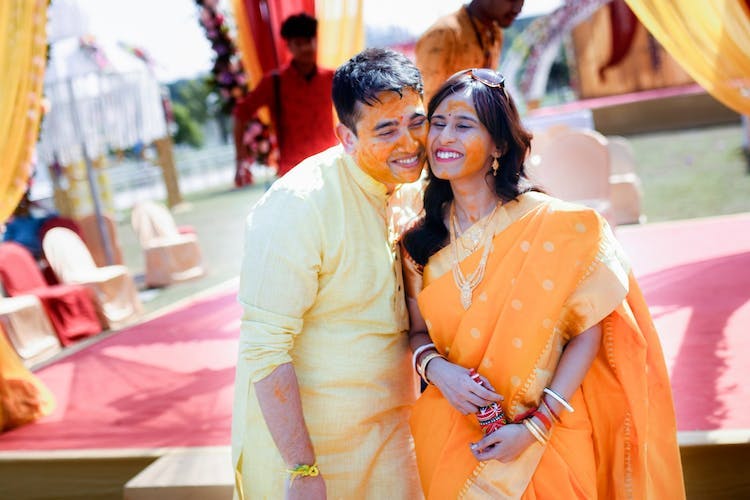 6. A Dreamy Haldi Pose With Gach Koto
What makes the Bengali bride different from all other brides in the country? It is her bridal elegance, classic makeup, and outstanding bridal outfit. But the most important thing always carried by a Bengali bride is a wooden prop known as Gaach koto which is considered auspicious for the brides. Hence, taking a bridal pose with these traditional props can enhance the natural beauty of your wedding pictures.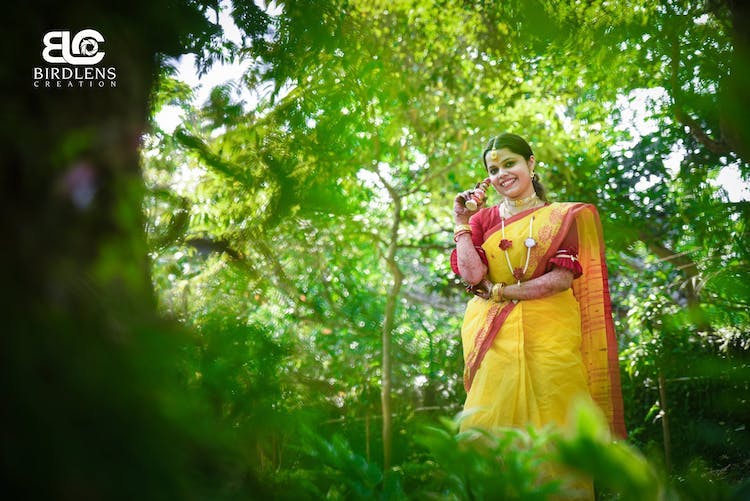 7. Pretty Bride Looking Down
The most beautiful element of an Indian bride's personality is her coyness. Look at the glamorous bride's beautiful smile and coyness captured perfectly by the talented wedding photographer. This kind of bridal pose for the Haldi ceremony adds a dramatic twist to your pictures.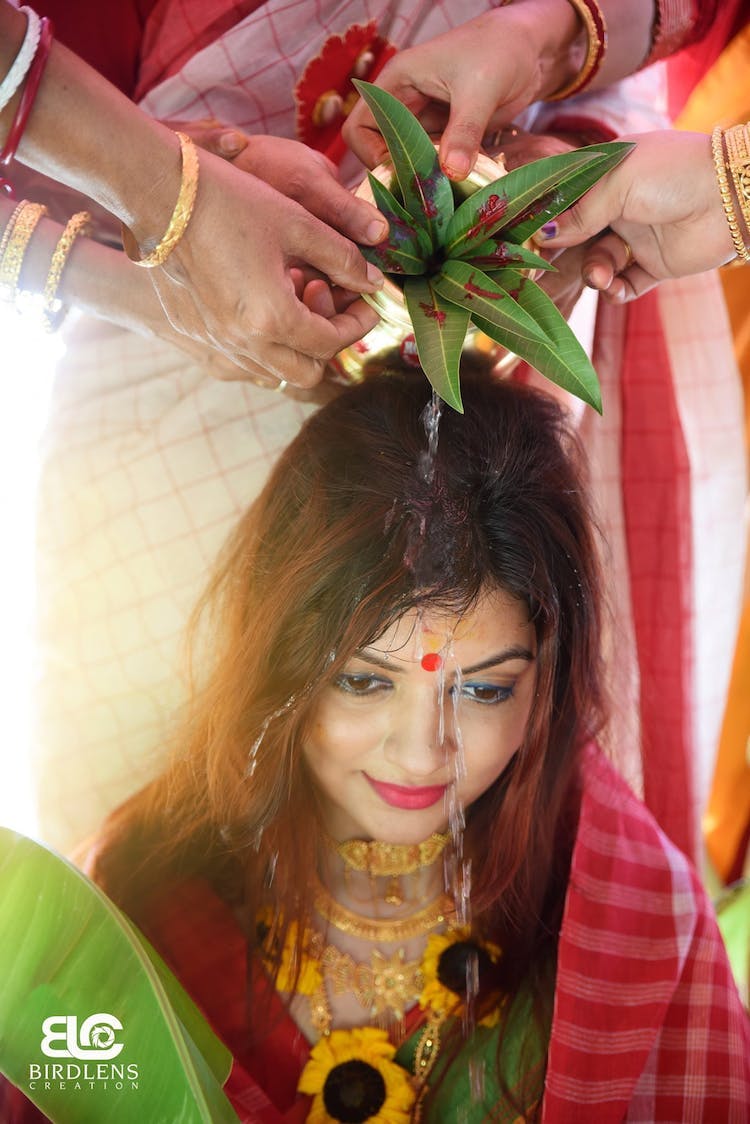 8. The Holy Bath Of Haldi
A traditional pose in a Haldi ceremony like this one has always outstand in wedding photography. An adorable bride given a bath of Haldi and milk as per the age-old ritual is a mesmerizing pose that always catches everyone's attention. A little touch of art and creativity can make this bridal pose more unique.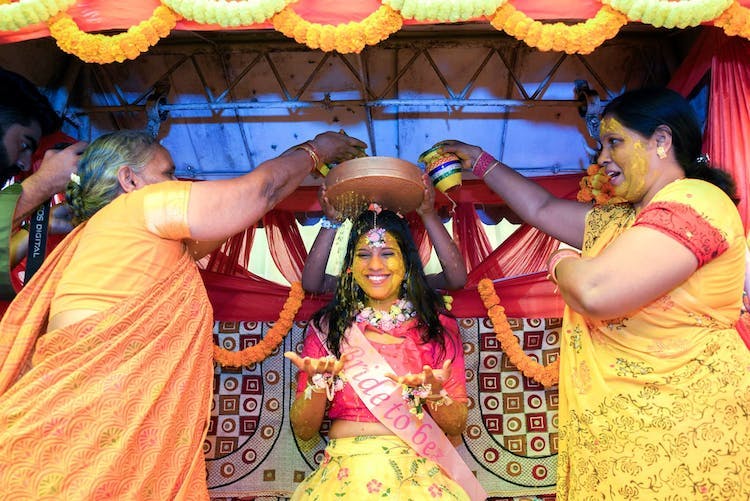 9. Happy Bride Portrait Is A Must One
The 21st-century brides have a playful and confident personality that is perfectly depicted via this Haldi pose. This kind of cheerful poses for haldi function captures the beauty of the moment that can bring a smile to your face even after many years of marriage. These fun-filled reactions of modern brides are truly hilarious for a perfect shot.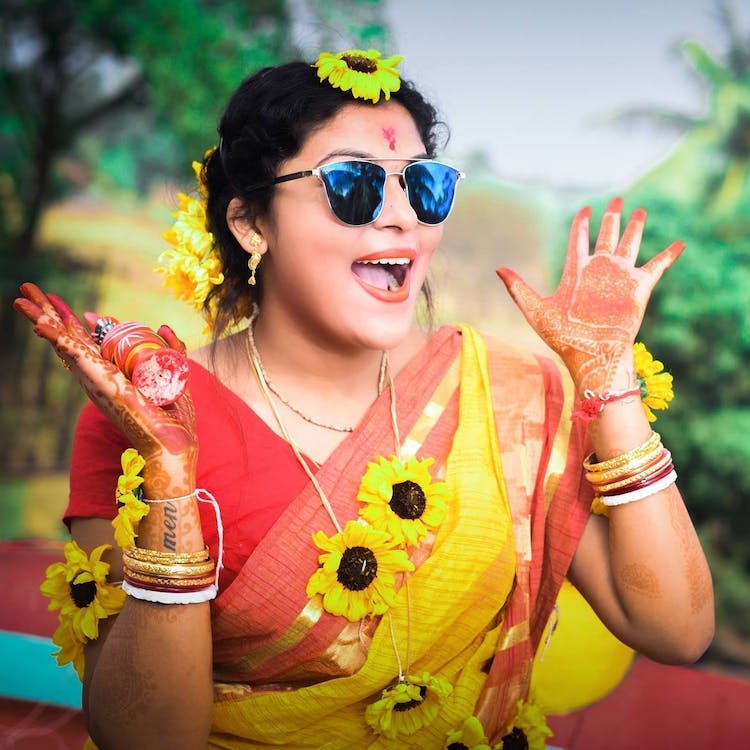 10. A Sharmili Haldi Bride Pose
It's time to bring your attention to the divine charm of this stunning bride. Her coyness and simplicity are put together in a single frame to create classy and dreamy Haldi portraits. This is truly a brilliant piece of art that has captured the bridal glory to perfection.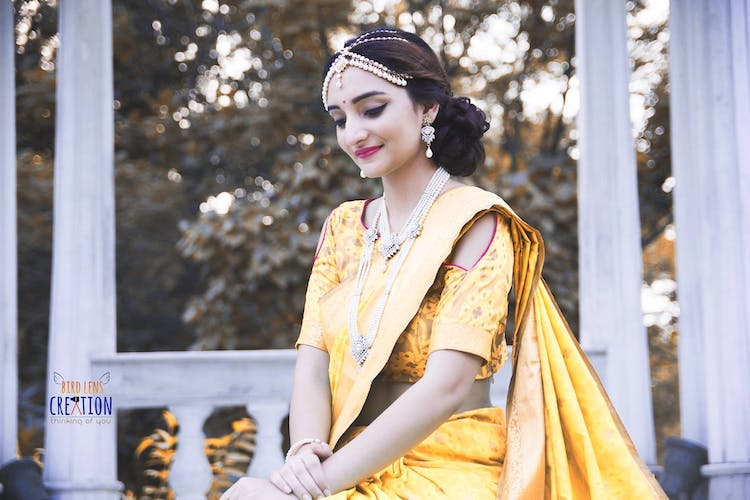 11. The Sweet Laughter Pose Of A Charming Bride
The next one on this amazing list is one of the most natural and beautiful bridal poses. Capturing the natural reactions of bride and groom offers some most captivating Haldi pictures. Here the bride's laugh has been presented very creatively that is adding some happy vibes to this portrait.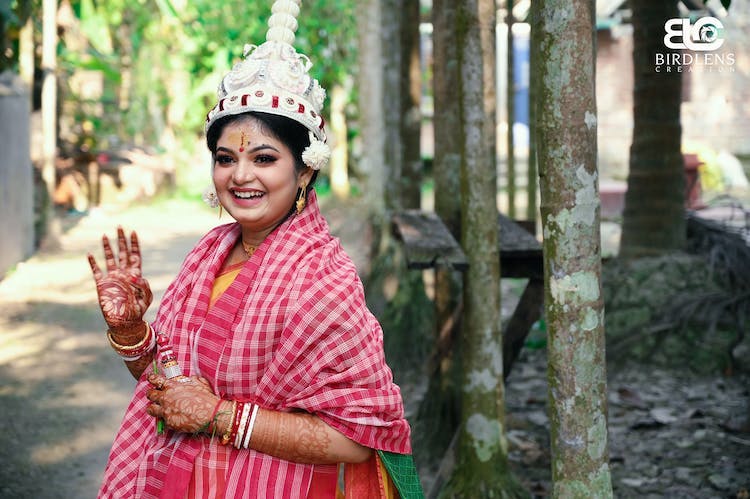 12. The holy blessing by sisters
The siblings' love for each other always makes great pictures. Look at the way the sister of the groom is applying Haldi to his dear brother which makes it one of the best and most touchy haldi ceremony poses for groom.
13. A Fun-Filled Haldi Pose With Friends
Friends can do perfect justice to turning your special events into memorable ones. Capturing the lovely Haldi ceremony moments with your guys. Could provide you with some of the most beautiful moments of your life.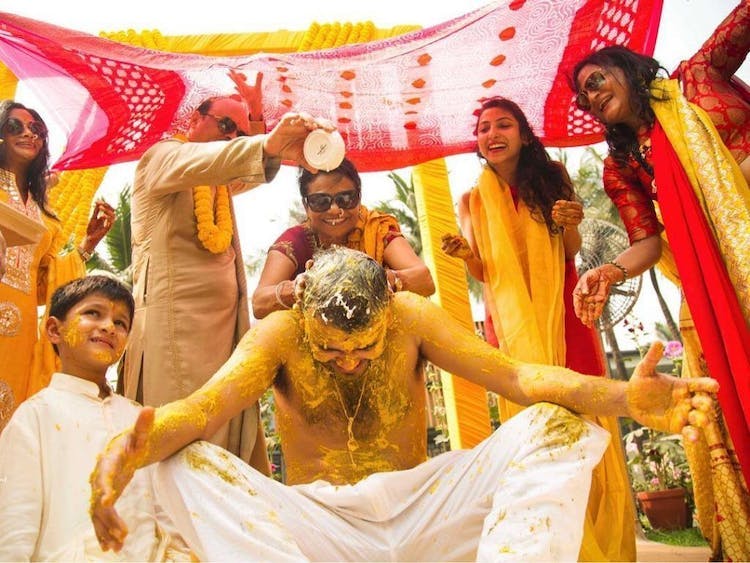 14. The Milk Bath Of Charming Haldi Groom
Giving the milk bath to the prince charming on the Haldi day could be another wonderful photo poses for haldi ceremony. Making the groom bathing Haldi and milk water is a fun-filled moment that always stays close to the heart.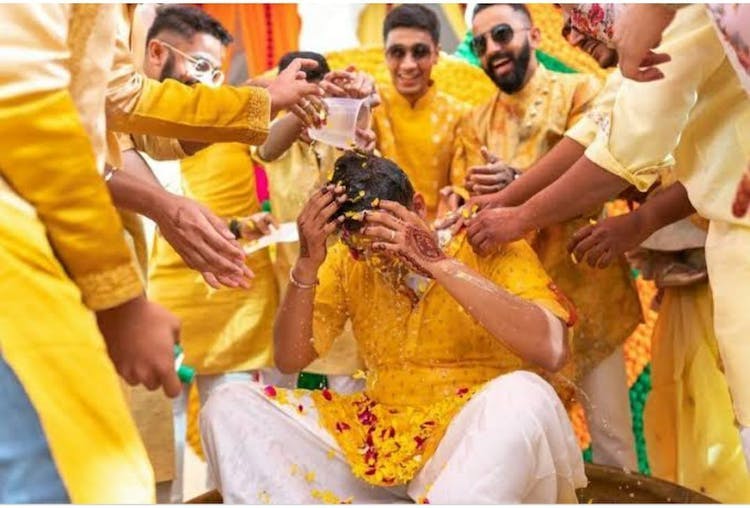 15. A Cheerful Bride With Betel Leaves
Holding a betel leaf and Gaach koto in hands is another wonderful pose for the Haldi function. The simplistic charm of this Haldi pose has been portrayed beautifully by the wedding photographer. The simplicity and innocence of this traditional bride are worth-watching.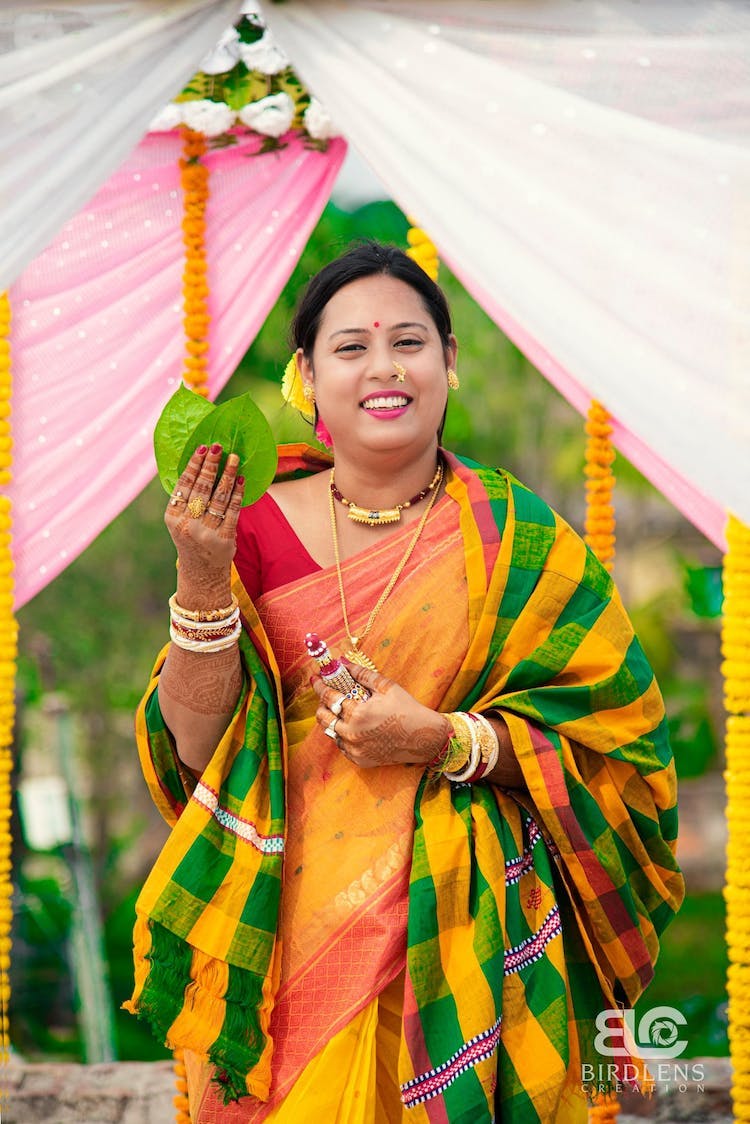 So, these are some stylish and trending poses for haldi ceremony that can create some wonderful memories of your fun-filled Haldi function in a dramatic way.