Have you ever got a chance to become a part of a Christian wedding in India? Being the best wedding photographer in kolkata, we have captured many beautiful wedding traditions of different cultures. Most people think that a Christian wedding is all about exchanging rings and taking vows. But in reality, an Indian Christian wedding is just like the wedding rituals of other communities in India. Most of us have seen a Christian wedding only in a movie scene. But if you are a bride or groom-to-be from a Christian community in India, then you should know about all christian wedding rituals.
Here we are going to share with you a detailed list of every ritual and tradition of a Christian wedding celebrated in India. Scroll down and keep reading to find out what goes on at an Indian Christian wedding.
1. Matchmaking
Like an arrange Indian wedding a Christian wedding also includes matchmaking rituals. According to this ritual, the Christian family finds a suitable match for their son or daughter based on their religious beliefs.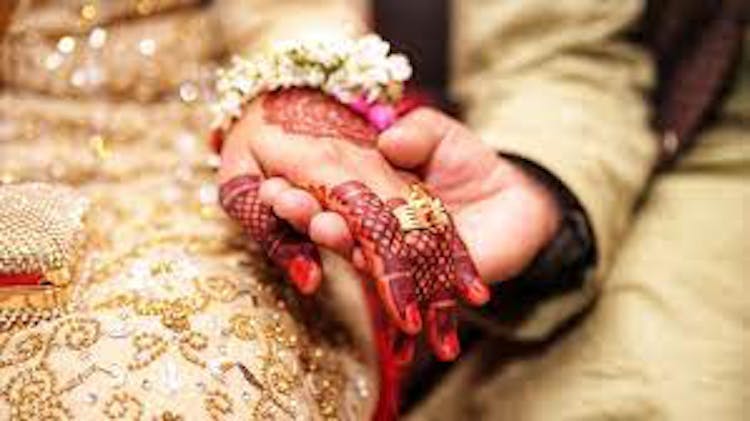 Recommended: 15 Latest Engagement Dresses For Groom In 2022
2. Engagement
Followed by the matchmaking ritual the engagement ceremony takes place. Once the couple exchanges ring in front of the catholic priest they announce their wedding day. A Christian groom gifts his would-be bride clothes, jewelry, and perfume. A grand celebration takes place to celebrate the first step of a Christian wedding.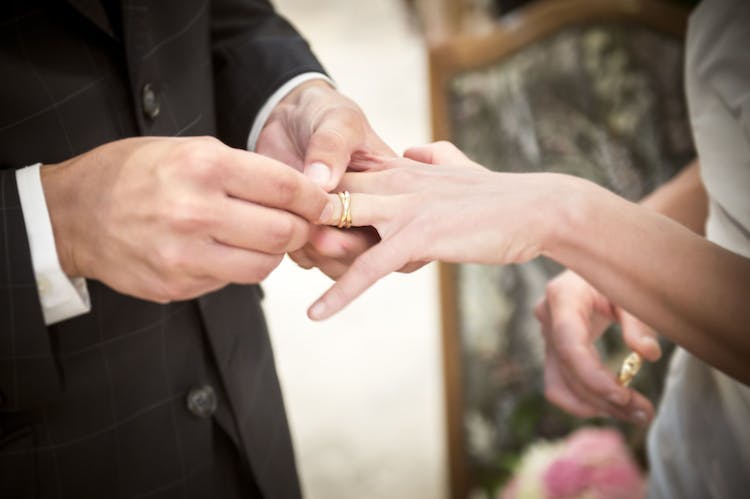 Also Read: 10 Amazing Locations In Kolkata For Pre Wedding Shoot
3. Bridal Shower
A bridal shower is the same as the Bengali ritual "Aiburobhaat". On this day the Christian bride gets to do all her favorite things. She gets her favorite food and enjoys a fun-filled party with her sister and girlfriends.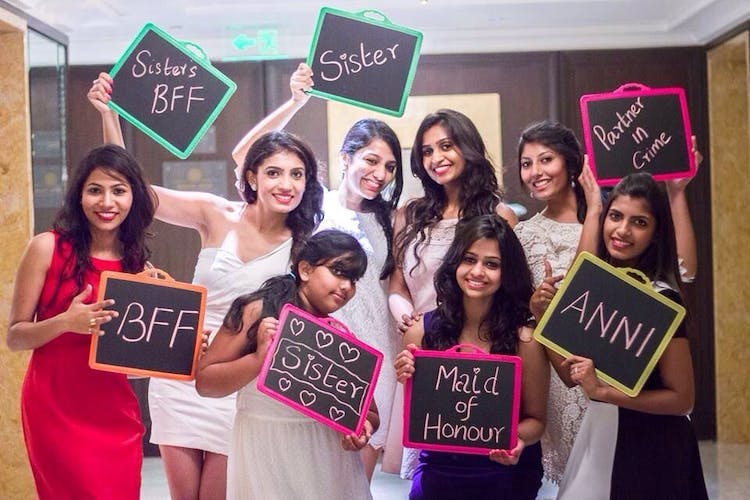 4. Bachelorette Party
Just like Christian bridegrooms also have some fun before their wedding day. A Christian guy celebrates his bachelorhood with his friends by arranging a cocktail party or an adventure sports trip. A Christian bachelorette party includes lots of drinks, music, and dance.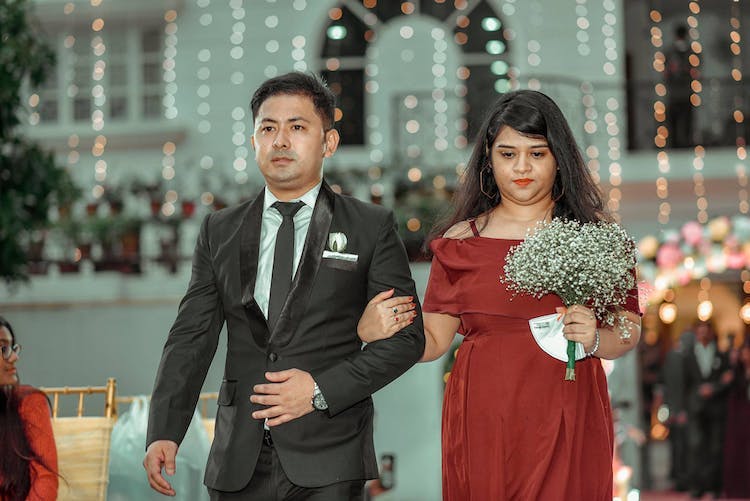 5. Roce Ceremony
You may have heard about Indian wedding rituals like the Haldi ceremony. A Roce ceremony is similar to an Indian Haldi ceremony. On this day the relatives of the bride and groom draw a cross on their forehead. Then they are blessed by applying oil, turmeric, and sandal wood paste on their body. Later both the groom and bride take a holy bath.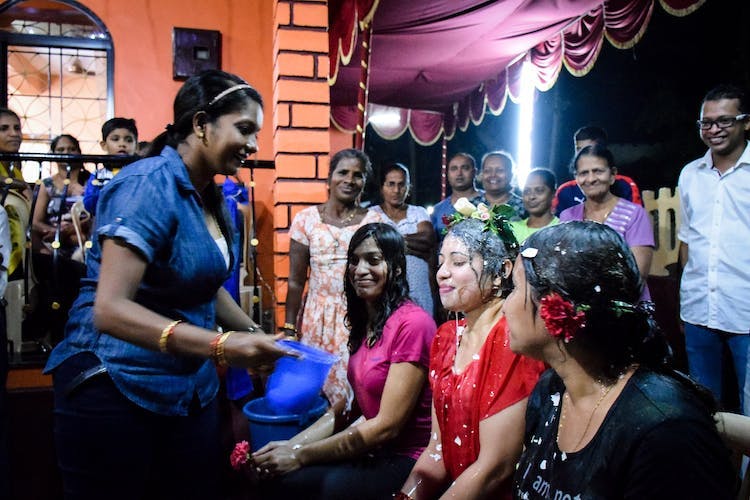 6. Sangeet Ceremony
If you think that the sangeet ceremony is part of a Hindu wedding then you are probably wrong. A sangeet ceremony has become a fun-filled rituals of christian wedding. At a Christian wedding, everyone dance altogether to celebrate the new relationship of the couple.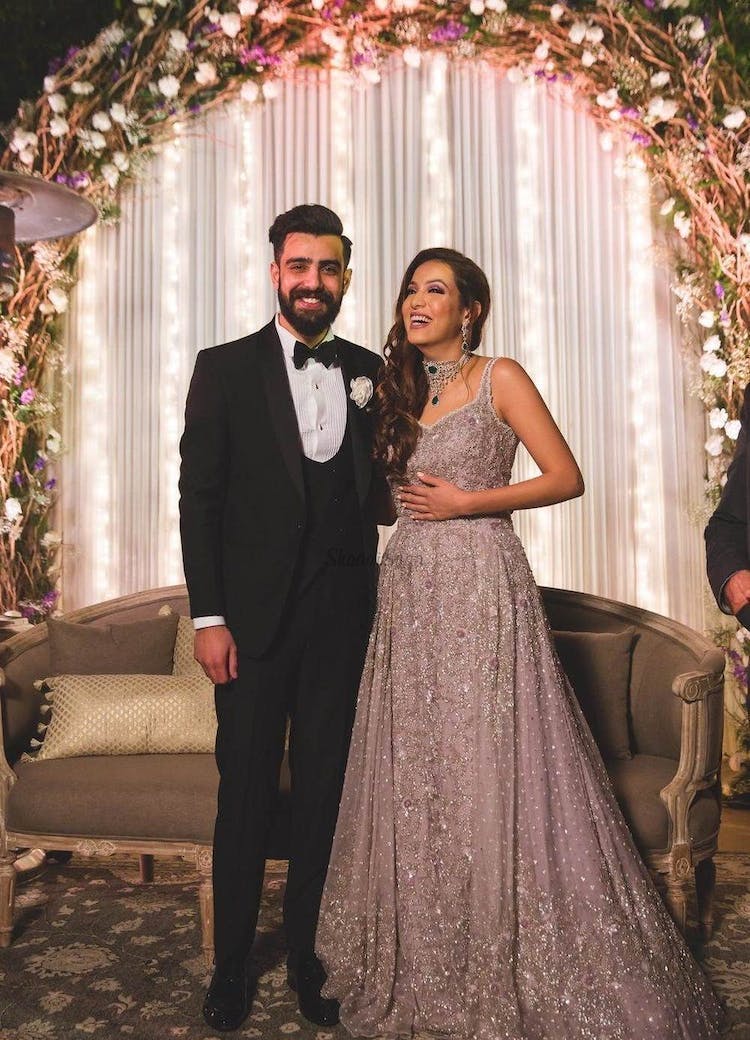 7. Blessing Of Wedding Dress
Once all the pre-wedding rituals are done the wedding day traditions get started. At first, the bride's dress and jewelry are taken to the catholic priest to get the holy blessing. Then the groom's family sends back the bride's dress along with some gifts and sweets.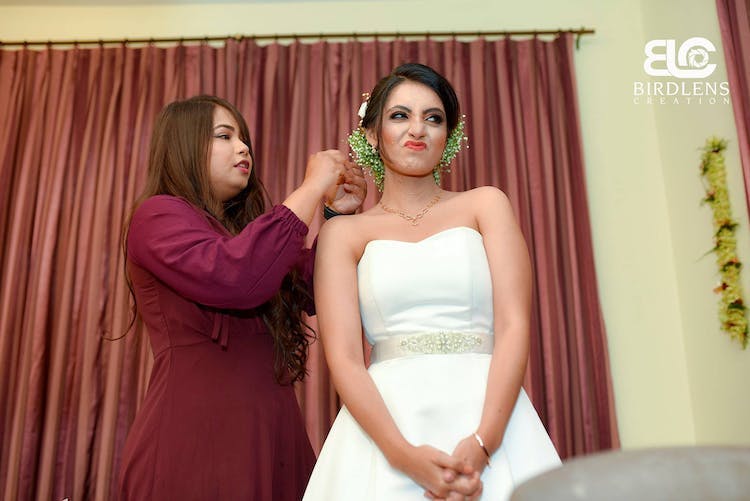 8. The Bride's Wedding Ride
Once the bride is ready to make her journey towards the church the groom sends a car for her transportation to the wedding venue.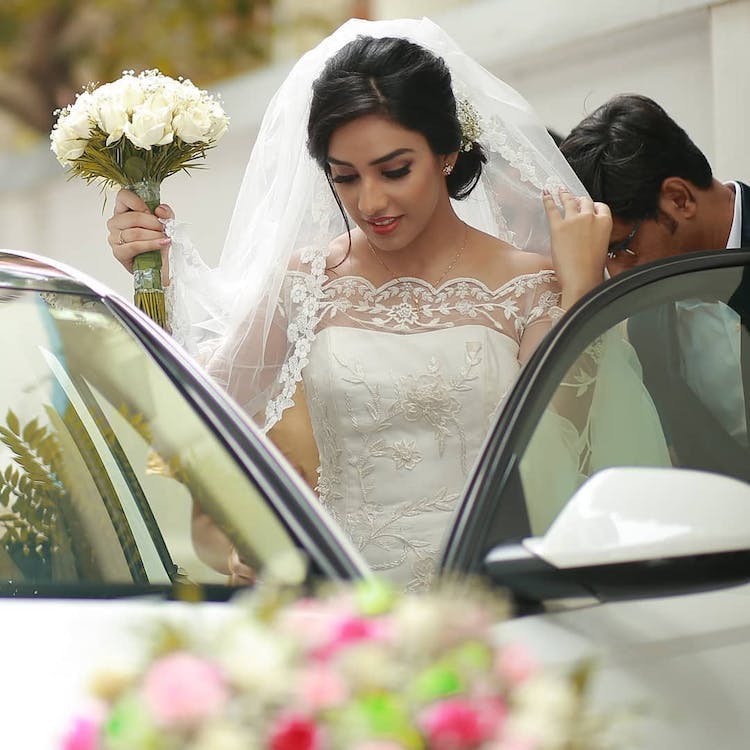 9. Bridal Entrance
A bridal entrance is a very important ceremonial wedding traditions in Christian weddings. A Christian bride needs to enter the church along with her parents. The father of the bride brings the daughter inside the church where the groom is waiting for her.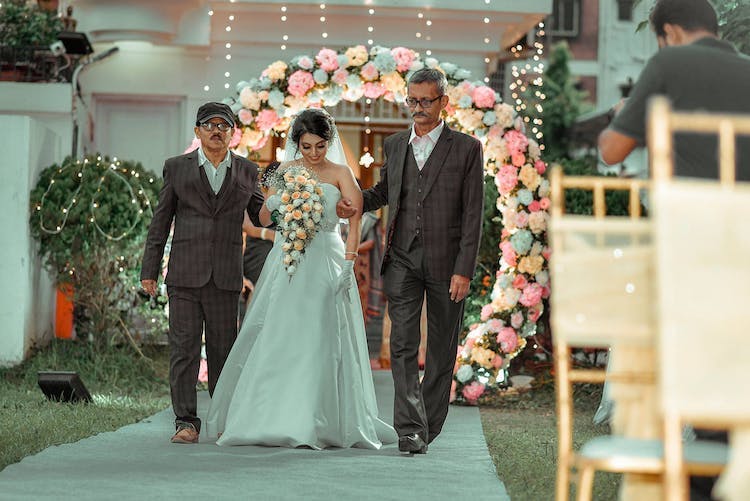 10. Wedding Mass
Once the bride enters the church and stands beside her groom, the family priest pronounces the testaments from the bible to everyone. Then the priest describes the religious significance of the wedding to everyone. And the church choir with wedding guests sings prayers to bless the new couple.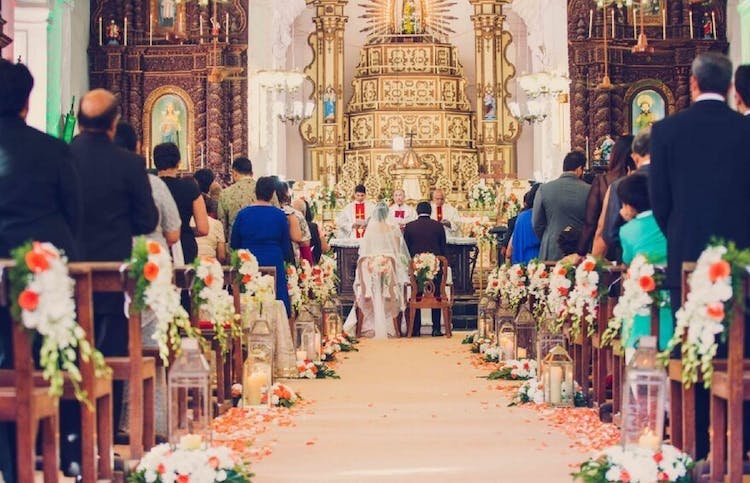 11. Wedding Vows
Wedding vows are the most beautiful ritual in a christian wedding ceremony. Both the bride and groom take vows in front of everyone to be with each other forever. After taking vows, the couple says "I do" and kiss each other to solemnize their wedding.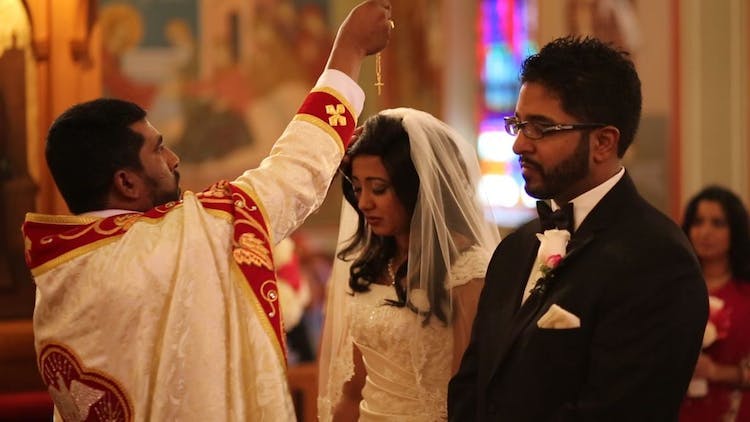 12. Wedding Thali
This Christian wedding ritual is a beautiful fusion of Indian and Christian culture. After taking vows the Christian groom ties a thali or a gold pendant around the bride's neck. This thali is like an Indian mangalsutra. After following this ritual the Christian groom gifts his bride a wedding saree or a veil that she wears over her head.
13. Bouquet Toss
The bride stands facing the opposite direction and throws her wedding bouquet into the air toward her bridesmaids. It is believed that the girl who gets the flower bouquet gets married soon. Don't you think that this wedding ritual is quite similar to a Punjabi Kalire ceremony?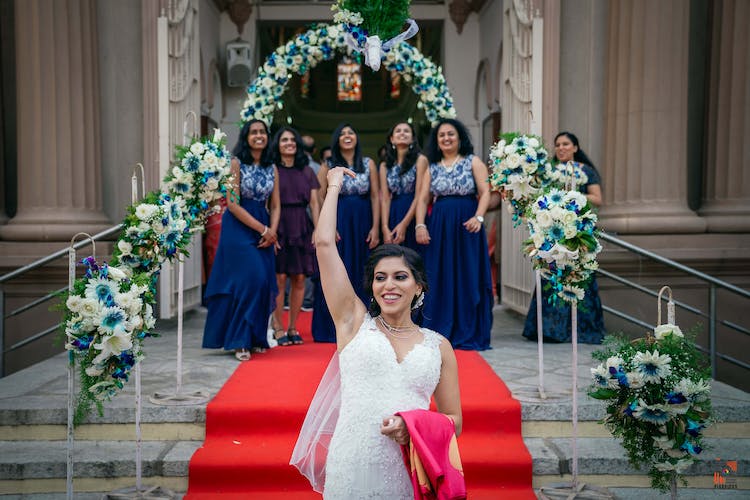 14. The Garter Toss
Followed by the bride's bouquet toss another joyful wedding ritual takes place. Here the groom needs to remove the bride's garter from her leg with his hands in front of every guest. After getting the garter the groom tosses it towards his bachelor guys.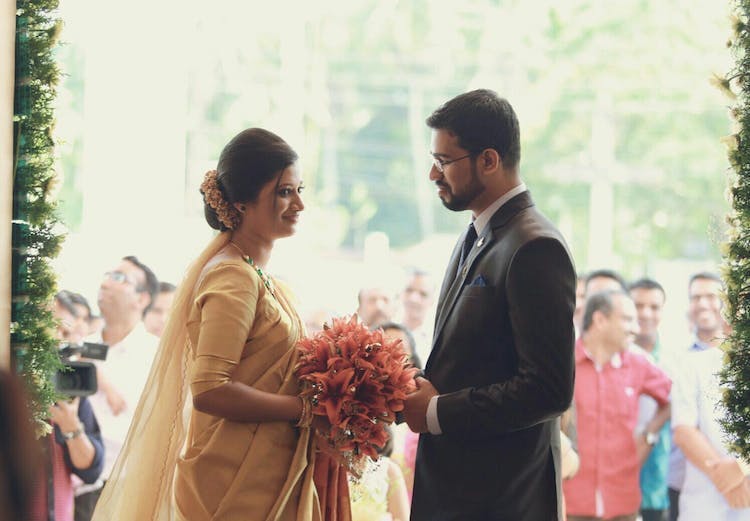 15. Reception Ceremony
A Christian wedding reception takes place during the daytime. It is a fun-filled grand affair with lots of food, fun, music, and dance. The bride and groom play many funfilled games as part of the wedding ritual.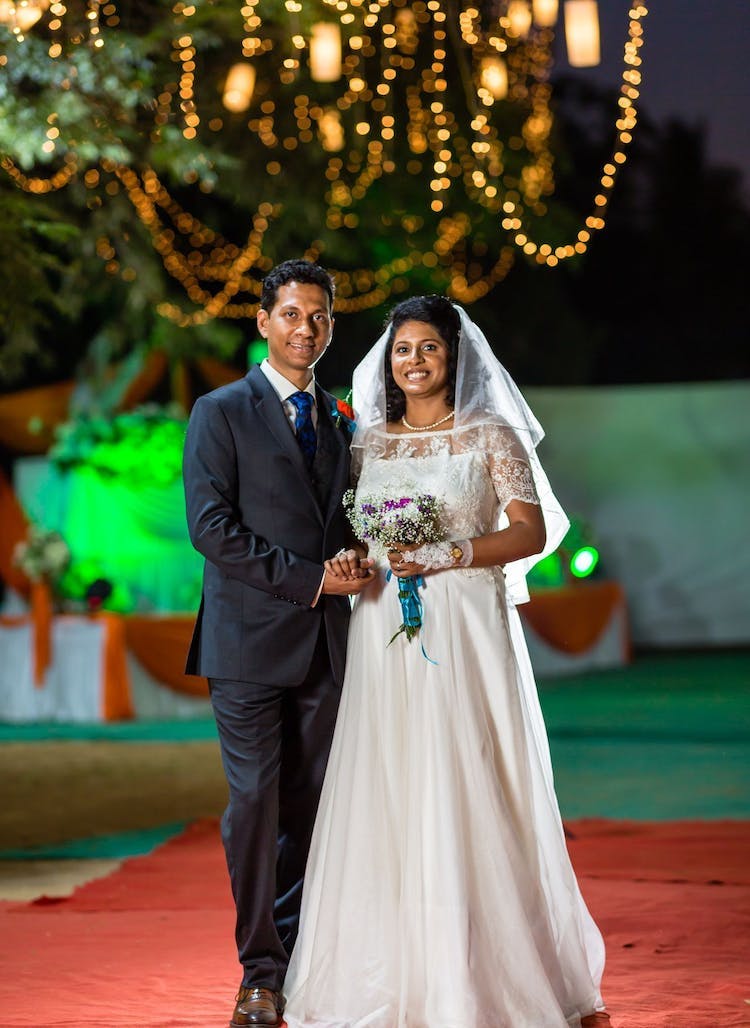 Image Source: Pankaj Rokade
16. Wedding Toast
A wedding toast takes place during the reception hours. In this wedding ritual, the relatives and family members of the couple raise a toast to wish them a happy married life.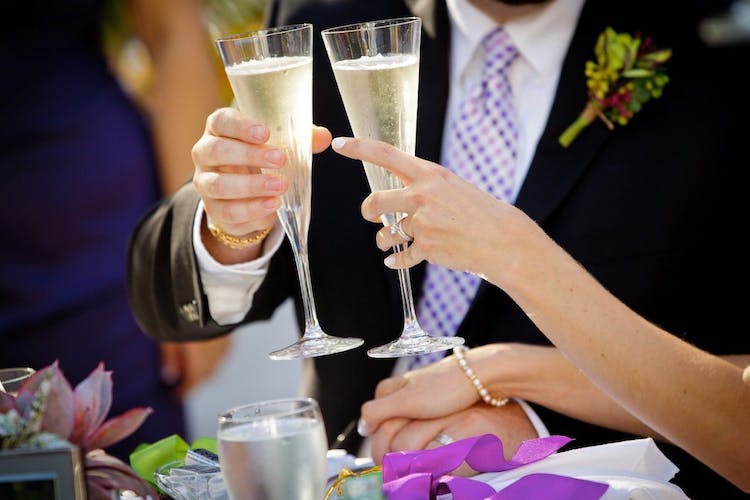 17. Cake Cutting Ceremony
This is one of the most delicious Christian wedding ceremony ideas that no one wants to miss. Both the bride and groom cut their wedding cake together and feed each other to start a new life.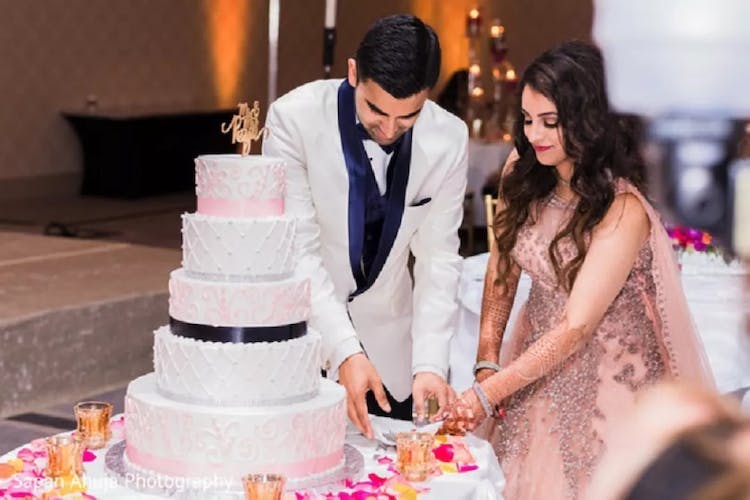 18. Wedding Dance Of Couple
The last ritual on this list is a beautiful wedding dance performed by the couple. At the reception party, the married couple needs to perform a ball dance to the party music. Later all their wedding guest take part in the dance to celebrate the beautiful occasion.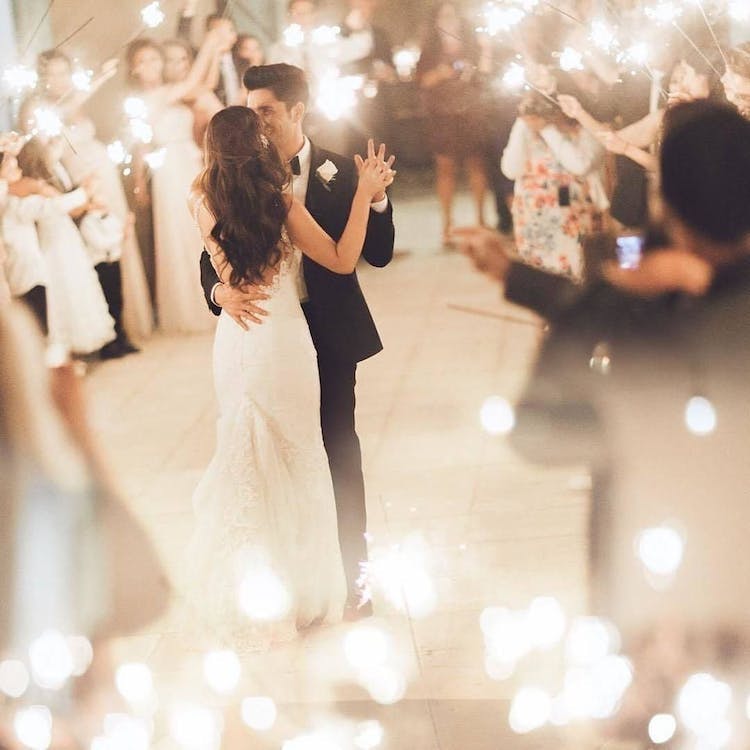 So, these are some most beautiful Christian wedding rituals that are a part of a Christian wedding. Looking forward to a Christian wedding of your own? Consult a wedding photographer in kolkata to make your dream wedding a reality.